The French Tech Journal provides analysis of France's digital ecosystem as well as in-depth interviews with French entrepreneurs and VCs. If you like what you read, please forward the newsletter to friends or share it with your social networks.
If you'd like to support independent and original reporting on the French Tech ecosystem, please consider a paid subscription. Send tips, comments, questions, and your ideas to our global headquarters: chris@frenchtechjournal.com.
🔥 🔥 You can book an appointment with me at Superpeer to ask your questions about journalism. I'll explain my workflow based on 25 years of writing about tech in Silicon Valley and Europe to help you better understand the perspective and challenges of journalists as you think about how to pitch. Subscribers to this free email can get a code for a 20% discount. Paid subscribers get a 50% discount. 🔥 🔥
---
The first time I visited BlaBlaCar's headquarters was in December 2014 while in Paris for Le Web, the final edition of what had once been a major international conference. The ridesharing company was then located on Rue Blanche in the 9th arrondissement in a building that seemed wholly indistinguishable from the endless rows of 19th-century white limestone façades in Paris that blur into one another. At the entrance, a smattering of corporate signs and logos listed names such as Criteo, but not much else that would signal that anything particularly remarkable could be found inside.
Stepping into the lobby, I took the elevator up several floors to BlaBlaCar, and as soon as I exited, I found myself in territory that would be familiar to any Silicon Valley refugee. The welcome area had three lime green chairs for visitors, each shaped in a letter: B, L, and A. On the wall behind, a poster read, "Done is better than perfect," a sentiment that could possibly have caused France to revoke one's citizenship for being so subversive at the time. Inside awaited an open floor plan, with almost 100 youthful faces gazing at computer screens and a giant cut out of the letters "Bla" lurking in the middle of the room. Along the wall, a mural featured the company's mascot, a superhero with a yellow costume and green cape with the letter "T" for trust emblazoned on his chest. A breakroom offered the obligatory foosball table.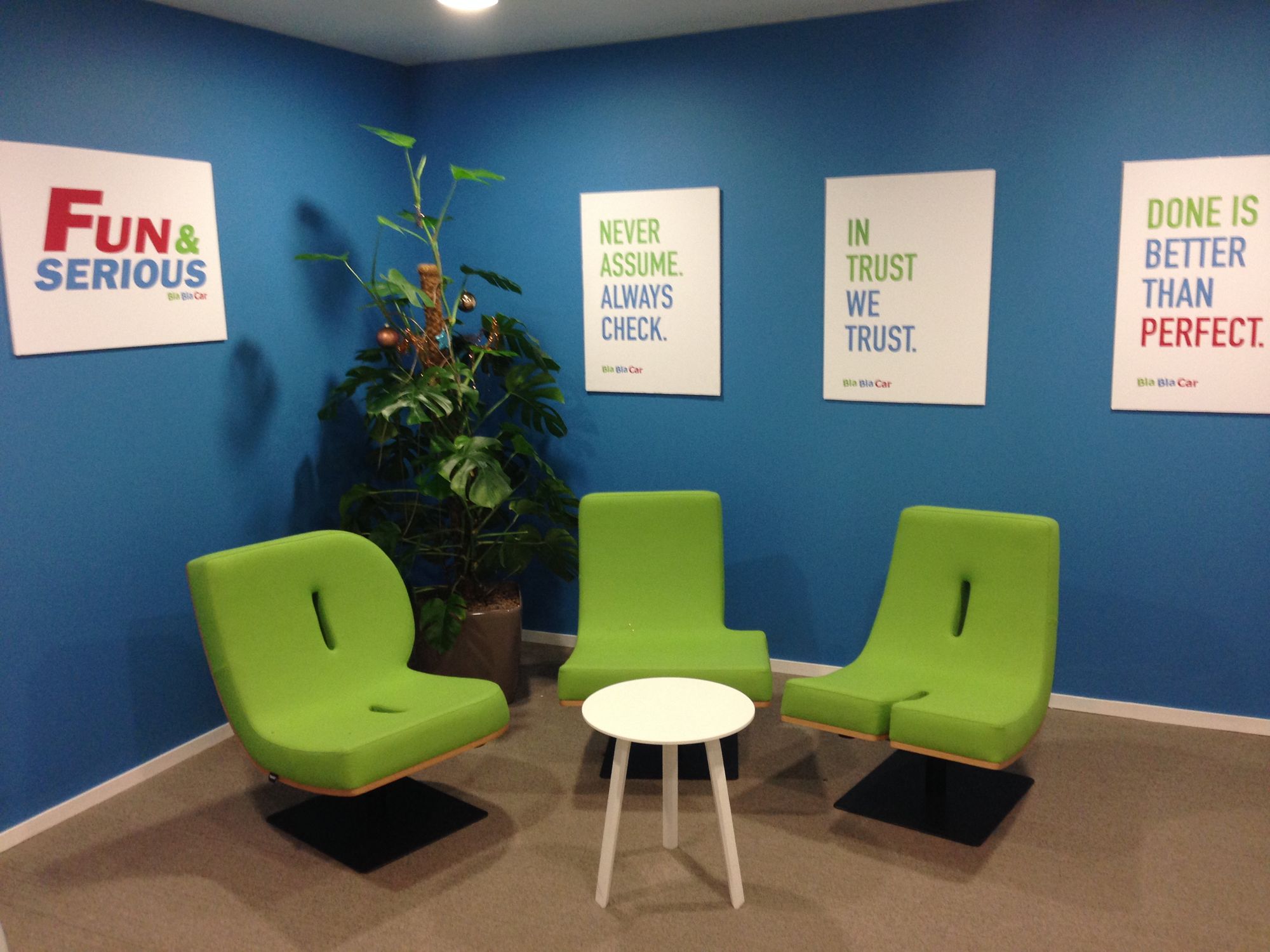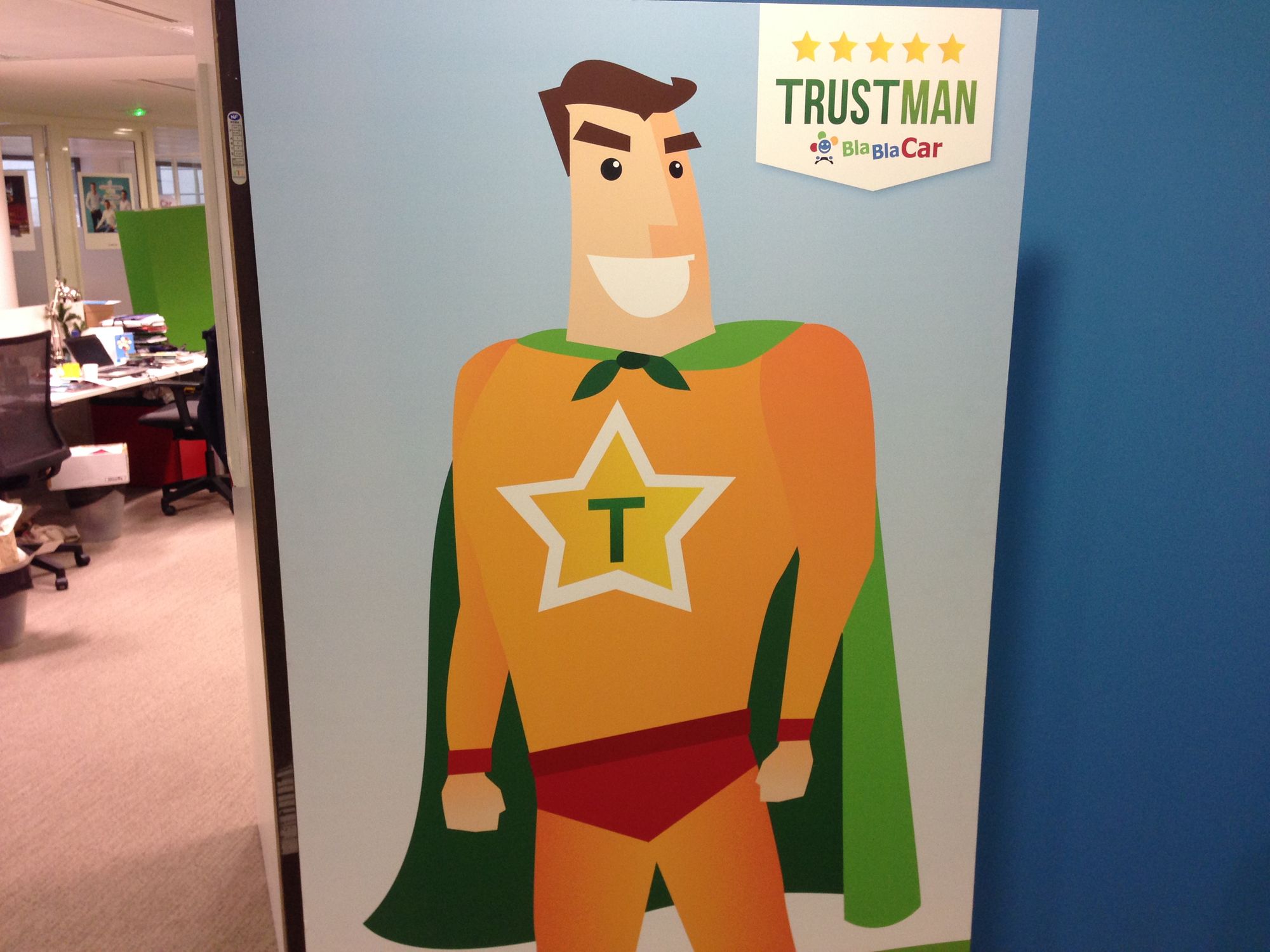 BlaBlaCar had imported the trappings and ornaments of startup life in SiliconValley with gusto. By the time of my visit, the company had also become emblematic of France's newfound startup ambitions. BlaBlaCar had rather humble beginnings in 2006 as it developed a service to help organize carpools.
It raised a couple of rounds of venture capital along the way, including €1.25 million in 2010 from ISAI ventures, and another round of €7.5 million in 2012. Around this time, the company introduced a new concept, a platform that matched people driving between cities with passengers willing to pay to ride along. The company renamed itself "BlaBlaCar", a reference to the social nature of the service, and usage exploded.