The French Tech Journal provides analysis of France's digital ecosystem as well as in-depth interviews with French entrepreneurs and VCs. If you like what you read, please forward the newsletter to friends or share it with your social networks.
If you'd like to support independent and original reporting on the French Tech ecosystem, please consider a paid subscription. Send tips, comments, questions, and your ideas to our global headquarters: chris@frenchtechjournal.com.
🔥 🔥 You can book an appointment with me at Superpeer to ask your questions about journalism. I'll explain my workflow based on 25 years of writing about tech in Silicon Valley and Europe to help you better understand the perspective and challenges of journalists as you think about how to pitch. Subscribers to this free email can get a code for a 20% discount. Paid subscribers get a 50% discount. 🔥 🔥
---
The first time I visited BlaBlaCar's headquarters was in December 2014 while in Paris for Le Web, the final edition of what had once been a major international conference. The ridesharing company was then located on Rue Blanche in the 9th arrondissement in a building that seemed wholly indistinguishable from the endless rows of 19th-century white limestone façades in Paris that blur into one another. At the entrance, a smattering of corporate signs and logos listed names such as Criteo, but not much else that would signal that anything particularly remarkable could be found inside.
Stepping into the lobby, I took the elevator up several floors to BlaBlaCar, and as soon as I exited, I found myself in territory that would be familiar to any Silicon Valley refugee. The welcome area had three lime green chairs for visitors, each shaped in a letter: B, L, and A. On the wall behind, a poster read, "Done is better than perfect," a sentiment that could possibly have caused France to revoke one's citizenship for being so subversive at the time. Inside awaited an open floor plan, with almost 100 youthful faces gazing at computer screens and a giant cut out of the letters "Bla" lurking in the middle of the room. Along the wall, a mural featured the company's mascot, a superhero with a yellow costume and green cape with the letter "T" for trust emblazoned on his chest. A breakroom offered the obligatory foosball table.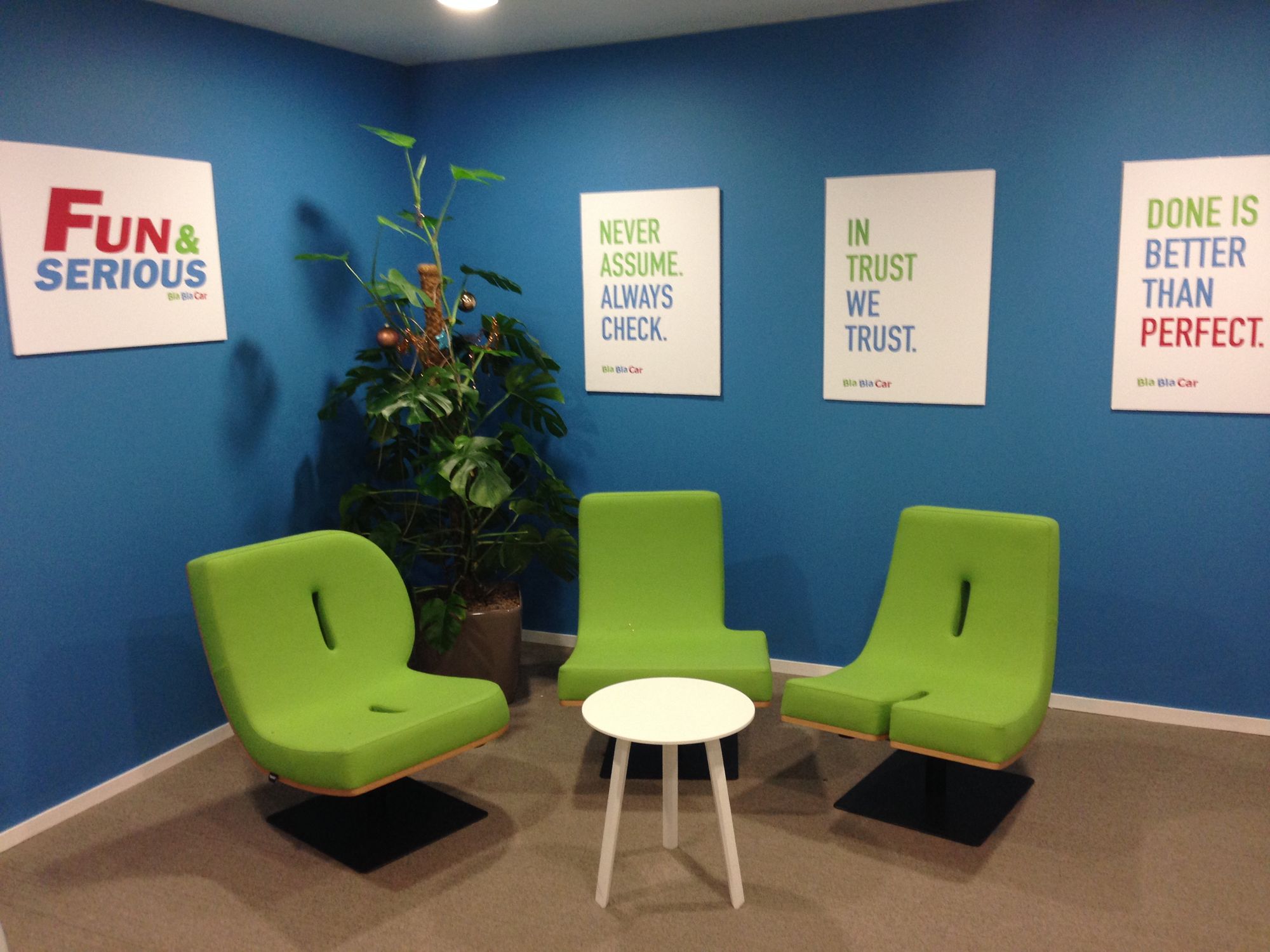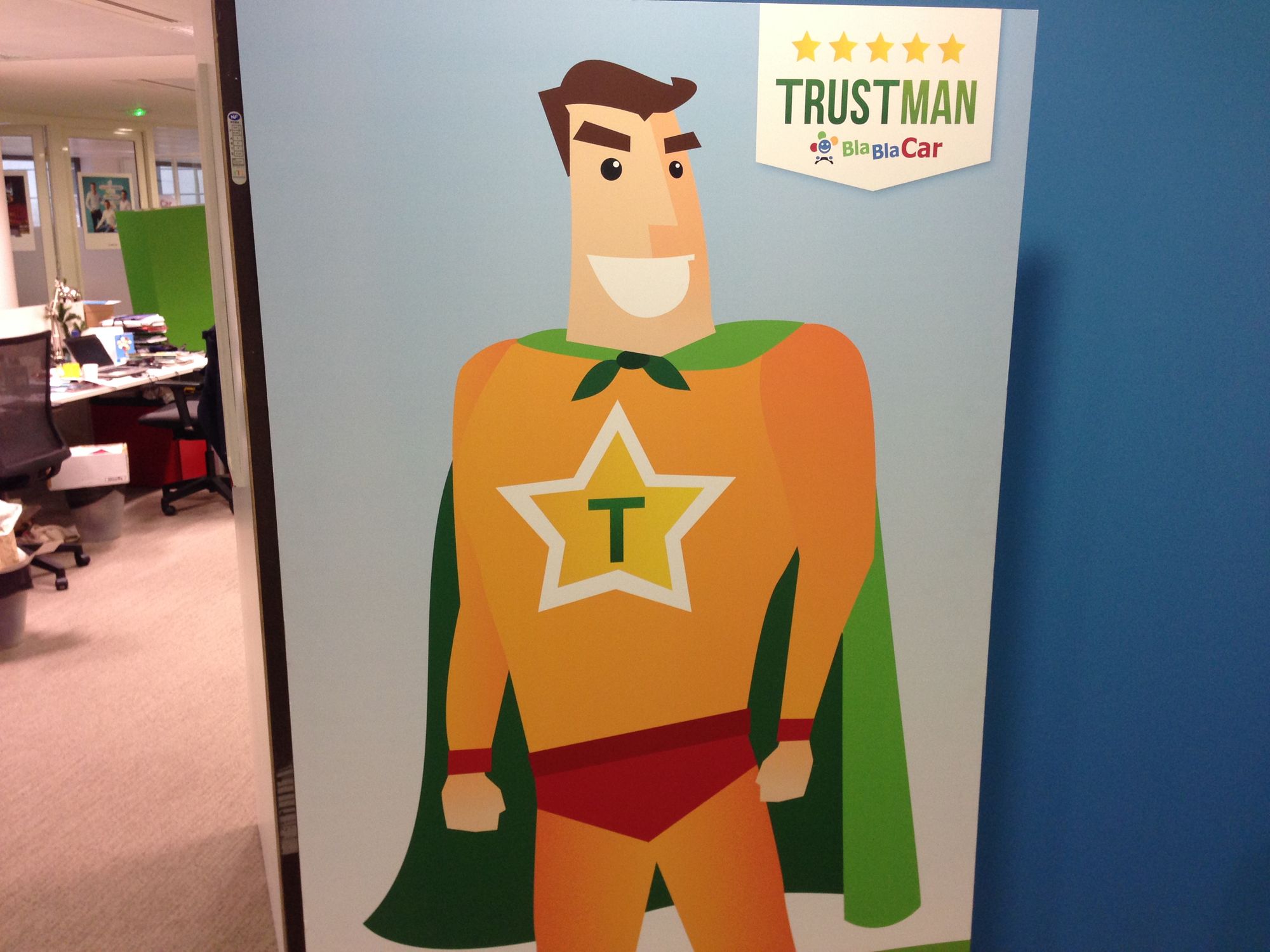 BlaBlaCar had imported the trappings and ornaments of startup life in SiliconValley with gusto. By the time of my visit, the company had also become emblematic of France's newfound startup ambitions. BlaBlaCar had rather humble beginnings in 2006 as it developed a service to help organize carpools.
It raised a couple of rounds of venture capital along the way, including €1.25 million in 2010 from ISAI ventures, and another round of €7.5 million in 2012. Around this time, the company introduced a new concept, a platform that matched people driving between cities with passengers willing to pay to ride along. The company renamed itself "BlaBlaCar", a reference to the social nature of the service, and usage exploded.
In July 2014, BlaBlaCar raised a $100 million round of venture capital, the largest in France's history (though not for long as it would raise a $200 million round the following summer). Following Criteo, BlaBlacar was on its way to becoming the country's second tech startup valued at more than $1 billion. Operating in 12 countries, its ridership had more than tripled in a year. It couldn't expand fast enough, and VCs couldn't shovel enough money at the company.
I arrived that day to chat with company co-founder Nicholas Brusson, who was then chief operating officer. Brusson had started the company with Francis Nappez and Frédéric Mazzella. Before helping start the company that became BlaBlaCar, Brusson had worked in Silicon Valley for several years as an optical engineer. With short brown hair, beige dress pants, and a white button-down shirt with long sleeves rolled up, Brusson had absorbed the valley's fashion ethos. This was also a slight rebuke to France's business culture, where you take your career into your hands if you fail to wear the de rigeur dark suit and tie. Smiling, relaxed, and extremely informal, Brusson represented another break from the country's strict rules of business.
Brusson at that moment was overseeing an expansion into India and South America. This kind of global ambition was still rare in France where startups tended to build services aimed at solving a problem in France. Yet Brusson was bouncing with optimism, having watched BlaBlaCar's numbers soar thanks to a passionate user base. "Once people start using it, they keep using it," he said. "This is not a replacement for other transportation infrastructure. We're building something that's not there. We're talking about building the world's largest transportation network."
As my visit with Brusson ended that day, he added, with a dash of bluster and ambition that also was typically frowned upon in France: "I wouldn't be interested in doing this if BlaBlaCar wasn't going global."
Obstacles Ahead
This week, BlaBlaCar is celebrating its 15th birthday. The company marked the occasion with a marketing blitz across social media hailing its milestone of 100 million users and its environmental impact.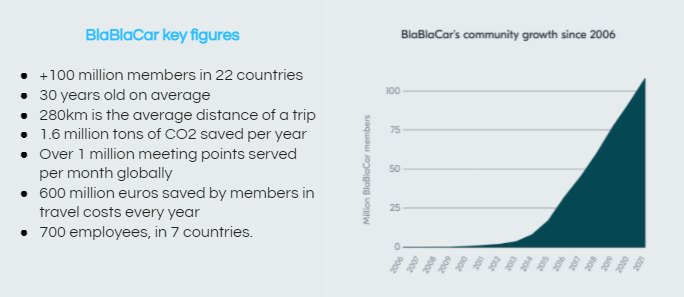 The mobility company continues to loom large in the French Tech ecosystem. Co-founder Mazzella is co-president of France Digitale, the association of entrepreneurs and venture capitalists, and has become the de-facto ambassador of all things French Tech. The company is still a favorite of politicians who see it as an iconic French startup.
The company is thriving at the moment. Earlier this year, BlaBlaCar surprised the French Tech world by raising a $155 million round to continue evolving into an all-in-one travel app. But the success it is enjoying today was far from inevitable and nowhere near as easy as my visit in 2014 might suggest. Indeed, there were whispers at various points in the ecosystem that BlaBlaCar had veered off course, perhaps fatally. Many of the expansions that Brusson discussed that day flopped at first, and BlaBlaCar had to retreat.
Still, the founders never stopped fighting and adapting. Don't call it a comeback, because BlaBlaCar never really went away. But the unexpected twists its journey has taken left it stronger and growing faster than ever.
"It's not been a walk in the park," Brusson said. "It's been a nonlinear journey. And we've made mistakes. But the thing I'm left with is that I have no doubt that taking that long journey of building a global player was the right thing to do."
Beyond Europe
By early 2015, following that first mega-round, BlaBlaCar began to push into markets beyond Europe. Over the next couple of years, it expanded into Russia, Ukraine, India, Turkey, Mexico, and Brazil.
In some cases, that involved acquiring local players to get a foothold. In others, the company tried to put large numbers of employees on the ground and launch big marketing blitzes. But replicating the formula for success in Europe proved to be challenging. By 2017, the company had closed its offices in India, Turkey and Mexico.
"We probably over-hired and over-spent," Brusson said. "And then we had to cut back."
There was a perception that BlaBlaCar had stumbled badly and lost its halo. But there were other surprises at the time that were less obvious. Most notably, BlaBlaCar took off in Russia which eventually became its largest market. That led to a €21 million funding round from Baring Vostok, a VC firm that had also backed Russian search engine Yandex.
The company also continued to tinker with new products, such as a local carpooling service and a car leasing feature.  
In 2018, BlaBlaCar uncorked a shocker: It bought Ouibus, a bus service that was operated by France's national railway company SNCF. As part of the deal, SNCF and previous investors invested another $114 million into BlaBlaCar. In 2019, BlaBlaCar bought Russia's largest bus platform, Busfor. The company wanted to build a more complete transportation offering to help people get from point A to point B in the most efficient way.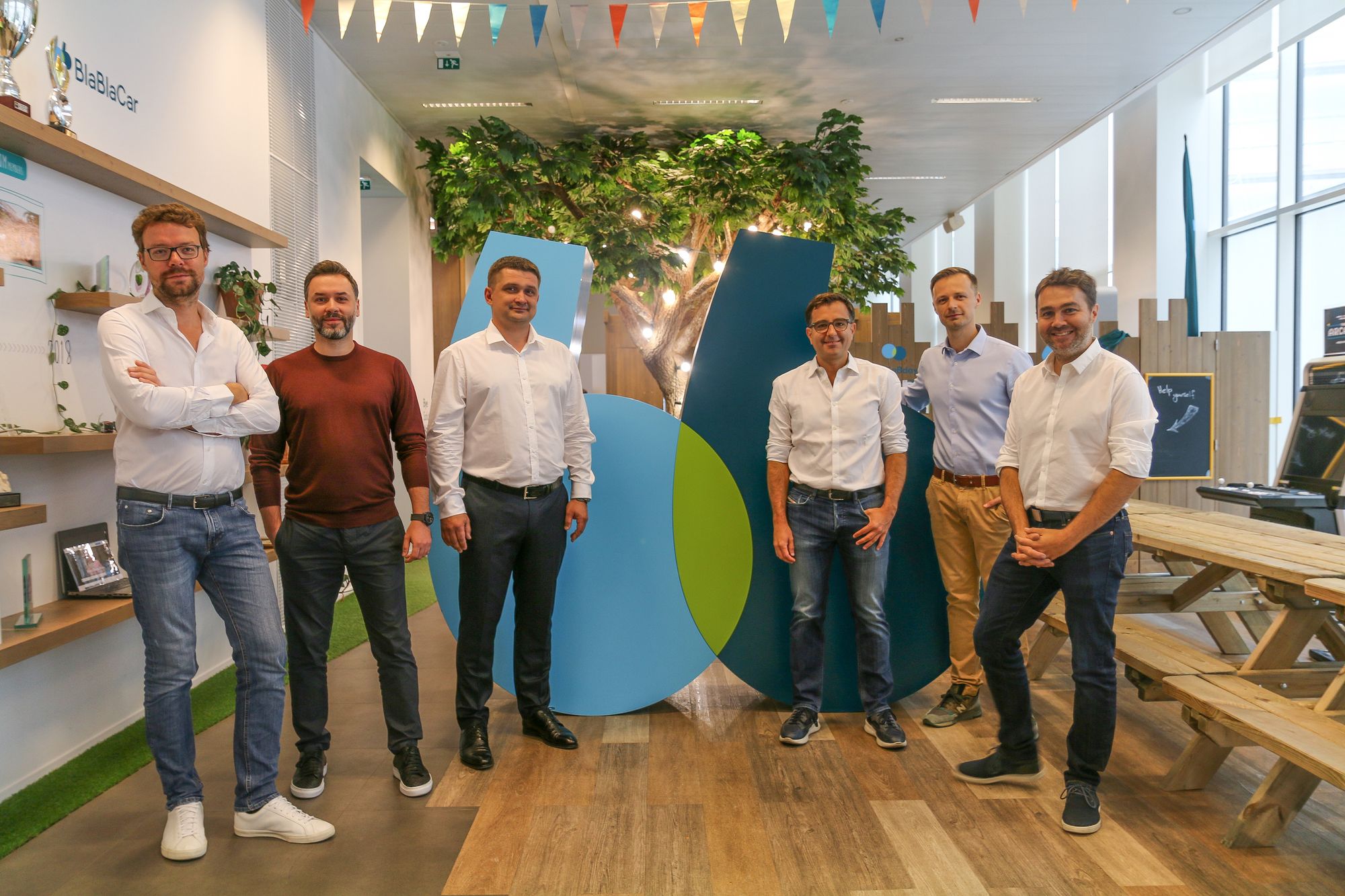 While the move seemed unlikely from the outside, internally it made perfect sense. Having built a massive community around its core ridesharing service, the company saw an opportunity to leverage that position into new services.
In fact, BlaBlaCar really has two types of bus services. In Europe, it is a kind of virtual operator that now leases the brand to bus operators and directly sets prices and booking for routes. Outside of Europe, it's more of a booking platform that helps bus companies shift from their antiquated ticket system to a fully digitized one.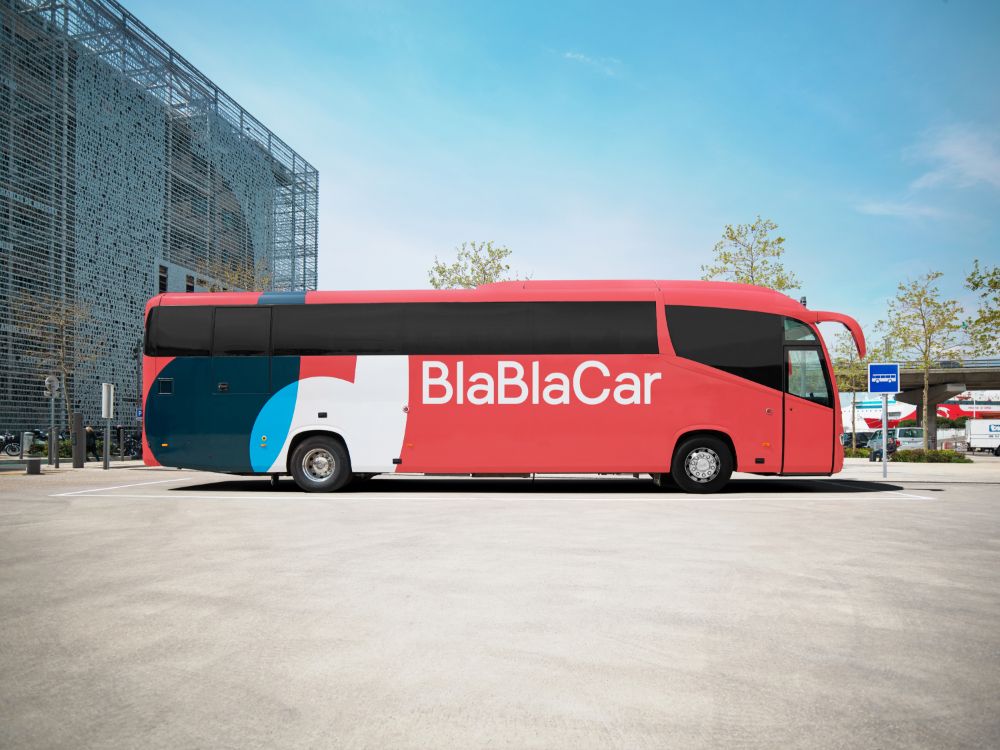 "We have this rich community of people traveling, but we don't offer rail and we don't offer buses," Brusson said. "So why don't we try to combine those modes of transport together to give you a bigger network?"
The bet has paid off. Today, the company says bus seats represent 20% of all bookings on the BlaBlaCar platform. And the company is in the process of adding trains as well.
Mobility In The Time Of Covid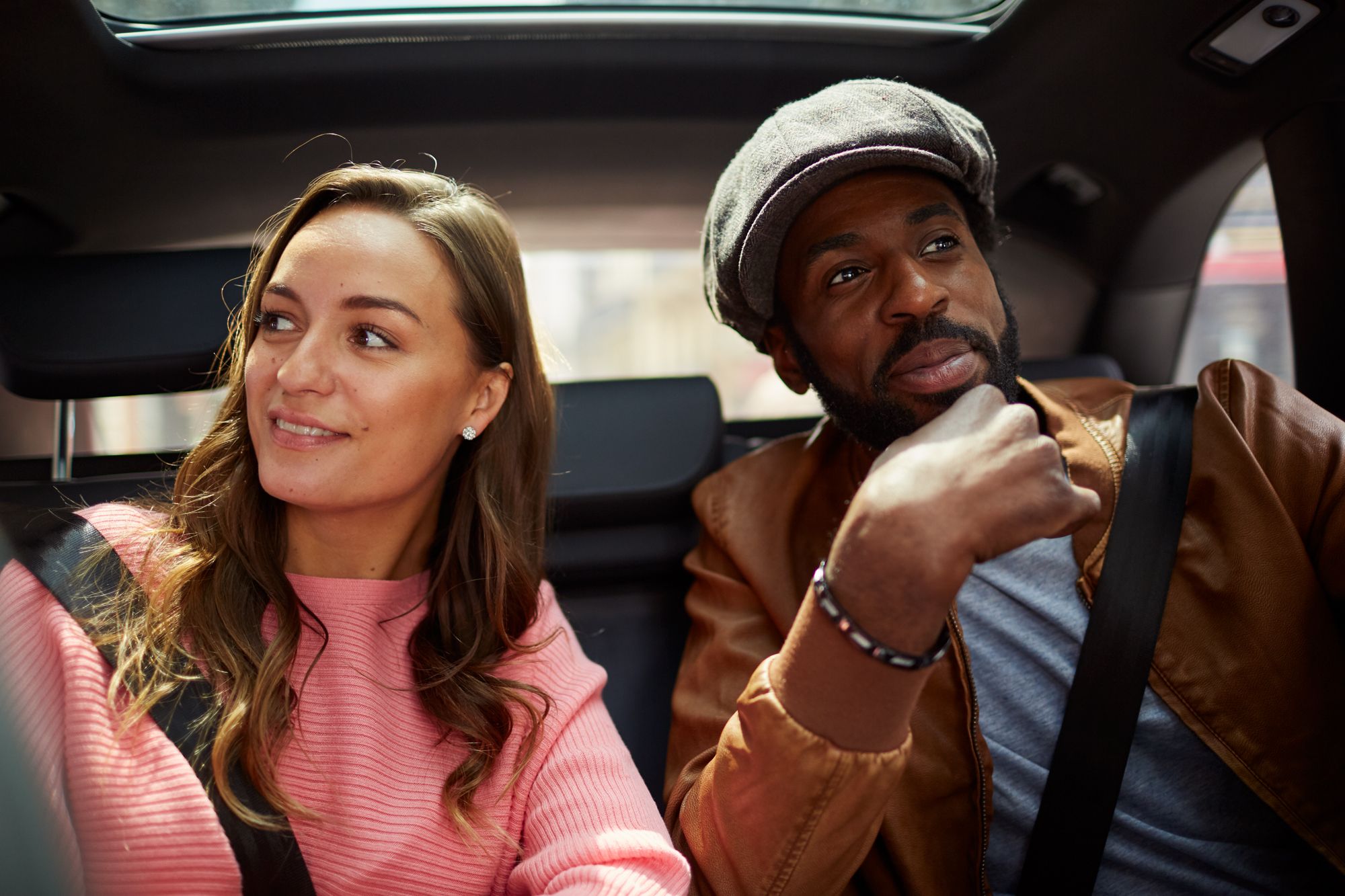 Of course, the pandemic has presented another potential obstacle for BlaBlaCar. Having just made investments in the bus services and taking more money from investors, suddenly the company had to confront the lockdowns that threatened to bring its progress to a halt.
While BlaBlaCar did take a hit, its Covid experience offered yet another twist to its story.  
"I think the story is the stress test that the pandemic has caused the world of transport and travel in general and what it meant for different companies," Brusson said. "And what we see is that the new marketplace mode of transport has done a lot better than the more classic mode of transport."
BlaBlaCar ridership in 2020 dropped 30% to 50 million compared to 2019 when the company had about 70 million passengers. But Brusson noted that classic forms of transportation fell between 50% to 80%.
It turned out that the BlaBlaCar marketplace was able to adapt far more quickly to the change in travel habits as its territories went through cycles of openings and closings. "We've done better because our platform is based on collective intelligence," he said. "Our network is not based on us deciding that we put your trains or planes or buses on specific routes at a specific time."
As a result, BlaBlaCar gained market share and so became even more attractive to investors again. The company is using the most recent funding to pursue its ambition to become a travel super app that lets you plan an entire trip across different modes of transportation. And rather than playing defense, the company is going to become more aggressive in its attempts to lure more users.
That includes some of those markets where it had shut down operations. But a funny thing happened after BlaBlaCar pulled its employees out of India, Mexico, and Turkey: The service started to grow faster.
"We operate those markets from Paris and we have not spent a single dollar in marketing for the last three years," Brusson said. "But those markets were growing roughly at 100% year-over-year pre-Covid. We had to shut down the platform in India during the first phase of Covid. And when we re-opened it back up we did zero marketing and things have come right back."
Brusson said that points to the level of trust the company has established as well as the power of its driver-passenger matching algorithms. BlaBlaCar is now considering reinvesting marketing budgets and employees in some of those countries to boost that growth.
"The pandemic put us in a very interesting position," he said. "We want to accelerate and be in a more offensive mode. This was not about raising money to lick our wounds from the crisis. It's rather an offensive play of raising money to expand faster in some markets."
Global Mindset
These international adventures have completely transformed BlaBlaCar. In 2015, 75% of its users were in France. Today, 80% of its riders are outside of France and 60% are outside of Europe.
"That's how international we've become," Brusson said. "That's also how non-European we've become."
For that reason, Brusson has no regrets about the ups and downs of the company's international expansion plans. Most of these markets are now growing, just not in the ways they originally predicted. More importantly, that international footprint led to opportunities that none of the founders foresaw just a few years ago, such as bus service or becoming a super app.
"I'd be lying if I said I knew that we would become this one-stop multimodal app," Brusson said. "We had no clue. But that international expansion is creating a lot of opportunities right now. It creates a lot of options that otherwise we would not have. I hope that in a few years down the road we would have created a business that you could have never created if we had stayed in France. It's just a longer journey. I think people need to acknowledge that. It takes more time. It's going to take more capital. But fundamentally, I believe the return you get from this collection of options over time actually is superior to being a single country actor."
Had Blablacar not been globally ambitious and continued to take the risks despite the stumbles, Brusson believes the company would have faced an even bigger risk: Remaining too small and becoming irrelevant. He imagines a scenario where a smaller-scale BlaBlaCar entered a downward spiral because it could not invest enough, or hire enough engineers.
"The global journey was the right one," he said.
Instead, BlaBlaCar is in a position to start laying the groundwork for a possible IPO. Brusson believes as the pandemic recedes and travel returns in 2022, the benefits of its marketplace will increase as ridership goes up far faster than costs.  
"We always said [an IPO] was a goal," Brusson said. "The goal is to stay independent and at some point, that means most likely you become a public company. By the back end of 2022, we should be demonstrating operating leverage that would put us in a reasonable position to IPO at that time."
Meanwhile, BlaBlaCar is getting ready to make its own move in Paris. The company previously moved out of the office I visited 7 years ago to a new HQ on Rue Ménars in the more central 2nd arrondissement. Now, it's building an ultra-modern palatial office near the Bastille that is supposed to be more people and eco-friendly.
Like everything BlaBlaCar does, nothing went according to plan. The company is pushing ahead with the project even as the pandemic scattered employees. But the company is optimistic that when it does open next year, it will provide the physical foundation for its future mobility ambitions and attract the next generation of employees who will make that happen.
More than that, it may stand as a monument to the company's Silicon Valley-like optimism and culture of risk-taking that remain undimmed.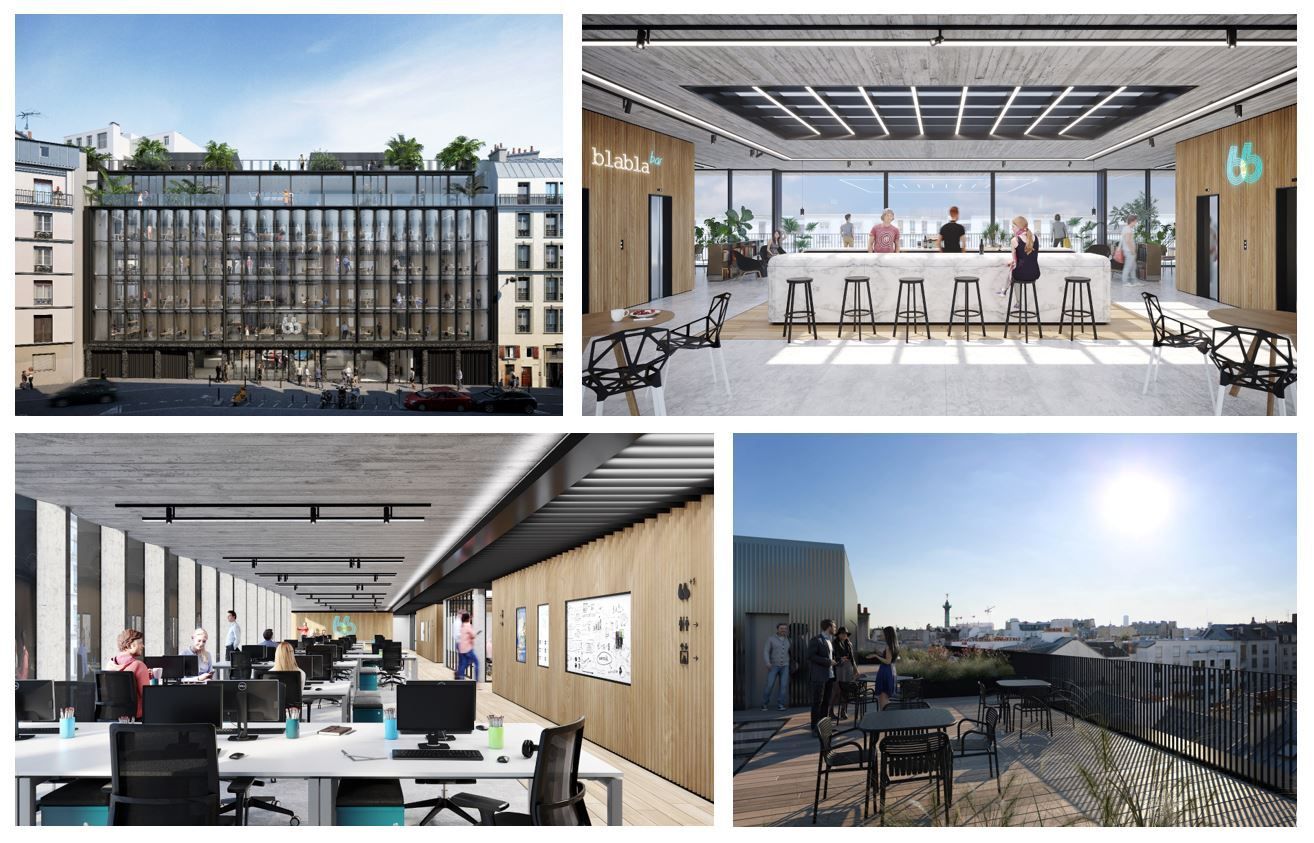 ---
Audio And Video Goodness!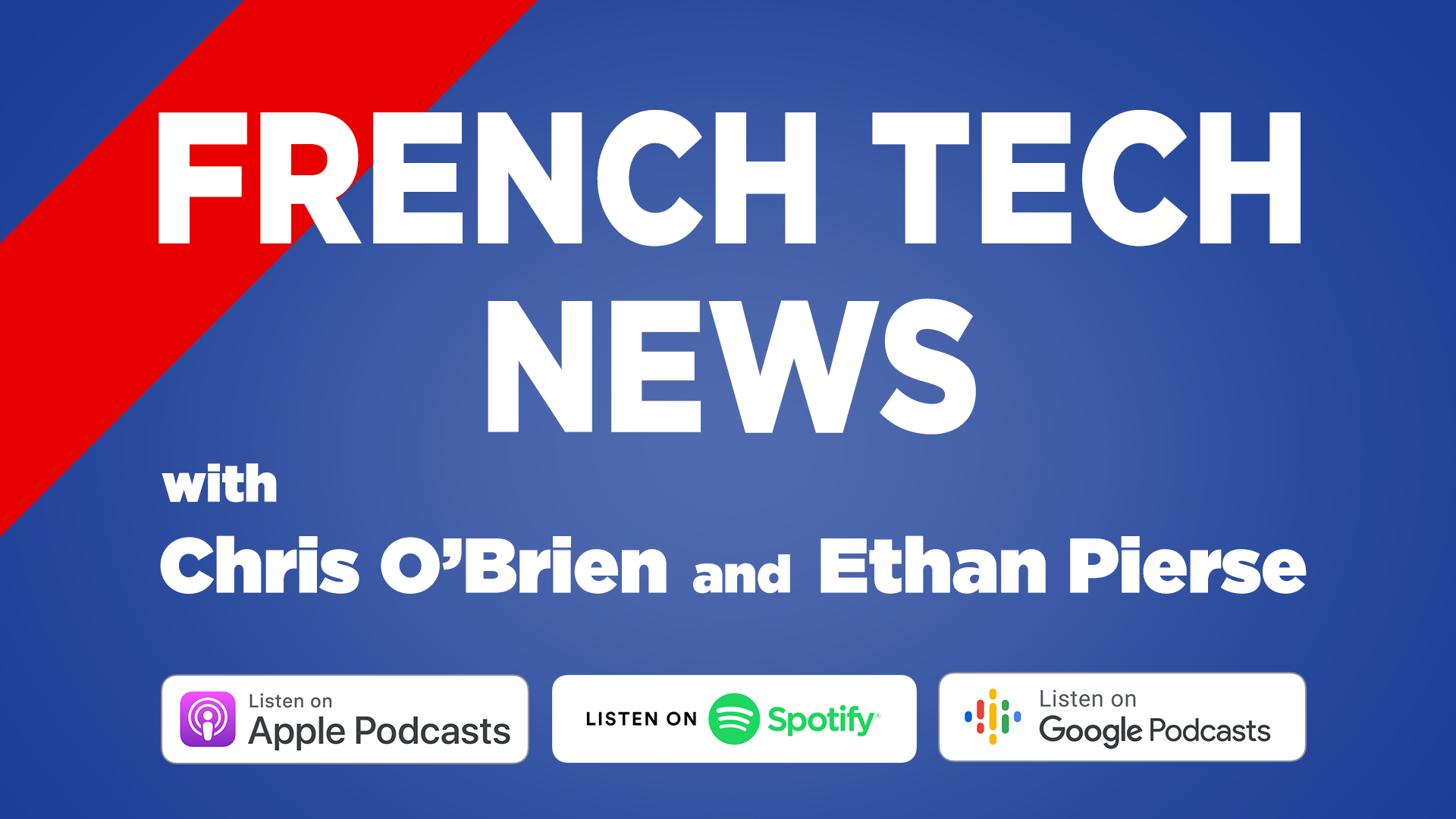 🎙️ Subscribe to the French Tech News podcast, a weekly discussion with France's entrepreneurs, innovators, and venture capitalists co-hosted by me and Ethan Pierse.🎙️
🎬 And be sure to check out our brand spanking new YouTube Channel while it still has that new car smell. 📽
---
👋🏻 If you're enjoying The French Tech Journal, support the project by forwarding it to friends and sharing it on your social networks. You can also comment on this post. And if you have ideas for stories, tips, or just want to harass me, send me an email: chris@frenchtechjournal.com. 👋🏻‌‌‌