Rarely does the tech world in France make big mainstream headlines. But several days ago, an appalling murder thrust a prominent entrepreneur into the spotlight while also highlighting the nation's ongoing problem with femicide.
On March 22, police arrested François-Xavier Hussherr, 51, and charged him with slashing the throat of his ex-wife, Cécile Hussherr-Poisson, 47. He is co-founder of an educational technology startup called ProfessorBob.ai. She was a university professor specializing in literature.
Police and witnesses say a man dressed as a Deliveroo driver was lurking outside of the building early in the morning. After finally gaining access to the building, he confronted Hussher-Poisson in the hallway outside her apartment and stabbed her to death.
As neighbors rushed into the hall after hearing a woman scream, the assailant walked out the door and briskly down the street. An alert group of nearby construction workers who had noticed the man earlier saw him leaving, and one of them followed him.
In an interview with French media, the construction worker wished to remain anonymous. He explained that he heard his colleagues shouting and saw a woman lying in the hall of the building and lots of blood. Recognizing the man from earlier, he followed him.
"He had been waiting for a while to kill her. He couldn't be let go," the construction worker said. "I immediately ran after him."
The killer entered nearby Sainte-Marguerite church on rue Saint-Bernard followed by the construction worker who worried he would escape through a back door. Alerted by the construction worker's team, the police soon arrived and cornered the assailant in the church.
When police seized the man, the construction worker worried that they had the wrong man because he was wearing different clothes, and appeared to be a blonde man in his 50s. Then he realized that the man had brought a change of clothes and had stuffed his delivery disguise in his messenger bag. Police also seized his knife.
Police identified the attacker as Hussherr, a serial entrepreneur. He had apparently been going through a difficult divorce with his ex-wife. Media reports suggested that disputes over the custody of their 3 children had made the divorce proceedings increasingly tense.
A Tragic Tale
As news of the murder spread, former coworkers and friends of both were stunned. Besides being married, the couple had been longtime collaborators.
In 2009, he co-founded Lelivrescolaire.fr, a startup that published digital textbooks and where she oversaw the development of several collections of manuals. The company was sold in 2014.
The company issued a statement that it was in mourning following the death of its co-founder. That statement also noted that as a result of a "disagreement" with two other co-founders, Hussherr was forced to leave the company in 2013, leaving the others in charge. For the past 10 years, he has had no involvement and owns no shares.
Before the digital book startup, Hussherr had been a researcher at MIT University (from 1996 to 1998). He and his wife also co-authored a book, "The New Power of Internet Users." Focused on reducing the digital divide in France, he also served as president of Rénaissance Numerique, a think tank that advocated for digital transformation in the public and private sectors.
From 2009 to 2018, according to his LinkedIn bio, Hussherr was cofounder and CEO of Gutenberg Technology, another digital education startup. He subsequently founded and created ProfessorBob.ai, in January 2019, to develop a virtual teaching assistant based on Natural Language Processing.
Last September, ProfessorBob raised a $2.5m round of venture capital from venture firms Innovacom and Inco Ventures. The timing proved good as companies that used AI began to experience a new wave of hype. Hussherr appeared on popular business shows on BFMTV and BSMART (both have subsequently taken the videos down but you can see an excerpt here).
Following his arrest, ProfessorBob scrubbed his image from the company's website.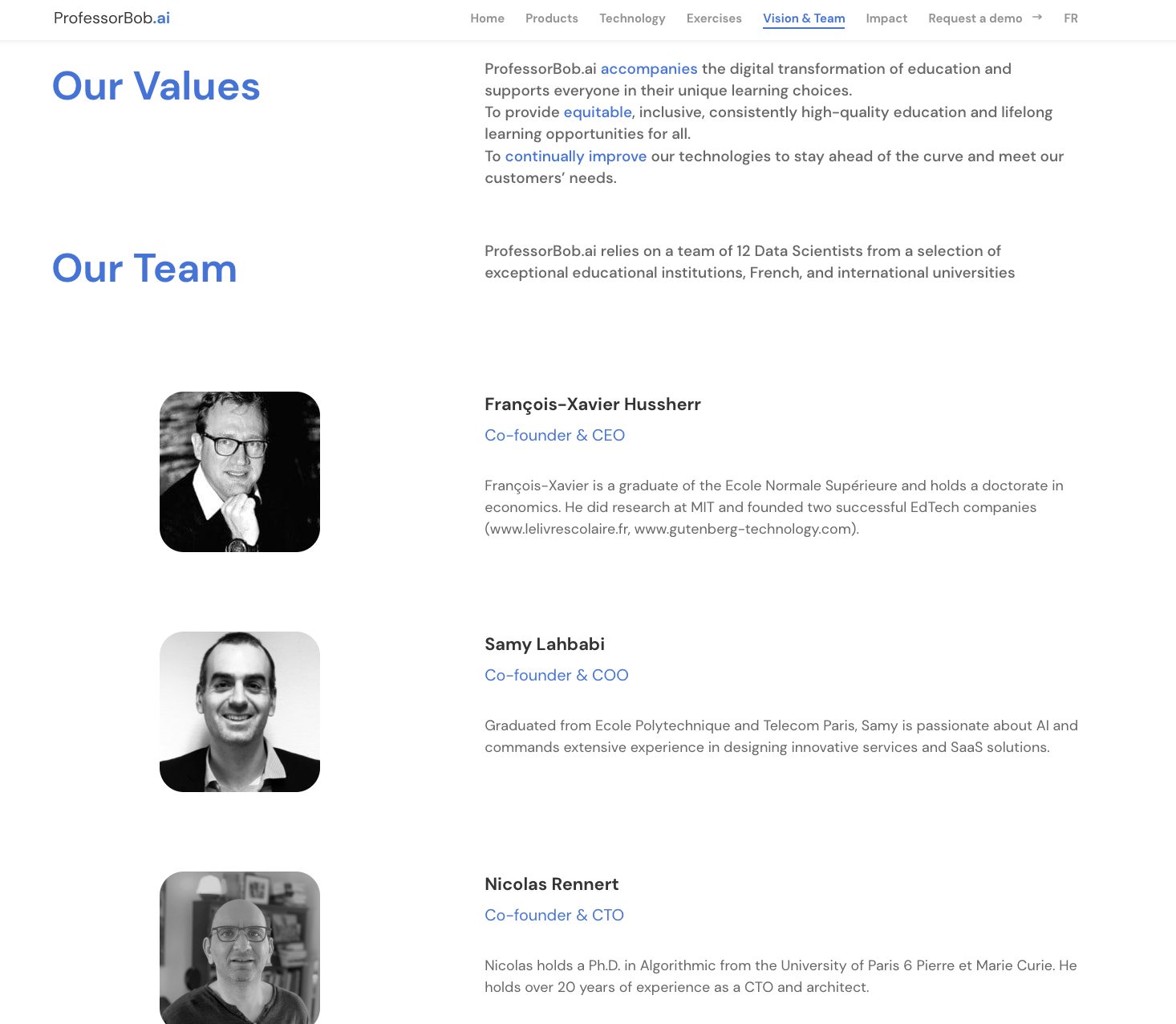 The company also issued a statement:
"We learned with shock and emotion of the indictment and pre-trial detention for murder of François-Xavier Hussherr, co-founder of ProfessorBob.ai. Our thoughts are first and foremost with the victim, her family and loved ones, especially her children. This tragedy shocks us deeply and affects all Professorbob.ai employees in their values and humanity."
A Terrible Loss
Hussherr-Poisson taught comparative literature at the Gustave-Eiffel University of Marne-la-Vallée (Seine-et-Marne). She studied myths and their rewriting as well as women's writing in English and French.
One colleague tweeted: "Stupor and pain, anger also on learning of the femicide of one of my colleagues from the university. She was a teacher-researcher in comparative literature and an equality watchdog in college. She was adorable and much loved."
Police have not disclosed an official motive for the killing. But two years ago, the couple separated and began divorce proceedings.
A few days ago, according to reports, the victim was chased down the street by a man before finding refuge in a nearby medical analysis laboratory. She called the police but declined to file an official complaint.
Femicide In France
The topic of femicide has become increasingly prominent in France as women have organized marches and protests to highlight the growing number of women being killed, often by their spouses. In many cases, police did not respond to early reports of domestic violence before it escalated into murder.
Femicide was also the subject of The Night of the 12th, which won best picture and best director at the César awards last month. The movie tells the true story of a 21-year-old woman who was walking home at night when a man doused her with gasoline and set her on fire. The case was never solved and received little attention in the media at the time.
According to Le Monde, between January 2022 and November 2022, "more than 100 men have killed their current or former wives or partners. According to the Ministry of the Interior, there were 122 femicides in 2021, 102 in 2020 (with the drop attributed to Covid-19 lockdowns), 146 in 2019 and 118 in 2018."
Hussherr-Poisson is now the latest tragic symbol of this issue.
In an interview with Le Parisien newspaper, Anne-Laure Buffet a therapist and lecturer specializing in domestic violence, said Hussherr-Poisson had contacted her in December 2020 to discuss problems in her marriage.
There were suggestions that these marital issues had turned violent, though Hussherr-Poisson still seemed determined to stay in the marriage and find a way to repair things.
"She knew that her experience was not normal," the therapist said in the interview. "She was tired but did not use the term violence. She did not understand that her daily life could have been otherwise. She wanted to find a solution to allow the couple to find a balance."
Eventually, Buffet said Hussherr-Poisson recognized that she would need to leave to be safe.
"Society implicitly asks women to be less brilliant than men," Buffey told Le Parisien. "It is an integrated social system. Emotional abuse is a controlling and coercive hold. The switch to physical violence occurs when the perpetrator realizes that he has lost all control and domination. When separation is necessary, the only way to preserve control of the other, the victim, is to destroy them."
Buffet emphasized that it is in no way surprising that abuse and violence can be perpetrated by a white-collar man who had a prestigious education.
"From the moment we tell him: you are part of the elite, we give the individual the authority to dominate the other," the therapist said. "As society implicitly asks women to be less brilliant than men, they suffer this domination. The more they are intellectually constructed, the more the violence will be calculated, deaf, invisible, insidious and psychological. Realizing this is extremely complicated. At times like these, you always try to tell yourself that it won't go that far. I warned her, but how to foresee such a dramatically unpredictable act?
"What victim of violence can imagine that her ex-spouse would disguise himself as a delivery man to surprise her with a dagger? It's unimaginable!"
Comments