---
France has not been afraid to take on U.S. tech giants in recent years. The approach has been a mixture of firm stands on issues like taxes and some gestures of encouragement, such as President Macron's Tech For Good Pledge. Between the carrot and the stick, the goal remains to align the behavior of tech giants with France's values, and hopefully convince these companies to see the broader benefit in terms of their image as well as the economics.
Still, sometimes that relationship boils over. That was the case in early February when France Digitale, which represents the nation's entrepreneurs and VCs, announced that it had joined the Coalition for App Fairness to take "a stand against Apple's anticompetitive behavior."
The European Parliament is currently considering the Digital Markets Act (DMA), a measure that would, in part, target the rules around app stores. Last summer, European regulators opened an anti-trust investigation in Apple's App Store practices.
In response to that investigation, Apple said:
"It's disappointing the European Commission is advancing baseless complaints from a handful of companies who simply want a free ride, and don't want to play by the same rules as everyone else," said an Apple spokesperson in a statement to The Verge. "We don't think that's right — we want to maintain a level playing field where anyone with determination and a great idea can succeed."
The company has sought to emphasize the economic impact of the App Store which it estimates around $51 billion in Europe. It also points to the security and quality control it provides to consumers by maintaining its rules around app creation and distribution.
The coalition was formed to press for reforms on Apple and Google app stores. But it has been especially focused on Apple. That's true also for France Digitale, which said in its announcement: "Apple's anticompetitive behavior and abuse of its dominant position, however, imposes intolerable and unacceptable restrictions." The headlines in France were not subtle: "France Digitale goes to war against Apple," said Maddyness.
At about the same time, Paul Christophle, a partner at Korelya Capital, published an article on Medium that examined the growing conflict between Apple and Facebook. Christophle raised similar questions about Apple's might:
If Facebook gets annoyed when it comes to privacy, Apple cherishes the massive power and the strict 'entry control' it has built around the IOS ecosystem. Through the rules of the App Store, Apple has a large freedom to choose which app can be published and those which cannot.
What happens if an app comes into direct competition with a firm's service? Given the 30% fee Apple takes on every purchase on its platform, how can an independent app compete with a direct service of the firm (which is not subject to this fee)? Is it good for business freedom and tech diversity that the software that you can download and run on your computer from its editor's website will have to follow the rules and pay a fee to be available on the store?
We recently invited France Digitale CEO Nicolas Brien and Christophle to join us on Clubhouse to discuss their thoughts on Apple and France's developer community.
You can listen to a replay of the conversation on our podcast. But I wanted to share a few highlights here.
A Bigger Battle
Despite those call-to-war headlines, Brien wanted to emphasize that the fight is bigger than France Digitale, or France, or Europe.
He's absolutely right about that. Indeed, the coalition includes such founding members as Spotify, which had previously filed a competition complaint against Apple. In addition, the Arizona state legislature is considering legislation that would target Apple and Google app stores. Apple defeated a similar effort in North Dakota. Meanwhile, Epic Games has filed an anti-trust complaint against the App Store with the EU. And just today, news broke that the U.K. competition authority is investigating the Apple App Store.
"I don't want this to be another French fight against the big nasty American guys," Brien said. "It's not about America versus Europe. It's a problem between Apple and the rest of the tech ecosystem."
So what are the issues? Brien listed 3, including the limitations on choice of apps, and the inability to chose other options for paying outside of Apple's payment system. But the most aggravating is the 30% cut that Apple takes on revenues generated by apps, which the coalition has dubbed a "tax" that it says gives Apple a 70% profit margin.
Worth noting: Apple announced last November that it would reduce that fee to 15% for app developers making less than $1 million, something it claimed would cover the majority of apps. But Brien argued that the overall fee structure remains too onerous.
"The problem here is the margin," Brien said. "What on Earth in an open market economy justifies the fact that you're making 70%? profit? Even hedge funds don't make 70% profit, right? The problem is that they are stifling and killing innovation."
Brien said France Digitale didn't go looking for this fight. Instead, he said numerous members had been complaining about the impact of the App Store rules.
"Is Apple good for startups?" Brien said. "We had to ask these questions because we had so many members that are coming to us and telling us, 'Hey, we are facing very unfair, and sometimes even violent practices from Apple and the App Store specifically.' We realized that it was quite crazy because pretty much any startup on Earth uses the App Store. And yet, they are very dissatisfied with their relationship with Apple. And even more than dissatisfied, we were surprised to see the violence, the bitterness, in the relationship with Apple. Many startups in our ecosystem feel totally squeezed."
With big and little players afraid to speak up, France Digitale felt it needed to step in.
"I do believe that the success story behind Apple wouldn't be possible in 2021," Brien said. "If someone like Steve Jobs wanted to launch a startup like Apple today, in 2021, with all these unfair practices from tech giants, it wouldn't be possible anymore. So we've lost something. That's why we are taking up this fight."
Christophle echoed that same theme: "I think what is at stake is the ability for the ecosystem to innovate." In particular, he noted that Apple plays an awkward role as both the manager of the App Store but also the creator of its own apps that compete in some cases. "It's harder than ever for an unknown app to breakthrough to a broader audience," he said.
Both Brien and Christophle said they are eager to see the EU move forward with new digital market rules. But Brien said France Digitale is also gathering information to file its own legal complaints.
"We have a window of opportunity with the Digital Markets Act to regulate these behemoths," Brien said. "The Apple App Store situation is pretty much like putting a tiger and a kitten in the same cage and hoping for a fair fight. The tiger is not going to turn into a kitten all of a sudden. But at least let's trim the claws of the tiger."
---
Audio Goodness!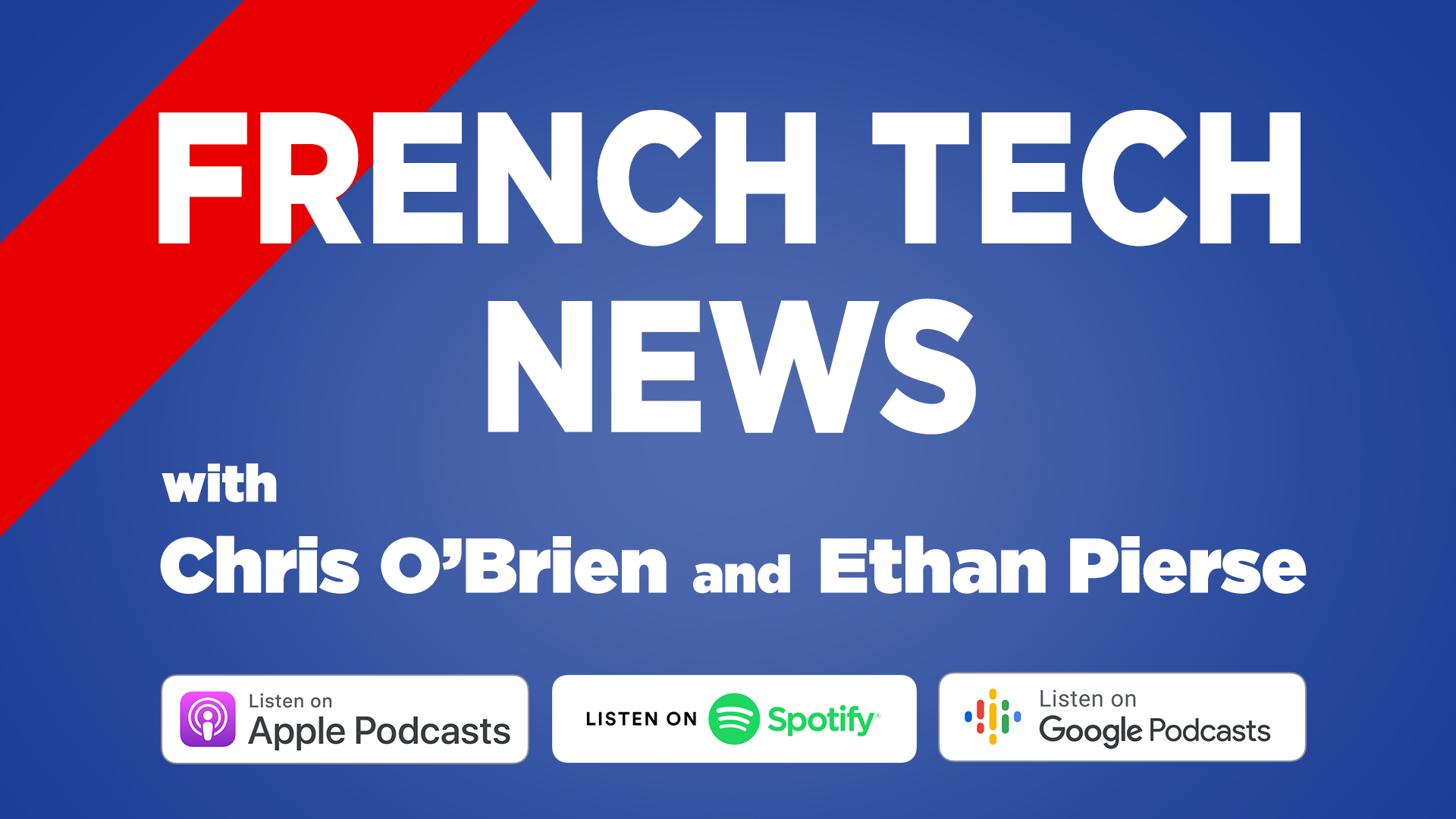 Join me and co-host Ethan Pierse each Monday and Thursday night at 7 p.m. CET for our French Tech News Clubhouse session.
🎙️ Also: Please subscribe to our brand-spanking-new French Tech News podcast, a weekly discussion with France's entrepreneurs, innovators, and venture capitalists. Take if for a drive while it still has that new podcast smell.
---
In other news...
Sista and the Boston Consulting Group, in partnership with France's National Digital Council (CNNum), released the latest barometer measuring the gender breakdown in the nation's startups. Overall, the numbers are not surprising: 90% of funds raised in 2020 went to startups founded by just men.
There was one encouraging sign. In 2020, 21% of start-ups founded were led by women or mixed teams, up from 17% in 2019.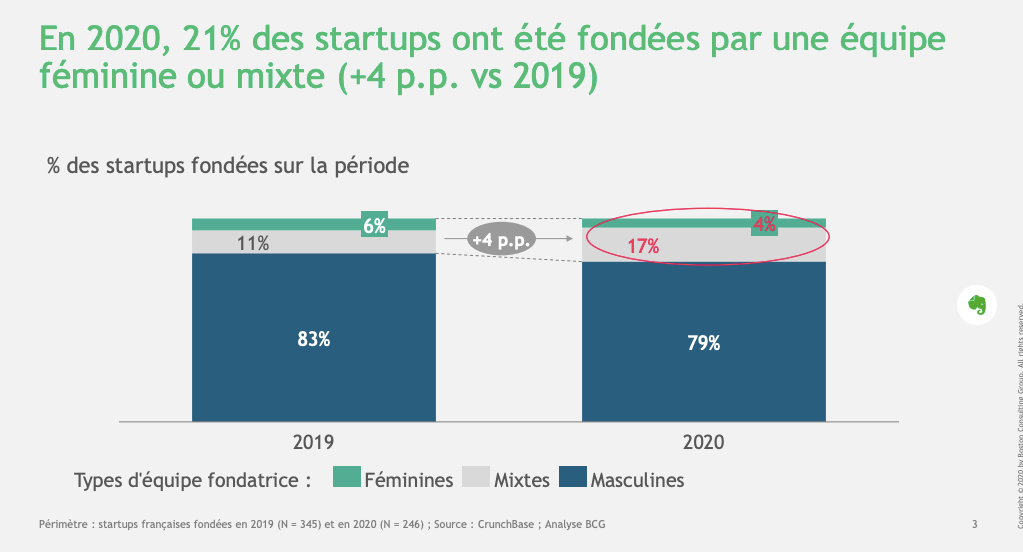 The big picture: Gender diversity is a problem in every startup ecosystem. France has set goals to do better, but progress is still slow. Sista has emerged as one of the key groups pushing to change that dynamic. On March 17, Sista co-founder Tatiana Jama will join Ethan Pierse and me on Clubhouse to talk about this work, and what possible lessons other ecosystems can learn from France and Sista.
---
Funding News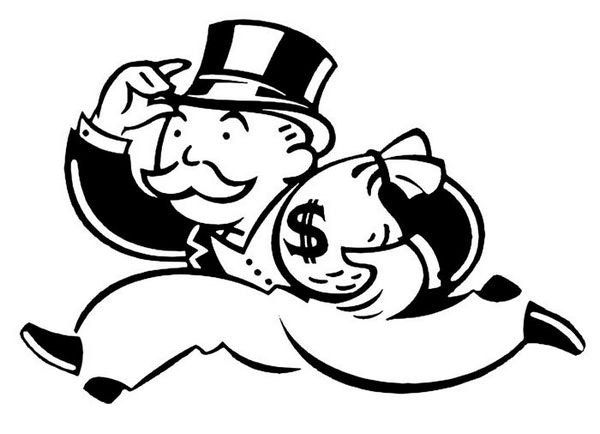 ---
Journalism Demystified: How do journalists do their job? How do they make decisions about what stories to cover? How do they get the information they need?
Book an appointment with me at Superpeer and I'll answer your questions about journalism and the media and explain my workflow to help you better understand the perspective and challenges of journalists.
If you're a subscriber to this free email, I'll send you a code for a 20% discount. If you're a paid subscriber, you can get a code for a 50% discount.
---
If you're enjoying The French Tech Journal, please support the project by forwarding it to friends and sharing it on your social networks. You can comment on this post on the website.
And if you have ideas for stories, tips, or just want to harass me, send me an email: chris@frenchtechjournal.com.
Comments