The French Tech Journal provides analysis of France's digital ecosystem as well as in-depth interviews with French entrepreneurs and VCs. If you like what you read, please forward the newsletter to friends or share it with your social networks.
🔥🔥If you'd like to support independent and original reporting on the French Tech ecosystem, consider a paid subscription. That subscription gets you a code for a free session with me on Superpeer to answer all your questions about journalism and startups. Or, whatever else is on your mind. Free subscribers can request a code for a 50% discount.🔥🔥
Send tips, comments, questions, and your ideas to our global headquarters: chris@frenchtechjournal.com.
---
Batch CEO and co-founder Simon Dawlat offered, perhaps unintentionally, the perfect analysis of just how insane the funding picture has become in France with a half-joking post on LinkedIn last week:
"Help me get 10,000+ likes on this post to support the friends of Sellsy who chose the worst day in the history of French Tech to announce their fundraising of €55 million 😂😅."
Once upon a time, a €55 million venture capital round would have caused eyes to bulge and journalists to trip over themselves to discover the secrets of the wunderkind founders who landed such a big check. Sellsy's round did get some coverage in French media for its cloud-based CRM platform. And with its operations based in La Rochelle and Bordeaux, the company ties into the larger theme of the government wanting to support the development of La French Tech outside the closed confines of Paris.
Rather than being showered in hosannas, however, Sellsy's founders saw much of the glory that day to go Back Market, the refurbished gadget platform which raised a $510 million round to become France's most valuable startup at $5.7 billion. Which dethroned neobank Qonto who had just reported a €486 million round at a €4.4 billion valuation the previous day. Which came just one day after the €250 million raised by Ankorstore and the $289 million raised by PayFit the previous week.
Today comes news that Exotec, a warehouse robotics startup based in Lille, became France's 4th new unicorn of 2002 thanks to a round of $335 million for a $2 billion valuation.
And it's only January 17. Phew
This has sparked a lively discussion of just where the country stands in terms of meeting President Macron's goal of 25 unicorns by 25. The official tally by the French government is now at 25: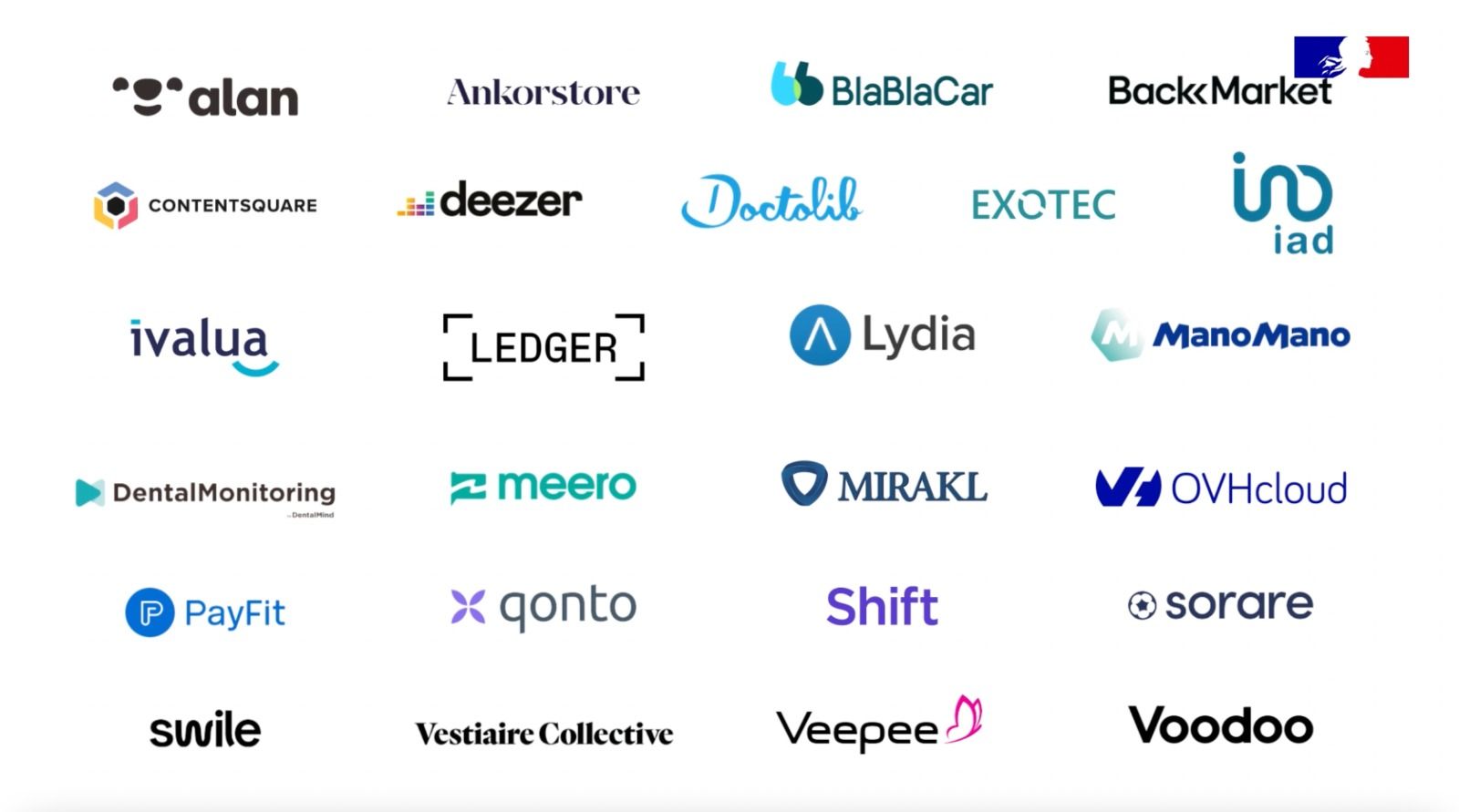 Macron's administration marked the occasion with a flurry of tweets and a YouTube video praising the ecosystem's progress.
Macron celebrated by wearing his favorite Steve Jobs black turtleneck.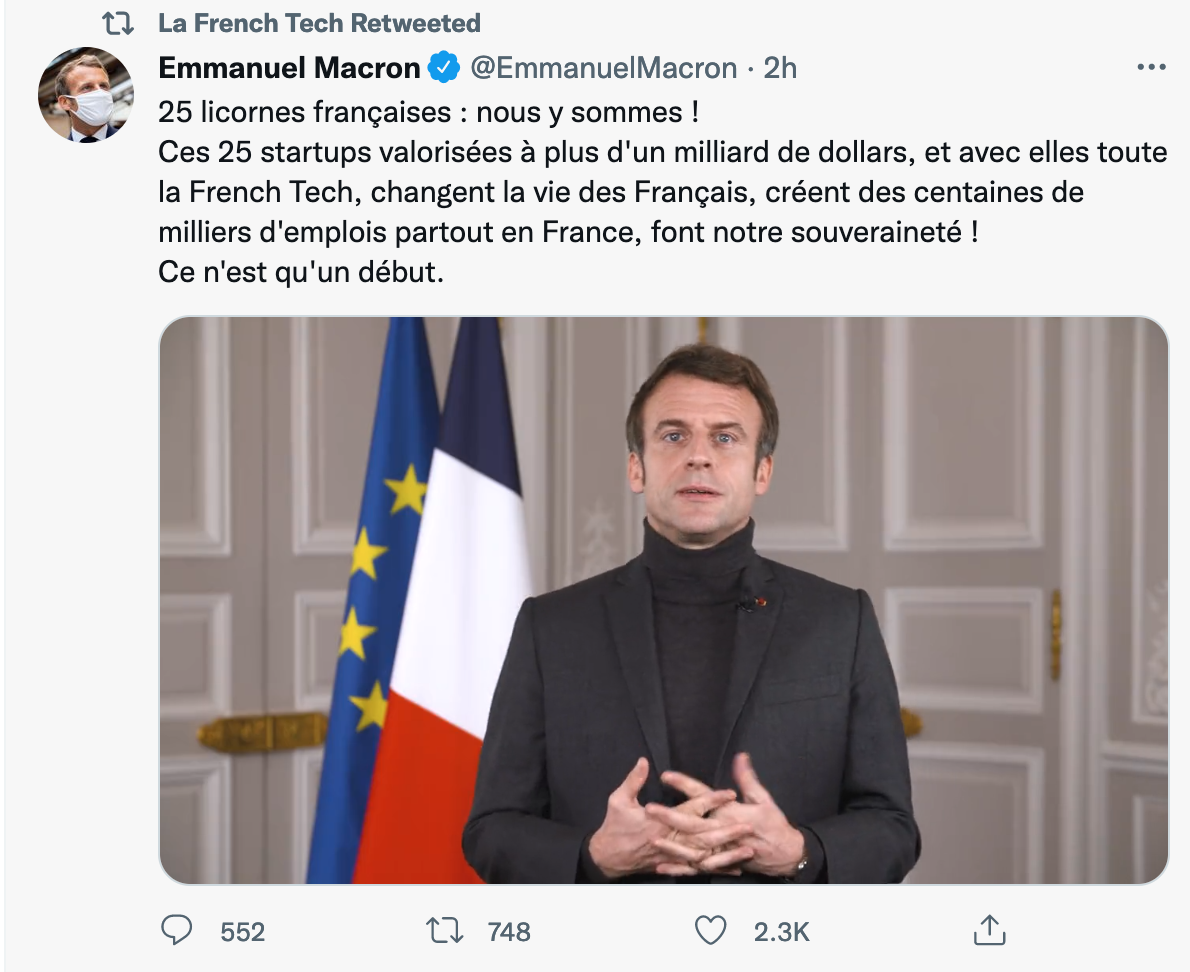 Not everyone will agree with that tally. For instance, cloud hosting provider OVHcloud went public last year, and generally, unicorns refer to private startups. However, according to Dealroom, OVH hit a $1 billion valuation with a funding round in 2016. So that seems legit.  
Maddyness originally counted 24 unicorns last week. But it then revised that number down to 23 by the next day because one company on that list, Owkin, had moved its HQ to the U.S. Maddyness also cast doubt that AI-startup Meero was really a unicorn because according to documents, the company had only raised €130 million in 2019 rather than the €205 million it had announced, and thus has not really become France's 6th unicorn as was reported at the time. Meero remains on the French government list.
Others have put the number of actual French unicorns as high as 29, but this also counts companies such as Dataiku and Algolia which are based in the U.S. Of course, the debate about how to define a "French" unicorn would be largely academic if not for the 25 by 2025 goal.
Either way, France is way ahead of schedule. So much so that it's time to revise those goals. As Qonto's Alexandre Prot told me in our interview for Sifted, the time is right to move past seeing unicorn as a notable benchmark for tracking progress:
"It's important to look at relative values and to see that a unicorn 10 years ago was a huge valuation, a huge success," Prot says. "Today, unicorn is kind of a starting point."
It's also worth noting that the timing of all funding announcements is largely a carefully choreographed piece of theater. In this case, most of the big rounds announced this week were likely closed last year. There's often a lag betwen the papers being signed and the press releases going out. Many of these rounds could have vastly inflated France's number for 2021, but instead, have created the impression of a hot start for 2022. A number of founders pointed out last year that these gargantuan rounds are not just about the money; they also help a company raise its public profile which can boost its recruitment efforts. So the timing of any announceent is more strategic rather than reflecting the actual closing of a round.
As Exotec CEO Romain Moulin noted during an interview, the possibility that his company may (or may not?) be France's 25th official unicorn is really more just a quirk of timing and luck.
2021's Bottom Line
Beyond the unicorn tally, the numbers across the board were strong for French startups in 2021: €11.3 billion raised in 2021 compared to €4.7 billion in 2020, according to Eurazeo's Alexandre Dewez's annual report on the French Tech ecosystem.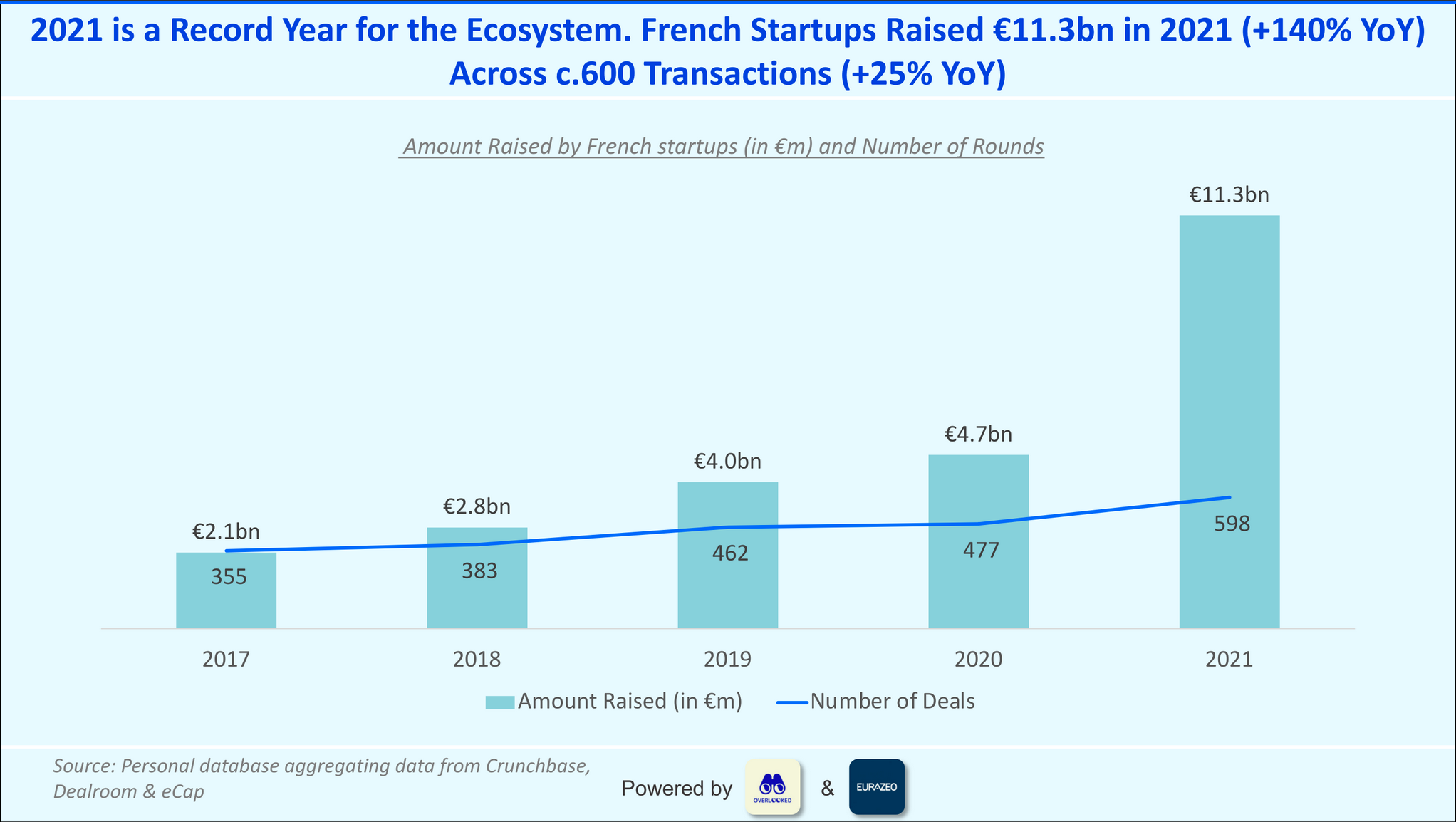 Underlying those numbers are those mega-rounds. Private equity firms and heavy hitters like Softbank have descended on the French ecosystem and transformed expectations. It wasn't that long ago that France was begging overseas investors to take it seriously. And now? About 50% of the amount raised by French startups in 2021 included a U.S. investor. Crazy.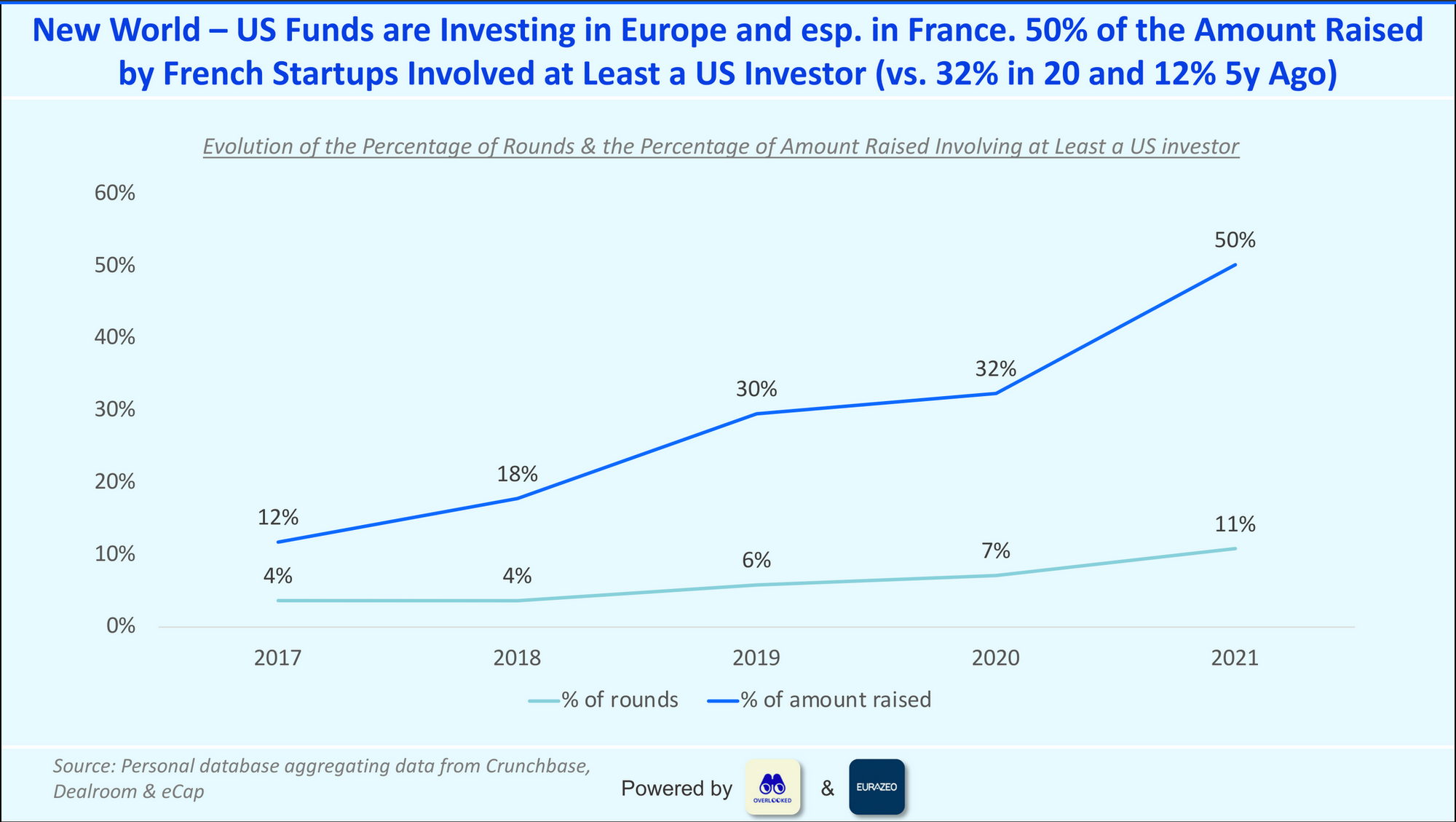 And yet...
As Prot of Qonto hinted, this swell of funding is part of a global phenomenon. On one hand, France has moved steadily up the global rankings, nudging past Israel to rank 7th in the world for funds raised in 2021. On the other hand, the U.K. and Germany saw even faster growth last year.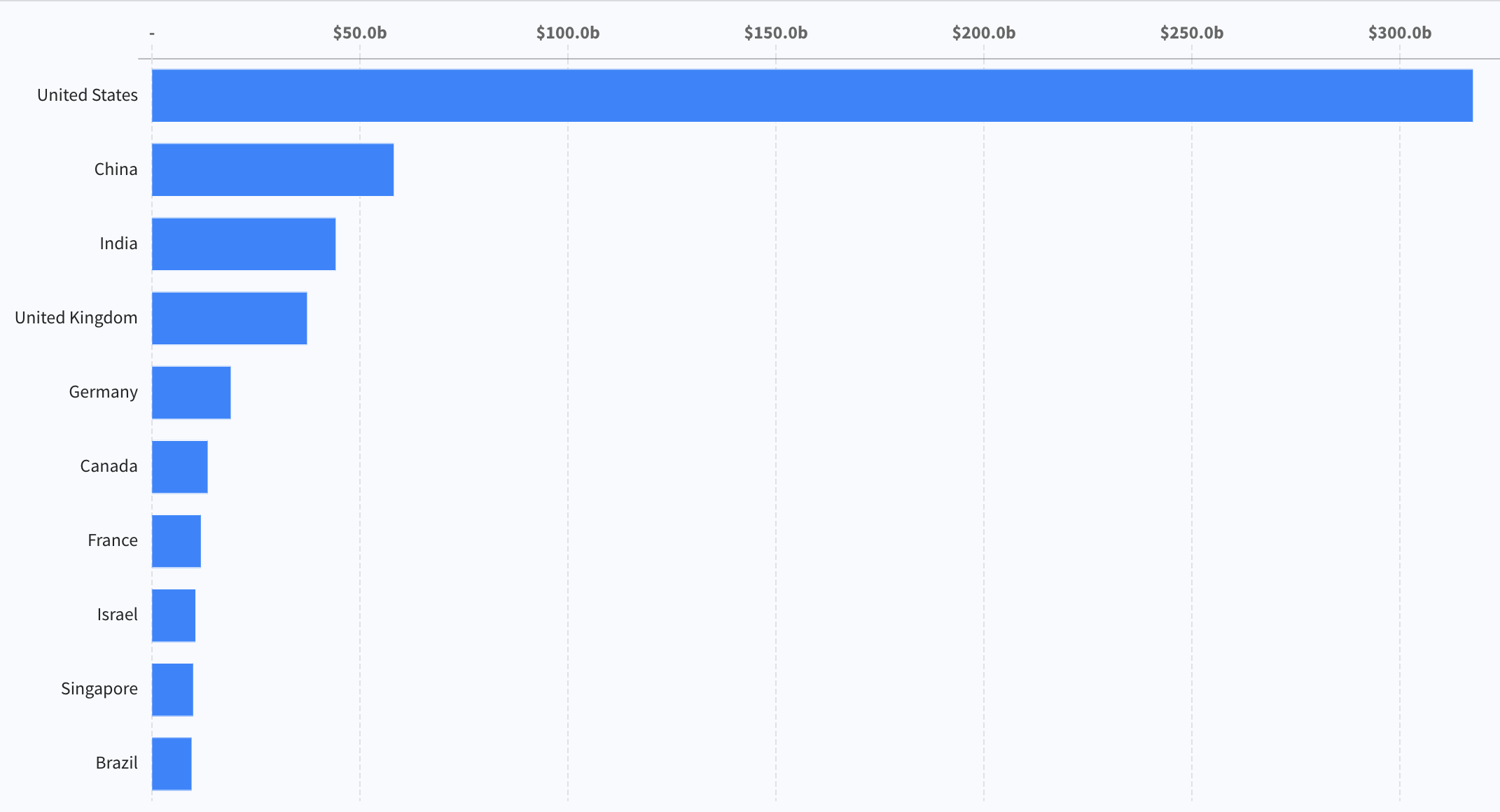 Assuming that this money continues to flood the startup zone (and not everyone assumes that it will!), French startups are going to have to run even faster in 2022 just to keep pace. The early signs are positive. But with this money in their pockets, these startups are also going to have to deliver to their investors, employees, and customers to demonstrate that these big bets were smart ones.
---
Audio And Video Goodness!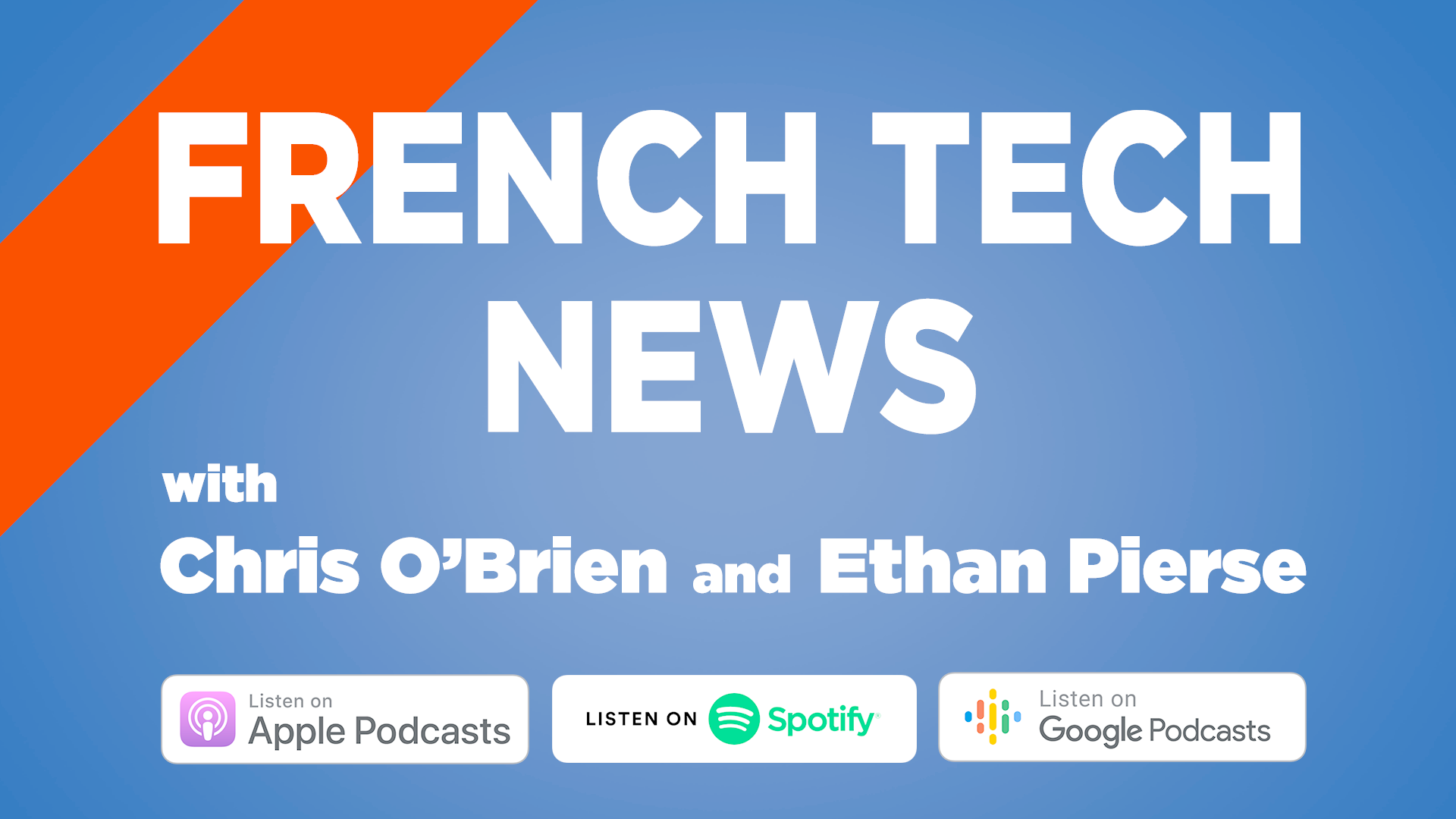 🎙️ Subscribe to the French Tech News podcast, a weekly discussion with France's entrepreneurs, innovators, and venture capitalists co-hosted by me and Ethan Pierse.🎙️
🎬 And be sure to check out our YouTube Channel.📽
---
Seed Of The Week: Lumos Apps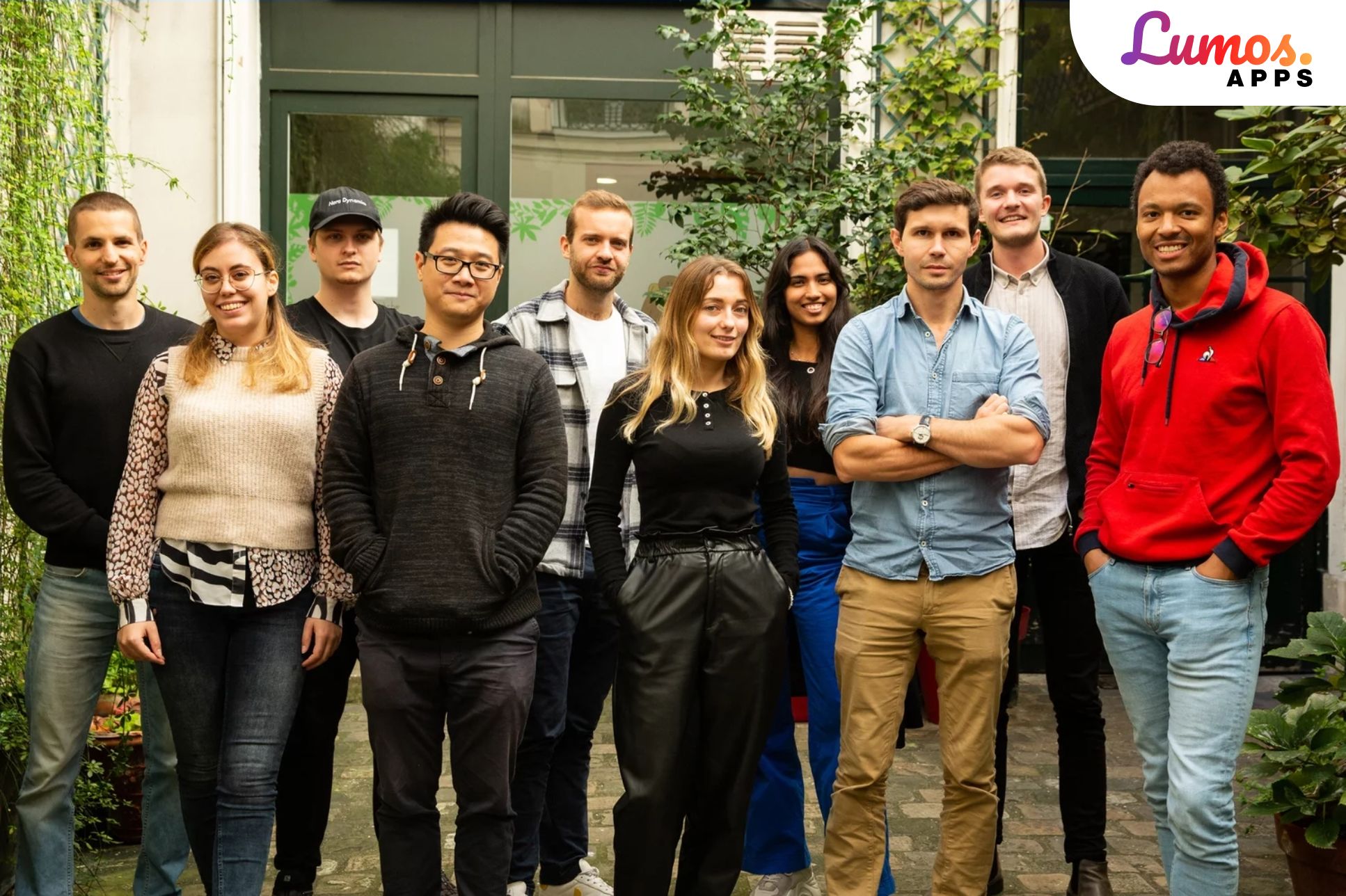 What: Lumos Apps is a publisher that has developed prediction and automation technologies to help developers improve the quality and discoverability of their mobile apps.
Why: The mobile app market is now valued at $260 billion and the competition among developers is fierce. As such, simply having great content is not enough to stand out. Lumos helps to manage and optimize the production process so publishers can focus on their content. Lumos' tools leverage predictive and AI
technologies to improve User Experience (UX), User Acquisition (UA), App Store Optimization (ASO), marketing campaigns, and monetization. This in turn reduces the resources a developer needs to produce their app while improving its chances of hitting the top of the app charts.
Who: Co-founders are Vincent Hart de Keating (former co-founder of Homa Games) and Damien Soulard.
Seed Round: $1.8m (€1.6m)
Investors: Breega and Bpifrance
Next: The company will continue to develop its platform, invest in R&D, and grow its international team.
---
👋🏻 If you're enjoying The French Tech Journal, support the project by forwarding it to friends and sharing it on your social networks. You can also comment on this post. And if you have ideas for stories, tips, or just want to harass me, send me an email: chris@frenchtechjournal.com. 👋🏻‌‌‌
Comments