The French Tech Journal provides analysis of France's digital ecosystem as well as in-depth interviews with French entrepreneurs and VCs. If you like what you read, please forward the newsletter to friends or share it with your social networks.
If you'd like to support independent and original reporting on the French Tech ecosystem, please consider a paid subscription. Send tips, comments, questions, and your ideas to our global headquarters: chris@frenchtechjournal.com.
---
(photo left to right: Brut co-founders Guillaume Lacroix, Renaud Le Van Kim, and Laurent Lucas. ©Benjamin BOCCAS)
If you live in France, the Brut media brand has become inescapable. Its short-form videos and podcasts are ubiquitous across social media platforms.
But what only really became clear to me last year was just how far Brut had extended its reach around the world. This seemed improbable on several levels. Most of its content was in French. The media market is already oversaturated with viral content. Yet somehow, this Paris-based startup founded in 2016 managed to break through and find a global audience.
That momentum was confirmed yesterday when the company raised a $75 million Series C round of venture capital. Just as intriguing as the money is the lineup of investors: James Murdoch's Lupa Systems, François-Henri Pinault's Artemis, Orange Ventures, and global asset manager Tikehau Capital.
"In just a few years, Brut has established itself as a key player in the French and European media ecosystem, especially among young people," Stéphane Richard, Chairman and CEO of Orange, said in a statement. "Thanks to an innovative business model based on data analysis, Brut has participated in the renewal of the French journalistic scene and has created a strong bond of loyalty with its audience. We are happy to support Brut in its expansion strategy to make this French know-how resonate internationally."
Following the announcement, I spoke with Brut CEO Guillaume Lacroix, who co-founded the company with Renaud Le Van Kim and Laurent Lucas. The trio brought together backgrounds in journalism, technology, and video production. Lacroix said what united them almost five years ago was a vision for a different kind of media company that could reach people through values-driven stories that were ignored by mainstream news and told in a way that spoke directly to the lives of young people.
As it turns out, such stories strike an international chord.
"Very quickly, we saw that our videos, even in French, were consumed across the globe," Lacroix said. "We found that values have no borders. 70% of what we produce every day works across the globe. Because values, power, accountability, woman's rights, fighting any kind of discrimination, anything solution-driven, especially for generations who think their parents failed miserably with the planet and the environment, those stories are universal."
Youth Media
Brut is known for its short, concise news videos that typically feature an interview or explanation of a topic. The tone of the videos is conversational and they can be found on social platforms such as TikTok, Facebook, Instagram, Twitter, Twitch, and Snapchat. In 2020, the videos were viewed more than 20 billion times.
The company reports more than 1 billion active users in 60 countries. It's the No. 1 video service in Europe and India and now ranks in the Top 5 in the U.S. When Brut recently interviewed French President Emmanuel Macron, the video on Snapchat was viewed 100 million times.
"What we've been building with Brut is the media of this new world for those new generations where they can relate to the topics we are covering," Lacroix said. "So fast forward to now. We built the leading global media on social. We are a social phenomenon in France. We are number one on social platforms in India. We are already in the top four in the U.S. on Facebook."
While Brut has succeeded in attracting a large and youthful audience, Lacroix said the founders didn't set out specifically to target younger generations in the way other media has approached the challenge. He said too often such efforts translate into dumbing down topics and turning news into shallow entertainment.
Instead, the founders wanted a media company that chose its topics based on the subjects that were important to young people and told by people they could relate to. So they began assembling a team of 20-something video and digital talent and asked them what topics excited them: What stories would they be excited to tell friends or family members over a drink or dinner?
"We were kind of frustrated with the TV networks because we couldn't express what we felt was the reality of the world we were living in," Lacroix said. "If you are not passionate enough with what you've been doing, you shouldn't be doing it."
As the team dug in, they also saw that media consumption habits were breaking along generational lines. Lacroix said that 5 years ago, people under 34 years old and people over 50 had a 60% overlap of news consumption. Today, that's around 8%, according to Brut's research. "There are really two worlds," he said.
From there, the team iterated a lot on topics and formats. One theme that emerged early was that they did not want Brut to be opinion-driven. Too much media is now clearly partisan and intended to persuade.
"Young people hate to be told what to think," Lacroix said. "So you need to come up with stories in a nonpartisan way. We don't point fingers. We just try to provide facts, context, educational tools, in order to better understand the world around us. We've made a choice that is clear. We are not slaves to the traditional news cycle. We have our own news cycle and we try to promote values-driven content and young change-makers."
With those concepts as a guide, Brut exploded in France and quickly went global. Today, about 70% of its audience is under 35 years old.
"I think what we've been achieving is that we are super relevant for their world," Lacroix said. "The world in which they really live in is a world which is polarized by more traditional media. We try to unify people."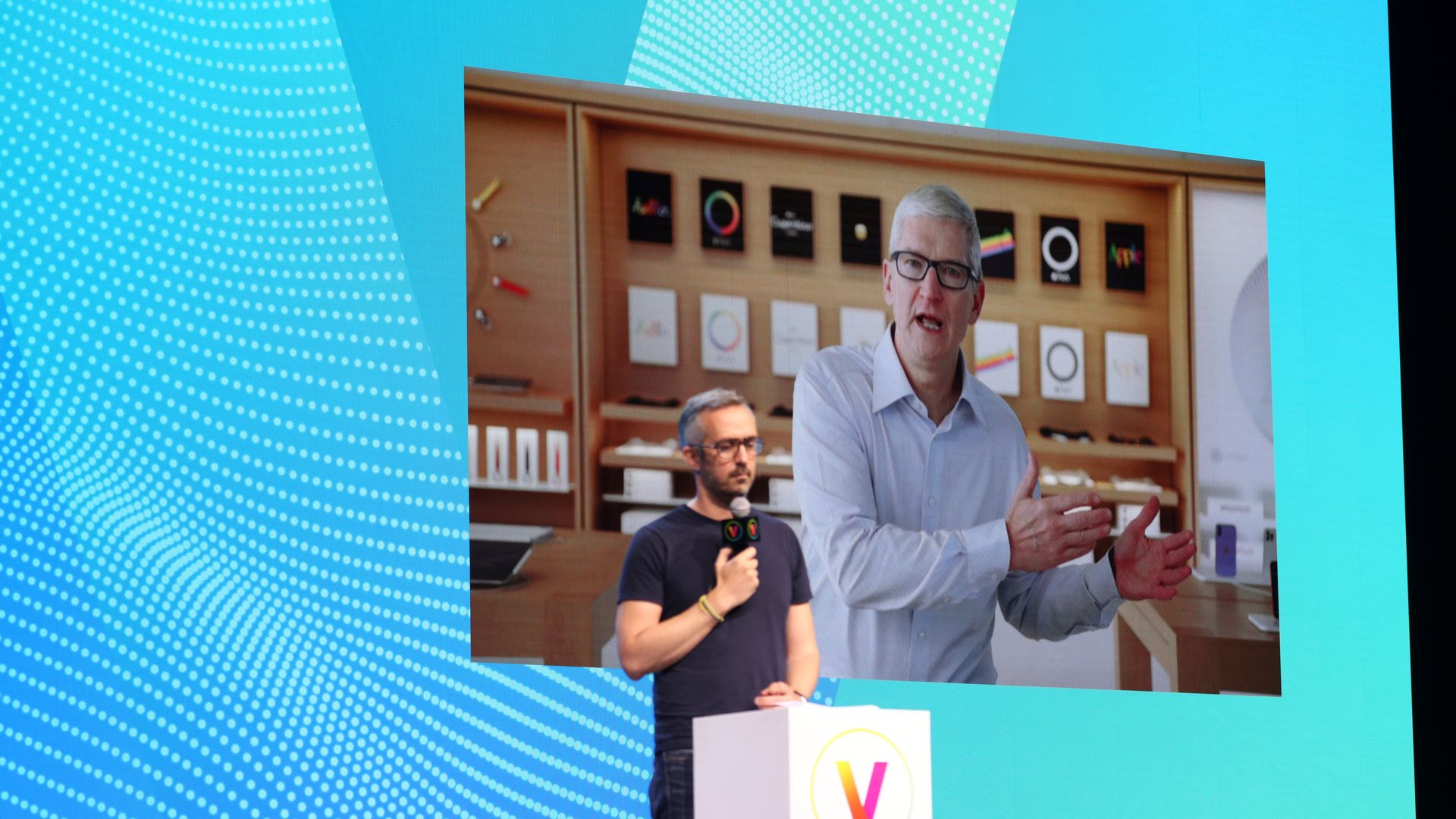 Data And Journalism
From the start, Brut encountered massive skepticism. The founders couldn't initially raise money. And when it came to talking about younger generations, they kept hearing the same stereotypes.
"They don't care about the news," Lacroix said. "They don't care about the world or anything. Which for me, seemed insane at the time. Because we could see younger generations were so engaged in society. And I wanted to talk about women's rights and the environment, and five years ago you didn't see that much in the news cycle. People were telling us that's boring and nobody cares and it's not clickable."
In Lacroix's view, much of this disconnect is driven by the misuse of data. On one level, many content organizations analyze data surrounding current uses and trends and use that to produce more content that reinforces those habits. The data says people like cat videos, so everyone produces cat videos to generate viral clickbait.
But what about things that people don't click on because they don't exist? As Steve Jobs once famously posited, people don't necessarily know what they want until you show it to them. No focus groups or data would have told Apple to design the first iPhone. Lacroix said Brut embraced this philosophy. He said intuition and the group's journalism experience are just as important as data.      
"Data is a tricky thing," he said. "When we started, if you looked at the data, the share of 'women's rights' on social conversation in France was less than 1%. So if you're purely data-driven, you're going to say, 'Look, nobody's interested in this conversation. It's not worth it.' If you are only looking at data in a static way and not in a dynamic way, and if you don't put human insight into it, then it's worthless, it makes no sense. So you need to come with a strong intuition. That's what we as journalists have been trained to do."
Lacroix also said having a newsroom as diverse and young as society has been critical. The company employs more women than men and has just obtained B Corp status will require it to continue to meet targets around diversity and impact in the years to come. Maintaining that culture will be important to retain the trust and connection with its audience.
"The biggest value of what we've been creating so far is the trust between the media brand and the viewers that like our vision," he said. "Now people trust us. It's the biggest asset we have. And that's something we need to cherish and protect. Because when people trust your brand, they're going to see a video with a Brut logo, and even if they don't know what we're talking about, they're going to look because every time they've been seeing our content, they liked it and they've learned something maybe that changed their mindset a little bit."
Internally, the company still infuses data into all of its operations to understand what works and why. For instance, But knows that about 50% of its video content is viewed on Facebook without the sound. Therefore, it's the subtitles that really matter. And the company uses data to see which content is spreading across borders and which languages it needs to be translated into.
"When we do a video with someone in India, we have a score and we know if the video is worth being translated being pushed across the globe," Lacroix said.  "So it's about technology and data and it's about values. Our content is human-centered. It's values-driven, it's universal, it's educational, it's nonpartisan. It sparks meaningful conversation. We try to explore the complexity of the world and the nuance that we need to have...We have more than 20 nationalities in our headquarters in Paris. It's an incredible thing to watch on an everyday basis. Because you have a lot of common intelligence, a collective intelligence that you can really leverage in order to create even better storytelling."
Brut As A Platform
The company has moved well past the early doubters. It raised a $12 million Series A in 2018 and a $40 million Series B in 2019. Lacroix said the company has now reached an inflection point where it's ready to go bigger and faster.
"In a way, it's like we finally know exactly what we've been doing and where we need to go," he said. "The raise validates what we've been building. We've spent a lot of time and data and investment into mobilizing the business intelligence of Brut and it's a very virtuous business model. And now we have huge growth potential. We are much more robust and we have much more revenue velocity and are growing very quickly."
In addition to its free classic videos and podcasts, which are ad-driven, Brut earlier this year launched a subscription-based streaming platform called BrutX. The platform costs €4.99 per month and offers longer-form films and documentaries produced in-house as well as acquired films that reflect Brut's mission and values. (Think: "Erin Brockovich"). Lacroix said the service is also an attempt to reach more people via desktops versus social platforms and mobile.
"It's another usage," Lacroix said. "We try to be at the point of contact for this generation."
The company is also going to use the latest round to expand its podcasting. It has a deal with Spotify and is currently the leading news podcast in France. Now it wants to scale that audio service internationally.
Perhaps its most ambitious project involves turning Brut into a platform whose tools other creators can use to develop content that benefits from its insight and distribution. The company has been testing the platform with creators with an eye toward launching in late summer. Though Lacroix couldn't discuss all the details yet, he suggested the company was using Blockchain as a way to help these creators to track and monetize their content.
"That's the next chapter for Brut," Lacroix said. "We're starting to give back what we've learned in terms of expertise, in terms of data, on how to build a brand, build a community, build an audience, monetize it, and use it to have more impact. We want to make sure that we create that same route that lets creators and communities accelerate their growth on social platforms or wherever you want to grow."
That could be individuals who are just starting or NGOs that want to engage young people and change-makers. In one example, Brut partnered with Arnold Schwarzenegger to create a video for an upcoming Austrian Global Summit to highlight issues around climate change. Brut helped film the video in consultation with grassroots organizations. It then has used its data to help push the video around its various networks to create more awareness and impact, Lacroix said.  
"It's super interesting," Lacroix said. "It's the feeling that everything that we've been doing for four years and a half years now fully makes sense. We have a very clear vision on how we can give back to the community by providing them with the tools we used we create in order to grow their audience or their impact."
The work on Brut-as-a-service has the company thinking about creating a new business unit that would act as an internal incubator to experiment with new ideas, fostering startups within the larger Brut media startup, Lacroix said.
For all this growth and momentum, I asked Lacroix if he was worried about what it could mean for the company as it took on more investors and cash. Venture capital has been pouring money into new media companies such as Buzzfeed over the past decade. But taking on such money often put pressure on these companies to pursue growth to meet unrealistic targets, and left them vulnerable to the changing algorithms of different platforms.
Could Brut's values and mission be compromised by the need to please investors? Lacroix remains confident that the company won't face such pressures.
"When you look at the people in the boardroom, they are not telling us that we need to grow quickly. They are telling us, 'We believe in what you do. We think that building a trustworthy media brand for a generation that doesn't watch TV anymore, doesn't read the news, doesn't listen to the radio anymore, is super important.' So we are aligned in terms of values. Now, it's my job as CEO to come back to our shareholders and say, 'We want to do it this way. The vision we have is this one.'"  
Lacroix added:
"We could have raised more money. We could have raised more money at a higher valuation. We didn't want to. We go at our own pace. I think there's some stuff that we cannot do too quickly. Some stuff takes time. You know, building trust takes time. It cannot happen overnight."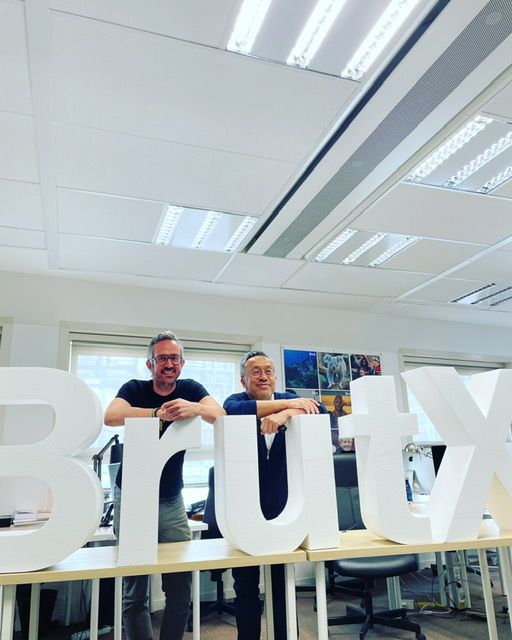 ---
Audio Goodness!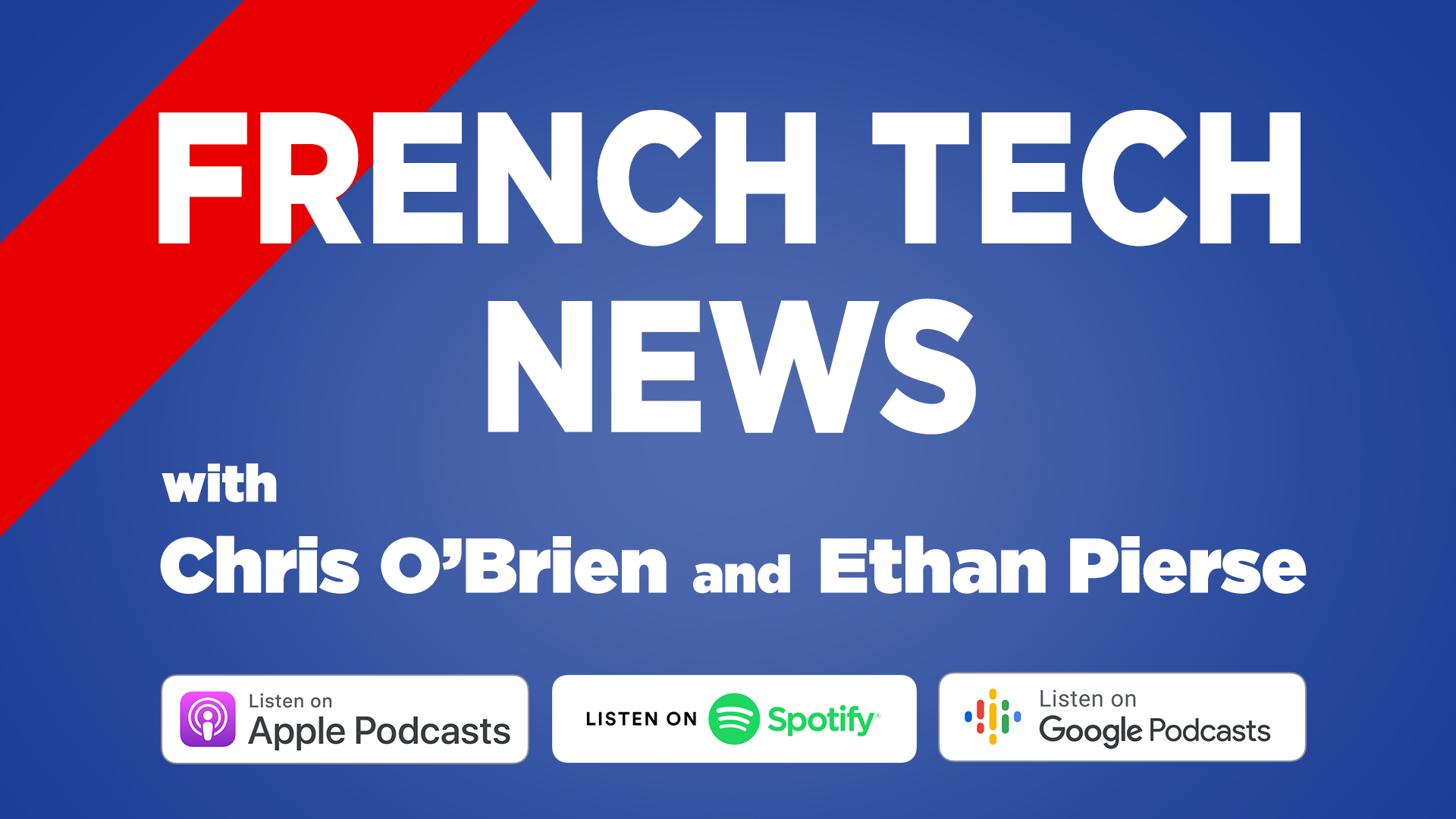 🎙️ Subscribe to the French Tech News podcast, a weekly discussion with France's entrepreneurs, innovators, and venture capitalists co-hosted with Ethan Pierse.🎙️
---
👋🏻 If you're enjoying The French Tech Journal, support the project by forwarding it to friends and sharing it on your social networks. You can also comment on this post. And if you have ideas for stories, tips, or just want to harass me, send me an email: chris@frenchtechjournal.com. 👋🏻