---
After several blockbuster years, the French Tech ecosystem is entering a new and uncertain phase as markets fall and VCs throttle down. By coincidence, the government organization that has been at the heart of efforts to catalyze French entrepreneurship is entering its own transitional period.
At VivaTech, I had a chance to talk with French Tech director Clara Chappaz, who was appointed to her role last Fall from her executive position at Vestiaire Collective. She was introduced at the time by Digital Minister Cedric O, who stepped down several weeks ago following the presidential elections. So far, no replacement for O has been named as President Emmanuel Macron navigates a complex political terrain following legislative elections that saw his party lose its majority in the National Assembly.
Meanwhile, Chappaz is going on maternity leave this summer with plans to return in the fall. The summer months can be slow in France, particularly as much of the country leaves for vacation starting in mid-July. Still, the absence of warm bodies in 2 such prominent posts risks leaving a leadership void in an ecosystem that has grown accustomed to receiving kid-glove treatment from the government.
For her part, Chappaz has primarily been focused on implementing many of the goals identified as central to the next phase of La French Tech, including more attention on GreenTech initiatives and gender equality, while also trying to help anxious founders understand how the markets may be changing.
French Tech Green20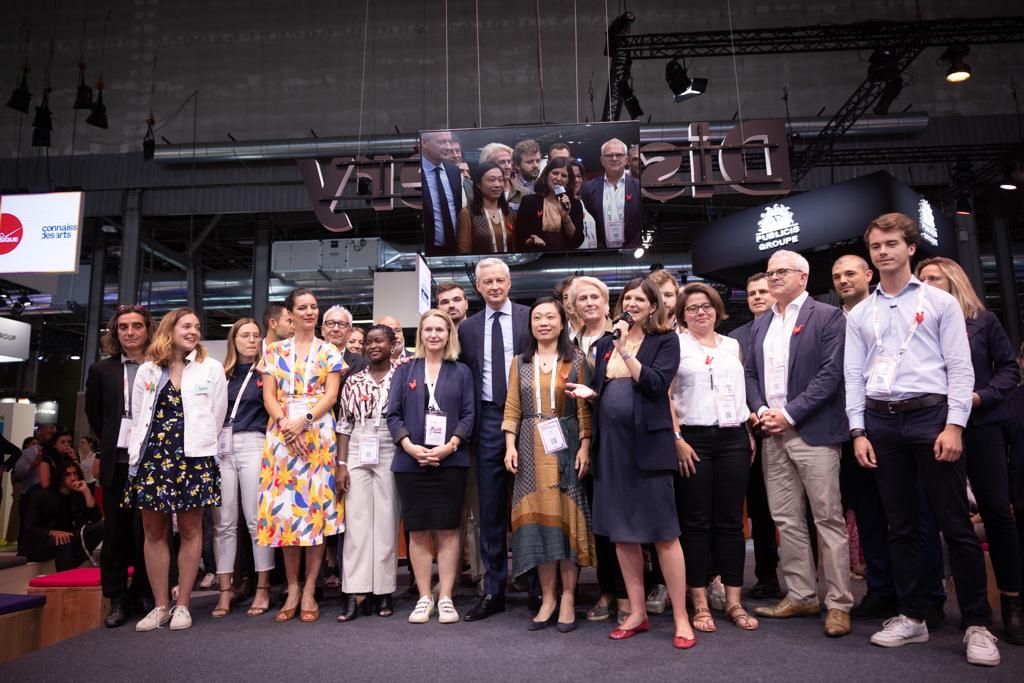 At VivaTech, Chappaz came to highlight the 2nd group of startups chosen for the French Tech Green20 program that was inaugurated last year (22 companies, actually). That first group established a strong track record: GreenTech companies now represent about 10% of the FrenchTech 120, a select group that receives special attention from government agencies. The 2o21 GreenTech class raised €500 million and 4 of them had IPOs. That includes Nantes-based Lhyfe, which joined the Euronext Tech Leaders, a program highlighting Europe's most promising public tech companies.
"The technological transition is really urgent and it's a sector where you need people to change habits," Chappaz said. "But you also need tech and innovation to find concrete solutions to all the challenges you can think of – clean mobility, renewable energies, data – to understand better carbon emissions and all that stuff."
The French government has made the environment a clear priority (though for some context, Macron has come under heavy fire by the left and the Green party for not doing nearly enough to fight climate change during his first 5 years). Still, as part of an ambitious France 2030, a €30 billion program announced in 2021 that aims to reinvent the nation's economy, almost half the funds target some kind of environmental transition program, including startups.
In addition, La French Tech provides its usual buffet of services to the companies selected, including helping them navigate French administrative and bureaucratic challenges, and securing money for projects such as building factories or other industrial endeavors.
You can see the full list of companies selected here. The 22 start-ups provide services that target more "sustainable cities, decarbonization of industry, recycling and renewable energy, clean mobility, agrifood, and sustainable construction."
The imperative, of course, is addressing the looming climate apocalypse. But Chappaz also points out that this represents a major economic opportunity for France's startup ecosystem. Currently, La French Tech counts 1,800 GreenTech start-ups in France which account for 70,000 jobs and collective annual revenues of more than €3 billion.
"The thing that I'm particularly excited about in the sector is that, unlike other sectors, the US or Asia hasn't really taken a position of leadership yet," Chappaz said. "Europe is extremely well-positioned to take this leadership and France is where we want it to happen."
In a perfectly timed announcement during VivaTech, EcoVadis, which provides global business sustainability ratings, raised $500 million to become France's 27th unicorn. As I wrote last week, the French government wants to see 100 unicorns by 2030, with 25 in the GreenTech sector. So, that's one down and a whole lot more to go.
Chappaz says this transformation isn't just about official GreenTech companies. All companies need to go "green." So the government is encouraging more partnerships between French research institutions and private industry to find and commercialize climate solutions. It's also seeing more broadly tech companies focus on impact and the environment.
"I think it's important to note that when you talk today with the CEOs of the French Tech 120, they all are committed to really act on this ecological tradition, regardless of the nature of their business," she said. "I think that's extremely important because you don't want just to bring along those 1,800 GreenTech companies. They're very dynamic and they're amazing. But they're not going to solve this challenge alone. They need everyone to really participate in the effort."
Parity Pact
Meanwhile, La French Tech mission has also ramped up efforts to address the stubborn gap between men and women in France's tech economy. Of course, this is a problem just about everywhere. Still, France has managed to tackle the issue in some other areas like politics where gender policies have helped boost to almost 40% the number of women in the National Assembly as of 2017.
Under the previous director Kat Borlongan, La French Tech used certain levers, like requiring any events receiving funding to demonstrate that at least one-third of participants are women, among other initiatives.
Chappaz has now shepherded a new initiative: the Parity Pact.
The charter includes 5 initiatives and was signed by 69 companies in the FrenchTech 120. By embracing the pact, the companies agreed to:
Delegate 20% of board seats to women by 2025, and 40% by 2028. (Current French law calls for companies with more than 500 employees to have boards of 40% women.)
Train all managers on the issues of diversity, discrimination, and harassment by the end of 2022.
Make job descriptions more inclusive.
Set up a parity committee that will advocate for gender equality internally and externally.
Create a support program for employees returning from maternity or paternity leave.
"If you're not really putting together supports and processes to make sure that women can come back, it's a pity because you attract them, you turn them into managers, and then at the time they take responsibilities it's also the time where they want to start having a family. And then when they come back to the company, things have changed so much that they might not stay. We see that in tech where the average tenure is eight years."
There has been a lot of talk in the ecosystem about gender in the past few years. But the reality is that the needle has only barely moved. Currently, men run all of the FrenchTech 40 companies, and the broader FT 120 has only 14 female co-founders, according to Chappaz.
She said it wasn't hard to persuade most of these companies to get onboard. The pact was developed in consultations with many of these startups over the past several months. Chappaz said employees, customers, and investors are placing greater emphasis on social impact issues, and companies are responding to that.
"There was a real awareness among Next40 players of the fact that they weren't doing any better than traditional companies on these issues," Chappaz said. "I see a real desire among entrepreneurs to take up the subject. The idea was to ensure that these companies share the actions they implement in their structure. We didn't want to limit ourselves to making big statements, but to propose very concrete things."
Slowing But Not Stopping
As Chappaz prepares for her own maternity leave, she said she was proud to see the way startups have come together to discuss the environment, gender, and diversity. She sensed a real desire across the ecosystem to offer mutual support, share ideas, and work in tandem.
"That's the power of the French Tech ecosystem," Chappaz said. "It's coming to a state of maturity that maybe was not the case 10 years ago. You have this collective sentiment of interest in the community."
Those bonds and that sense of community may get a stress test in the coming months. Since the start of the year, the biggest topic in tech has been the drop in public market valuations and other pressures that may be slowing or stopping tech investments. So far, the impact of such a shift in France has been mostly anecdotal and likely happening behind the scenes. There have been no big startup layoffs and no VCs declaring publicly that they are freezing investments.
Chappaz notes that while the ecosystem may be young, many of the current crop of founders had to weather the initial waves of the pandemic in 2020. So this is not necessarily their first crisis, and it may not even be as severe as the impact of Covid. Still, there are enough new startups and founders that mutual support systems and knowledge sharing will be important.
"This is something we're already seeing happening," she said. "How do they collectively work on understanding? What steps are you taking? What are your investors advising you to do? It's really the power of friendship and communities to work productively to grow the ecosystem together."
And it's not like there is a lack of money in the system. According to Dealroom, French startups have raised €8.7 billion in 2022 compared to €11.4 billion in 2021. That includes 22 rounds of 9 figures.
Still, the slowdown talk persists as VCs recalibrate and try to understand the new valuation dynamic. Chappaz said entrepreneurs are not waiting around passively for the next funding shoe to drop.
"We talk with entrepreneurs a lot on this topic," she said. "They're very conscious of what's going on, which is a good thing. They understand the context and they're very aware. And they're really ready and are going to adjust very fast. Those who have been through the pandemic know how to adjust the business quickly. So when you talk to CEOs, they're not anxious and wondering what their actual roadmap looks like. They know what to do to extend their runway. They are asking, 'How do I refocus my business because investors now are going to think more about profitability?' They're in action mode."
That also means knowing when to move from defense to offense in such circumstances. That was another big pandemic lesson: A crisis can also present an opportunity as happened when digital transformation accelerated.
"You're seeing more and more of the Next 40 companies looking at acquiring competitors," Chappaz said. "M&A is moving like it hasn't before."
That said, she's also hearing stories about founders and investors delaying the next rounds when and where they can.
"It's sure that there are those who can probably delay raising because they don't want to have corporate investors or private investors put a price on their companies at a time where no one really wants to put a price on the company because there's so much uncertainty," Chappaz said.
In terms of support, La French Tech Mission is focused on trying to boost the overall European startup financing system to ensure continuity, including advocating for ongoing improvements in European stock markets to boost tech IPOs.
The last 2 years have seen foreign investors – particularly from the US – flood into Europe. Those are the investors most likely to pull pack from the mega late-stage rounds. Earlier this year, the Macron government helped push for a European fund of funds for late-stage investing that has attracted €4 billion in commitments with a goal of €10 billion, Chappaz said.
Overall, however, the main role continues to be facilitating those community exchanges and fostering that community spirit. Amid the policy-making and red-tape cutting, Chappaz said it's that aspect of her job that has proved to be the most appealing and rewarding.
"It's a fascinating job," she said. "It's my job to be surrounded with people who are so optimistic and innovative and willing to do what it takes to make everything work. Everyone firmly believes in what they do every day and they are working on something that is bigger than all of us. You know why you wake up every morning. You wake up for something that is not just making your company grow and having more revenue than you had yesterday. It's really helping the entire ecosystem and it's completely fulfilling."
---
👋🏻 If you're enjoying The French Tech Journal, support the project by forwarding it to friends and sharing it on your social networks. You can also comment on this post. And if you have ideas for stories, tips, or just want to harass me, send me an email: chris@frenchtechjournal.com. 👋🏻‌‌‌
Comments