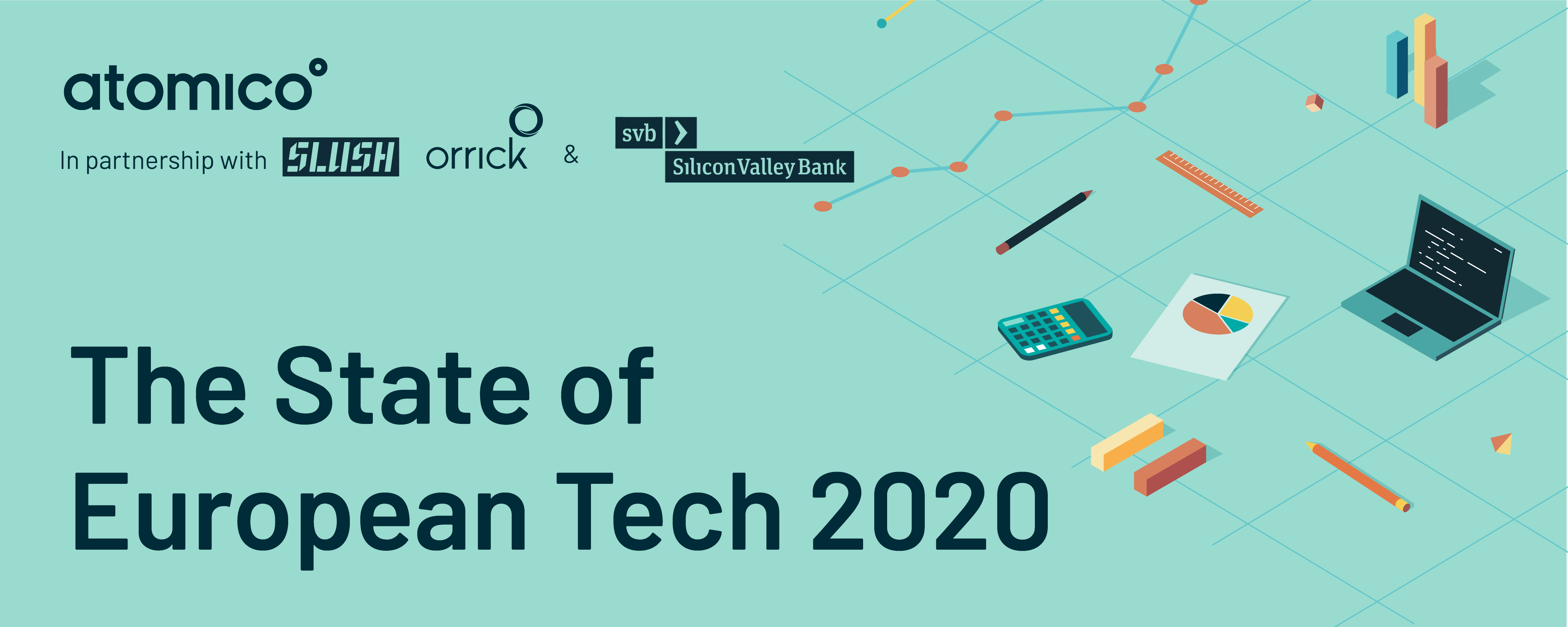 There's no denying that 2020 has turned everyone's plans upside down. Riding several years of momentum, the French Tech ecosystem was going to focus on more funding to help companies scale up while expanding its robust AI sector.
Then came COVID and the first lockdown.
The French government, which plays a strong role in funding the nation's startups, found itself scrambling to roll out programs to support its entrepreneurs, particularly those who were in pre-revenue stages. With everyone hitting the reset button, 2020 had the potential to sap the Startup Nation's energy.
This is why the numbers contained in The State of European Tech 2020, which was released today, are remarkable. The annual report produced by Atomico in partnership with Slush, Orrick, and Silicon Valley Bank is one of Europe's most closely-watched startup barometers.
Digging into the numbers, French startups are on pace to raise almost $5.2 billion this year, up from $4.8 billion last year.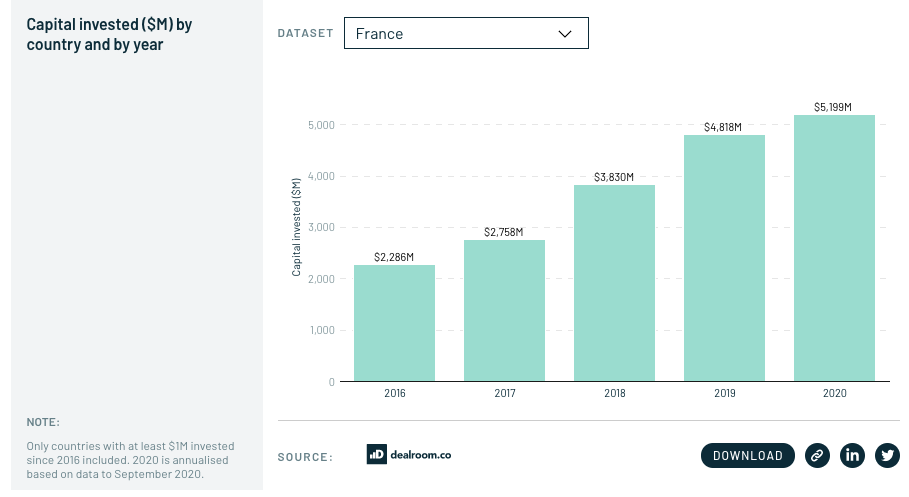 Of the three largest markets, France was the only one to see an increase as the UK and Germany both slumped just a bit. For now, however, the UK still rules. Over the past five years, UK startups have raised almost $50 billion, compared to $23 billion for Germany and $19 billion for France.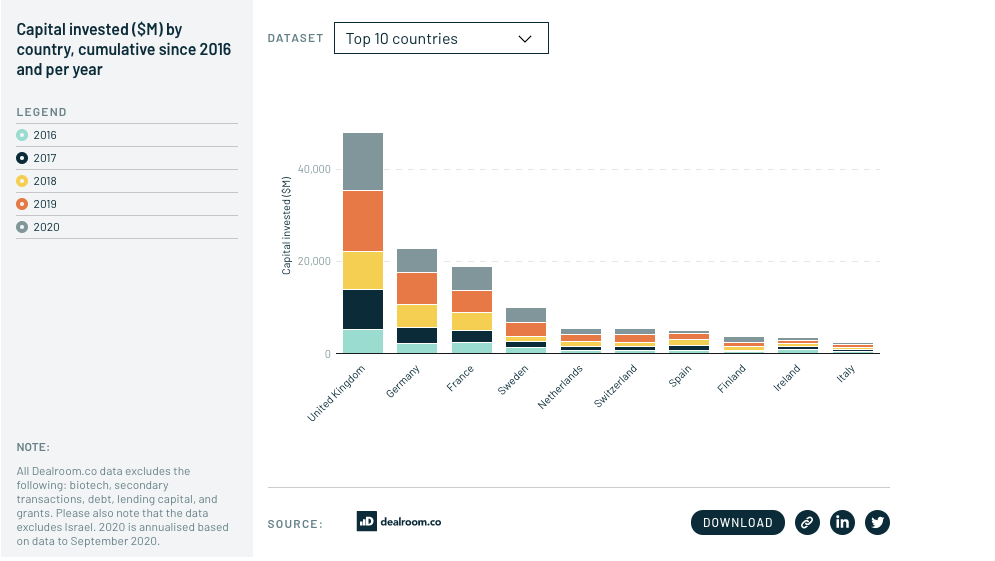 In terms of tech hubs, London also is the runaway leader, with $34 billion raised since 2016. Berlin holds the second spot with $12.6 billion, but Paris is close behind with $11.7 raised in that time (and moved into second this year, ahead of Stockholm and then Berlin).
Those top three all saw the number of deals drop as later-stage funding increased. That's a positive sign for France, where Macron announced a €5 billion scale-up fund in 2019. But it also means that companies just entering the pipeline are likely having a tougher time finding funding. Whether that has an impact down the road will be important to watch.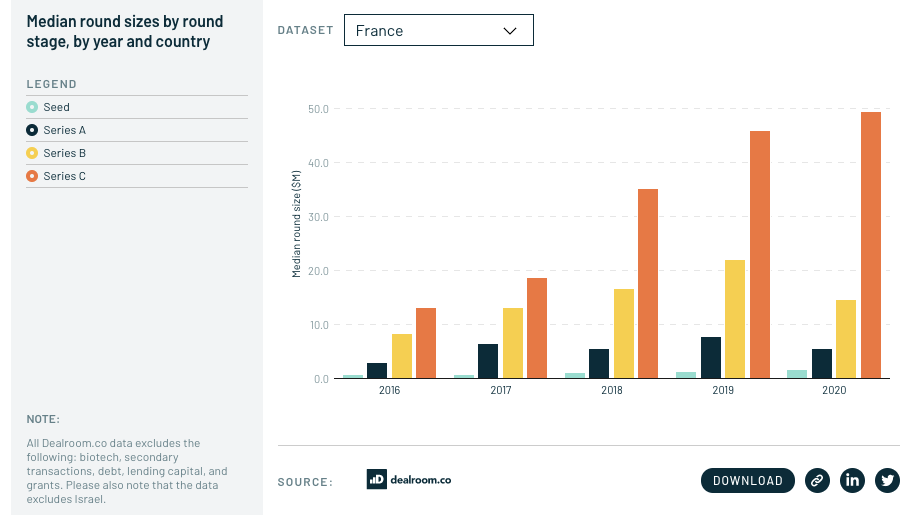 The report does point to some challenges for France.
For instance, the UK and Germany are still getting much more attention from U.S. investors, even if France has made some progress. Atomico cites France as one of a handful of countries where "government institutions have been long-time and very active supporters of local VCs." Of course, many European VCs receive money from the European Investment Fund. But the French government has been particularly aggressive as it seeks to catalyze its startup ambitions.
As such, French startups get a higher percentage of their funding from domestic VCs than most other EU nations.
And while there is a stated desire to create a Startup Nation, it's still not clear how widely the impact of those efforts are being felt across the country. On a per-capita basis, the number of startups in France places it in the middle of the pack.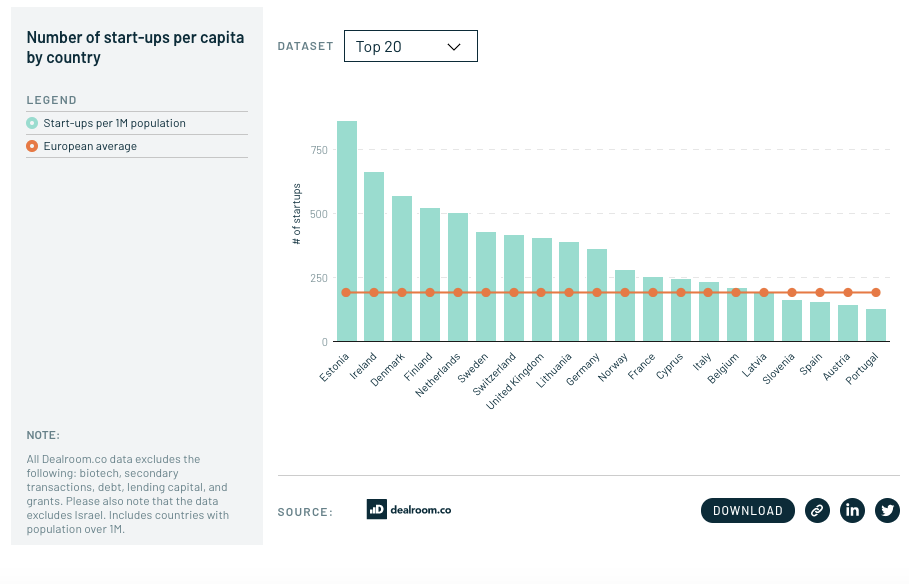 That's not a catastrophe. Germany is right there alongside France. Estonia, with its robust plans to position itself as a startup hub, leads the continent in this respect. Taking an optimistic view, this means France has only just begun to tap its entrepreneurial potential.
Still, it's clear that France has a lot to crow about this year, perhaps a promising sign that the French Tech ecosystem is durable enough to not just survive, but even thrive during a global health crisis.
How do French leaders feel about this? Consider that at the last minute, Atomico announced on Monday that French President Emmanuel Macron will speak at an event today to discuss the report. No doubt, there will be a little cocorico.
Comments