Growing up in France, Mathilde Collin had a very clear idea of what her future self would be doing one day.
"I was a very happy kid," she said. "I wanted to start a company. I thought that starting a company where people were happy coming work everyday would be a great life."
That modest dream has carried her to Silicon Valley where, with the help of co-founder and compatriot Laurent Perrin, she's running one of the French Tech ecosystem's hottest companies: Front, a startup that makes a business email collaboration platform. Front's red-hot status was cemented when the company announced it landed a $66 million round of venture capital last week.
Even more remarkable, however, is that the co-founders started the fundraising process on a Monday, were quickly swamped with offers, and signed a term sheet on a Friday. The company has now raised a total of $79 million, and is using its momentum to open a new office back in the founders' homeland.
"If you want to tackle a problem as big as this, you have to be able to grow fast," she said.

The news of Front's fundraising was cheered all the way back in France where the startup community is more accustomed to watching founders of promising startups leave in search of large fundraising rounds in London, New York, or Silicon Valley. Collin said the company plans to use a chunk of that money to open a sales and development team in Paris to drive its international expansion. That a French startup abroad would be bringing tech jobs back to Paris is just the sort of reciprocity the government has hoped to see since it launched the official French Tech program almost four years ago.
By coincidence, that was close to the time when Front was founded in October 2013. Six months later, Collin and Perrin decided to move the company to San Francisco because most of the company's beta users were in the U.S. That meant that all 17 employees, and their families, had to move with them. Collin said that ultimately, the disruption to their lives was worth it.
"We made more progress in three weeks in the U.S. than I had made in six months in France.
Then, that summer, Front was accepted into the Y Combinator accelerator program, a major coup, and one that suddenly put the startup at the center of one of the valley's most powerful networks of entrepreneurs. Since graduating in late 2014 to now, Front has grown to 50 employees and 2,500 business customers who pay a subscription to use the service.
Front allows people inside businesses to collaborate and manage internal messages and email from customers and partners by pulling together emails, live chat, social media, and SMS. Teams can assign tasks related to the messages across the company, follow the responses, and in some cases even automate the workflow.
"Email is the tool that people use to get work done," Collin said. "But it hasn't evolved at all. There are lots of inefficiencies in email."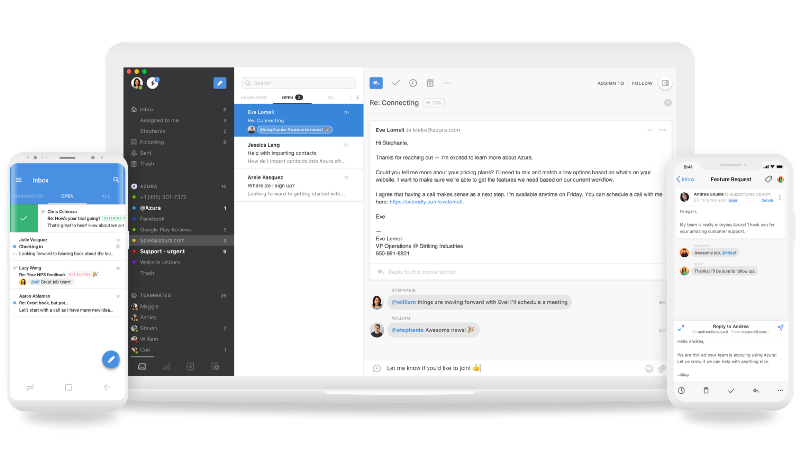 But with usage surging, the company needed money to expand quickly. Collin said they sent out pitches on a Monday, and had a dozen offers within a couple of days. Ultimately, they signed on Friday an offer led by Sequoia Capital, but that also included participation by DFJ.
"Front has flipped email from a pain point to a solution that increases the efficiency, impact, and accountability of teams," Sequoia partner Bryan Schreier said in a statement.
Despite the decision to leave Paris a few years ago, Collin said she's thrilled that in some ways the company is returning to its roots. She noted that there is a huge difference between where the French Tech scene was four years ago and today.
"I've always felt like we were always half in France and half here," she said. "A lot of our employees in San Francisco are French. But I do think things have changed a lot for the better in France. A few years ago, starting a company was harder. It's a lot easier today. I feel like there is a lot of innovation and great enthusiasm in Paris."
Comments