---

Banks will charge you when you spend or transfer money abroad. We're not about that, and that's why over four million people have switched to Revolut.
Sign up and get Revolut Premium free for 3 months!
---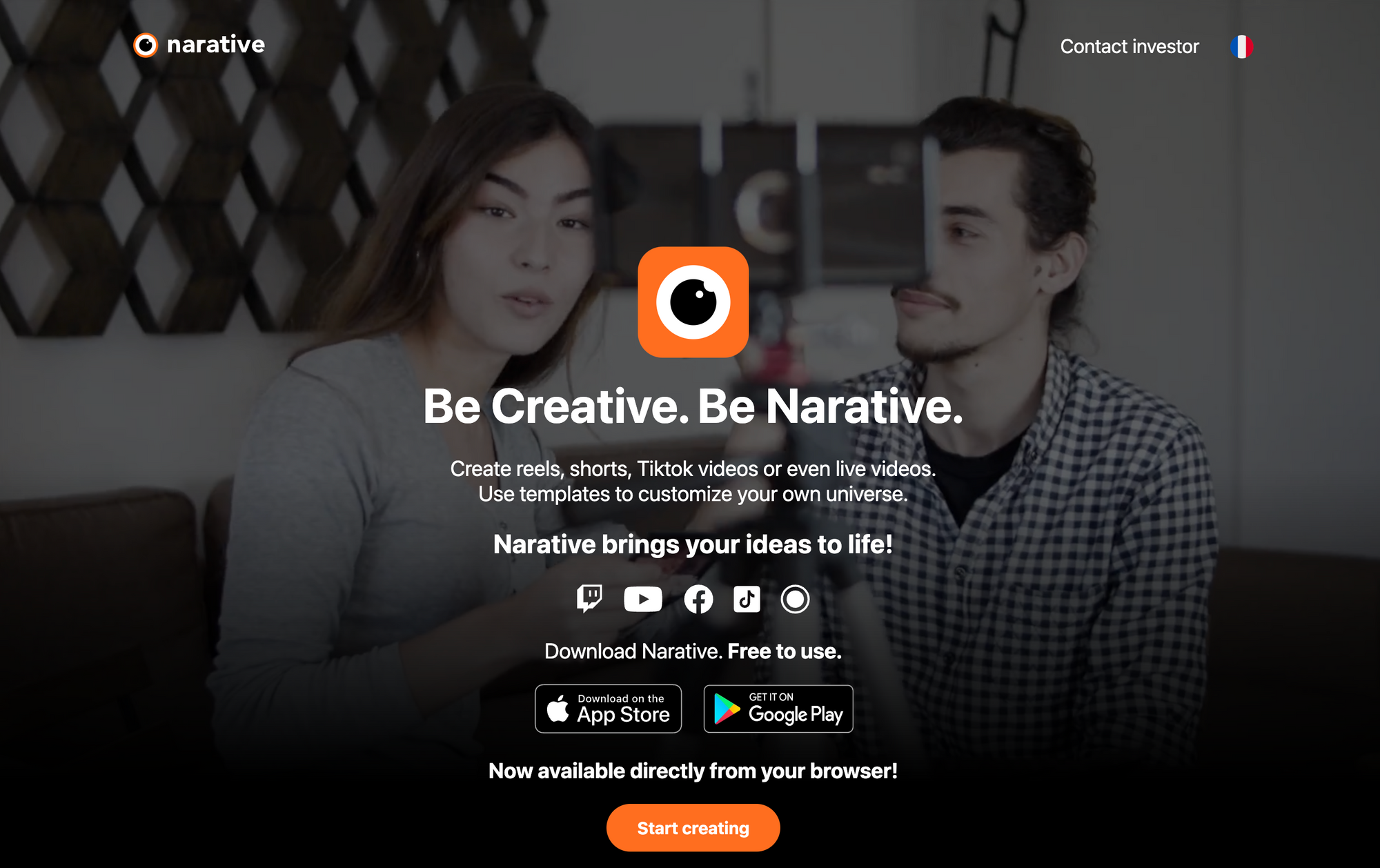 Jean-Marc Denoual has had a ringside side seat to the radical evolution of video creation and consumption over the past 2 decades, from his perch at a major broadcaster to co-founder of the streaming platform Molotov. The latter was not quite a failure, but it also never fully achieved its potential to become an international success.
But Denoual is more convinced than ever that there is a big opportunity in the video market thanks to the rise of the Creator Economy. So, he's back with his new startup, Narative, which has developed an app that promises to streamline and enhance the production and distribution process for everyone from small independent creators to big TV and film studios.
Denoual said he is bringing the lesson he learned from the Molotov experience with him as he seeks to build a global company: "Don't be afraid to think big."
The Video Revolution
Denoual could see how TV and film were going to be disrupted from his role in the 2000s as Head of Innovation for TF1, France's largest private TV broadcaster. Though he tried to push the company to adapt and get ahead of the coming wave, working inside an incumbent meant change was slow and mindsets were conservative.
In 2013 he left and joined Molotov with co-founders Jean-David Blanc (who was co-founder of Allociné, a film and TV information site), and Pierre Lescure (who co-founded French paid TV and production giant Canal+).
Rather than blowing up existing broadcasters, Molotov worked with them by creating a slick interface that would aggregate content from partners and make it easier for viewers to find and follow. Content would mainly be consumed live, but by creating watchlists and bookmarking shows in advance, viewers would get notifications when their favorite shows were on. And the discovery of new shows was far easier.
"The main problem we see is people sitting on their couch at 9 p.m. at night, and after 10 minutes of navigating through channels, feeling like there is nothing on," Denoual told me in a 2016 interview. "That's something we feel frustrated by, as users and as members of the whole TV industry. And what people see as 'nothing on' is quite paradoxical, because free channels in France are spending about 300 billion euros on content."
Molotov had a promising start. I was speaking to Denoual just after the company raised $24 million in a round that included SKY, the European TV distributor, and Eurazeo (then Idinvest). In addition, it had struck deals for its app to be carried on Samsung and LG smart TVs.
But Molotov was never able to replicate this partnership model to move beyond France. Even in France, the rights and revenue-sharing deals were thorny as everyone tried to navigate a world being turned upside down by the arrival of Netflix on these shores in 2014.
By 2019, Molotov was struggling to raise more money and was in talks to be acquired by French telecom giant Altice, but the deal fell apart. Denoual left the company that year. Two years later, Molotov was bought by fuboTV, the US-based sports streaming platform, for about $190 million. Not a bad return for investors, but not the biggest of wins either.
Denoual is both proud of the progress that Molotov made but also disappointed that it never made a global impact.
"It's just a question of timing and fundraising capability," he said. "It's still a great platform to access television and to watch it almost 10 years after we created it. But yeah, it's still a regret because I wish we were able to extend the product internationally. But that's life."
---

The French Tech Journal is powered by Ghost, an open-source platform run by a non-profit organization that gives creators greater control and freedom over their publishing and content. Ghost is free, but Ghost(Pro) takes care of installs, updates, security, and backups. allows people to spend more time on the important stuff: creating content!
---
Just Like Starting Over
Narative had its origins during Denoual's time at Molotov. Though the company focused on big broadcasting partners, he was still meeting smaller creators who were expressing frustration over the cost of equipment and studios for production, as well as the cumbersome post-production process.