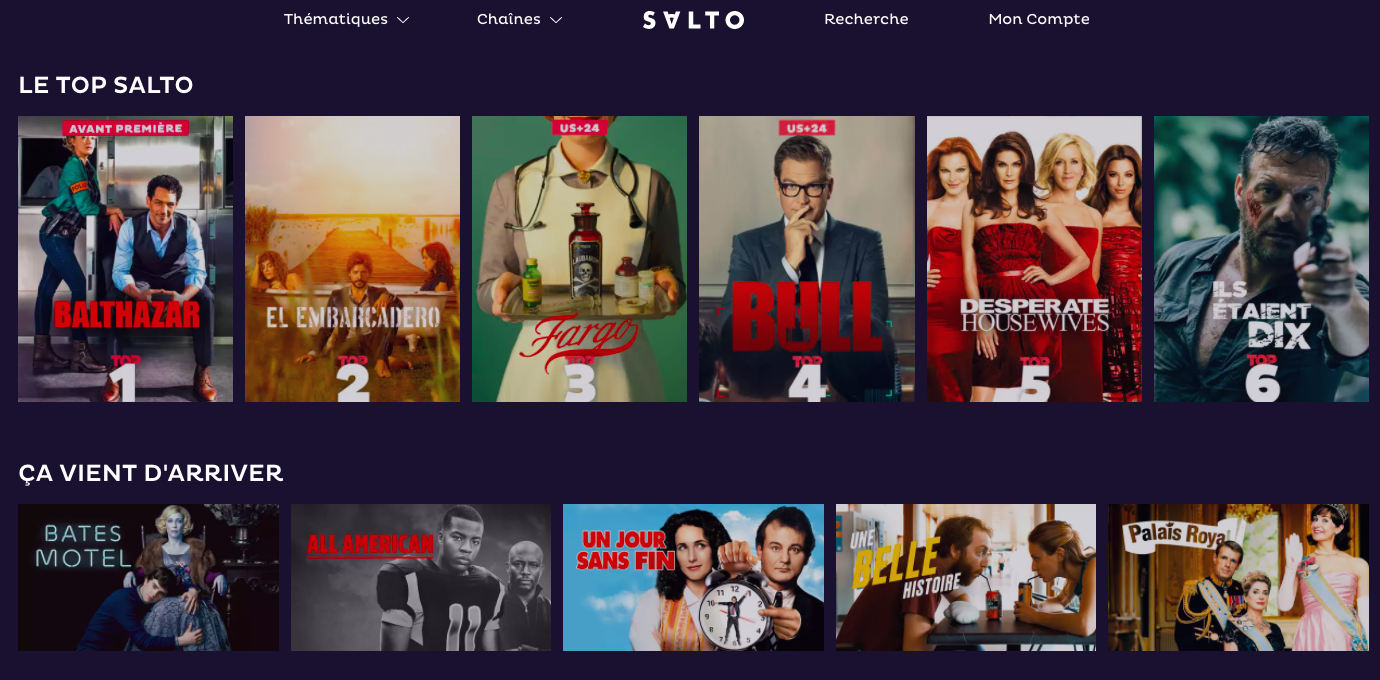 Six years after Netflix invaded France, the nation's major television stations have banded together to launch their streaming service dubbed Salto. In a country that can be slow to embrace new technologies, Salto is a belated recognition that France's traditional television industry must adapt to survive.
More than 2.5 years in the works, Salto is co-owned equally by the private channels TF1 and M6, as well as the public broadcaster France Televisions. The three-way joint venture had to clear several hurdles, including negotiating a complex partnership agreement, getting anti-trust approval, and delays resulting from the pandemic.
Since its launch last October 20, Salto General Manager Thomas Follin has been buoyed by the reception. He also recognizes the enormous challenges that lay ahead and the risks for Salto as it tries to carve out a future for its television partners.
The push to transform Salto's parent companies is also a microcosm of the broader challenges many large French companies face as they try to reinvent their legacy businesses for a digital world.
"With new international competition and with new technologies that make it possible to address a customer in a specific way, the world of broadcasting in France needs to transform," Follin said. "It was important to join forces to have a national content offer that adapts to the new modes of consumption of the public and that meets these new expectations. Salto wants to participate in the transformation of an entire broadcast environment."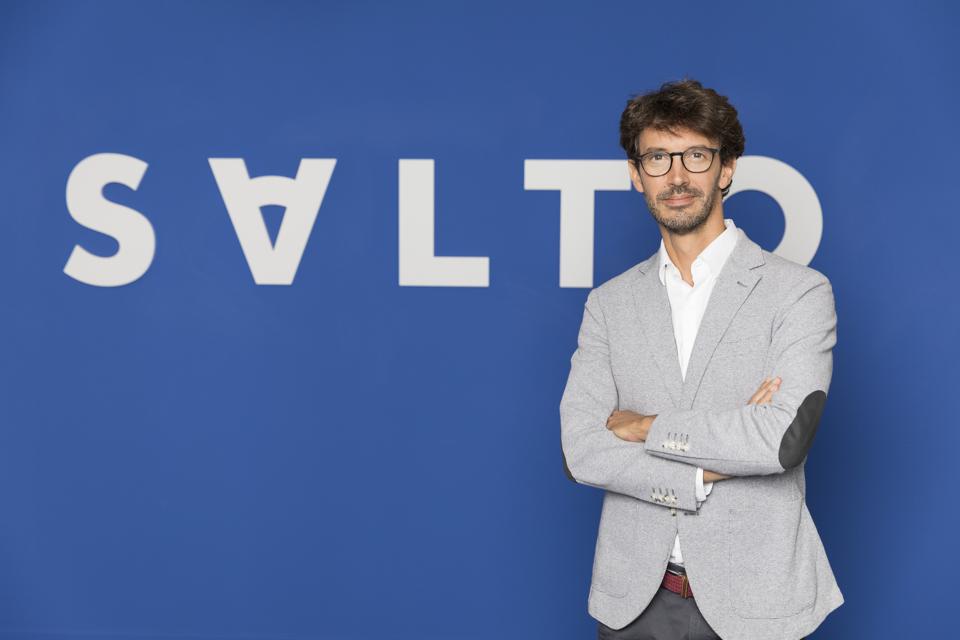 More Than A French Affair
The creation of Salto is part of the larger story about the competition that local producers and broadcasters around the globe face as Netflix has grown to become the world's largest creator of original content over the past several years.
In addition, France manages a carefully calibrated system that raises money from movie ticket sales and cable subscriptions to fund movie and TV productions. The shift to streaming and cord-cutting has been seen as a potential threat to that machine.
That's why when Netflix first launched in France in September 2014, it was greeted with fear and loathing. It was another example of an American tech giant arriving to threaten France's sovereignty and culture.
Six years later, French consumers have enthusiastically embraced Netflix.  And so have producers who are attracted not only by Netflix's deep pockets but also the ability to instantly give their productions a global audience.
Last year, Netflix opened a new Paris office to increase content investment in France. The plan for 20 French productions in 2020 would have made it one of the largest producers of French content.
More recently, Netflix and other streaming services have agreed to participate in the nation's content funding scheme, a move that could raise between €150 million to €200 million annually from just Netflix. As part of the deal, France will grudgingly relax a rule that prohibited movies that play in theaters from appearing on streaming platforms from a 3-year window to 1 year.
Streaming has gone from being a rebellious player to becoming part of the establishment. The need for France's television broadcasters to develop a streaming platform became inevitable.
Building A Streaming Service
That doesn't mean creating such a service would be easy. Having announced the creation of Salto in 2018, the partners had to work out the details of what content could be shared, and how. Currently, even these channels' video-on-demand services only make a handful of episodes available to view for cable subscribers, and only rarely all seasons of a series.
Once those details were hammered out, Salto had to win the approval of France's Competition Authority, which finally came in August 2019. As work accelerated, the pandemic hit and pushed back the launch by several months.
Of course, during that time, the so-called streaming wars entered a new phase. Apple TV+ and Disney+ both launched in late November in the U.S., with both now available in France. Throw in Amazon Prime, and the competition is already fierce.
Follin is not daunted. He thoroughly believes in the mission, but his faith is not blind. In more mature markets like the U.S., analysts have noted that people typically subscribe to several services. Netflix often serves as a gateway to adding more subscriptions.
"In France, there are on average 1.4 subscriptions per household," Follin said. "There is an expectation for new services by these consumers. And this is why when we arrived on the market, we wanted an offer that was unique and that was close to the French public."
That starts with making all seasons of popular current series available, such as the runaway hit Capitaine Marleau as well as back catalog shows like Un Village Français that otherwise would have to be purchased as DVDs or digitally from iTunes.
In addition, subscribers can watch live the 21 channels that are part of the partnership. And in some cases, Salto will offer the entire run of a season for binging before it is broadcast on television. It recently began streaming the highly-anticipated La Promesse before it premiered on TF1.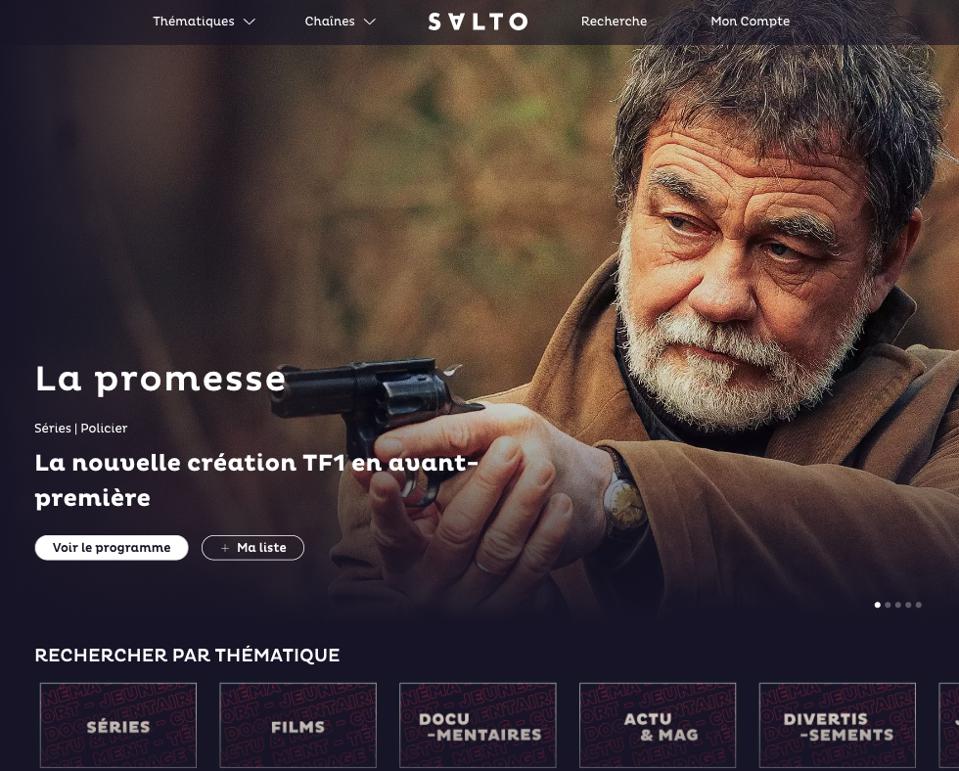 Salto also will make episodes of France's wildly popular soap operas available for viewing 48 hours before their broadcast, what Follin calls "television before television." So far, three of these soap operas are in Salto's Top 10 shows.
"Until today, if you want to watch French television channels, there are a lot of somersaults," he said. "We wanted to remove the constraints of appointments and television programming. We have arrived with a new service for consumers who will now be able to consume their television programs when they want and also consume linear channels when they want."
In addition, Salto has struck deals to offer some big international classics, including most notably The Office and Desperate Housewives. So far about 50% of the content viewed on Salto is French, but the company is actively seeking deals for overseas content that hasn't been seen in France. That's part of the first step toward creating its original slate of programming, similar to what Netflix has done in many cases by co-financing productions with local producers.
Salto has bigger ambitions in that realm. It's currently co-financing a production of the Émile Zola classic Germinal which will be shown on Salto before broadcast television.
Fast-Forward To The Future
Salto's monthly fee of €6.99 is roughly in line with Disney+, and cheaper than Netflix. French media have reported that Salto had 100,000 subscribers after its first 3 weeks. While Salto has not shared subscriber data yet, Follin noted that the average household that subscribes connects to Salto 10 times per week, and watches an average of 2 hours daily during the week and 2.5 hours during the weekend.
Also encouraging is the diversity of viewership. While wanting to target the younger generation, 25% of Salto subscribers are over 50 years old. And 80% live outside the Paris region suggesting word about the service, which is being relentlessly promoted on TV, is spreading. Of course, the ongoing pandemic makes Salto's timing fortuitous as well.
While Follin is happy with these numbers, skeptics persist.
Last month during a hearing, Hauts-de-Seine Senator Roger Karoutchi criticized the spending of France Televisions on the project. France Televisions recently disclosed that it broke even for 2020, but that also excluded its internal painful transformation that cost €4.8 million and saw it cut 900 jobs in 2019 (including 2,000 traditional jobs axed and 1,100 digital posts created).
For 2021, Salto is projected to run a deficit of €93 million, split three-ways between partners. In Silicon Valley, such losses are typical for startups, but they still manage to raise eyebrows in France. France Televisions officials have insisted that Salto investments are being paid directly by money raised through advertising rather than through any public monies.
Still, Karoutchi said Salto seemed doomed to fail in the fight against Netflix and Amazon. He insisted the money would be better spent on more educational and cultural programming.
"There is a strong fear that the investment by a public group will be synonymous with failure," the senator said, according to Les Echos. "For now, it only has a modest target of 40,000 subscribers by the end of 2021. This allows us to wonder once again about the strategic choices of France Televisions."
The partners in the joint venture have remained firm that Salto is part of their broader digital transformation plans that are essential for keeping them relevant in the coming years, as well as ensuring that French entities retain some control over French-language content. The projection at the moment is for Salto to break even by 2021.
To that end, Follin is focused on ensuring viewers are pleased with their experience, as well as continuing to ramp up publicity. Salto also wants to expand its presence on other platforms. It's already available on Apple TV, for instance, and it's hoping to strike deals with manufacturers to be pre-installed on smart TVs. Eventually, that will extend to video game consoles and partnerships with telecom providers and smartphone brands, following in the footsteps of other streaming competitors
"We have the whole of France to convince," he said. "We're not there yet, but when we make ourselves known, the public responds. But it will take time and we have to promote it as much as possible everywhere in France."
---
In other news…
Ledger, which provides security for cryptocurrency assets, has become one of France's hottest startups. But last year, it suffered two embarrassing data breaches. They didn't impact the security of its hardware wallets, but a company working in the security field that gets hacked never looks good.
For a new collaboration that I've started with Sifted.eu, I took an in-depth look at what happened and how Ledger is trying to come back from it. Please give it a read and let me know what you think.
The Big Picture: As one Ledger exec told me, every startup is bound to hit bumps and go through growing pains at some. Depending on how Ledger manages this tricky moment, it could emerge even stronger. And for French startups, it could eventually offer some lessons in crisis management, security, and customer service.
---
If you're enjoying The French Tech Journal, please support the project by forwarding it to friends and sharing it on your social networks. You can comment on this post or by replying to this email. And if you have ideas for stories, tips, or just want to harass me, send me an email: chris@frenchtechjournal.com.