Dan Elkaïm and Robin Philibert had comfortable gigs working on the sales team at Aircall, the cloud-based customer service call platform for almost 3 years. While officially based in New York City, Aircall was co-founded in Paris by 4 French founders who overcame significant hurdles to build a unicorn.
As Aircall began moving beyond its traditional base of small businesses to more mid-sized and enterprise clients, Elkaïm and Philibert noticed that conversion rates were much lower and that managing the information around sales seemed unnecessarily complex. They spoke with Aircall co-founder Jonathan Anguelov about this, and he encouraged them to pursue a project to study the issue and eventually create a proof of concept to address it. As the team progressed, Anguelov took a hands-on interest in the project.
Now Elkaïm and Philibert – joined by Léonard Henriquez – have launched that project into a startup called Topo.io, making them the latest members of the growing Aircall Mafia. They've raised a €1m Pre-Seed round to pursue their goal of reinventing the relationship between buyers and sellers.
"Aircall's founders always talk about entrepreneurship," Elkaïm said. "When we were building this, they kept saying that everyone in the room should one day be their own entrepreneur. That was the mindset at Aircall."

What is Topo.io?
Topo.io is a platform for B2B sales teams designed to help them improve the customer-buyer experience through the creation of a "Digital Sales Room." The co-founders believe that increasing transparency will shorten the sales cycle and increase conversions. The platform centralizes sales resources, contacts, and documents in the Digital Sales Room to enhance communication between the sales team and prospective customers andkeep a potential deal moving forward. By creating a more personalized and effective sales process, Topo.io wants to give its clients a competitive advantage.
Who?
Co-founders are former Aircall developers – CEO Dan Elkaïm and COO Robin Philibert – and CTO Léonard Henriquez (formerly of Flatlooker).
Why?
As Aircall pursued larger customers, more stakeholders became involved on the client side, and sales cycles took much longer as the list of requirements expanded. Both factors meant managing sales were more complicated and that there were more opportunities for someone on the client side to find a reason not to proceed.
Aircall's SMB had a strong KPI of closing between 65% to 70% of sales, but for the team targeting companies with 100 to 1,000 employees, that rate dropped to 15%, Elkaïm said. What began as a research project to understand the problem soon turned into internal product development, and the project team soon learned that the issue was not unique to Aircall.
"B2B buyer-seller collaboration is currently broken," Elkaïm said.
The team found that information is scattered throughout both buyers and sellers, leading to a lack of transparency around the process and complicating decision-making. Remote work has added another layer of complexity.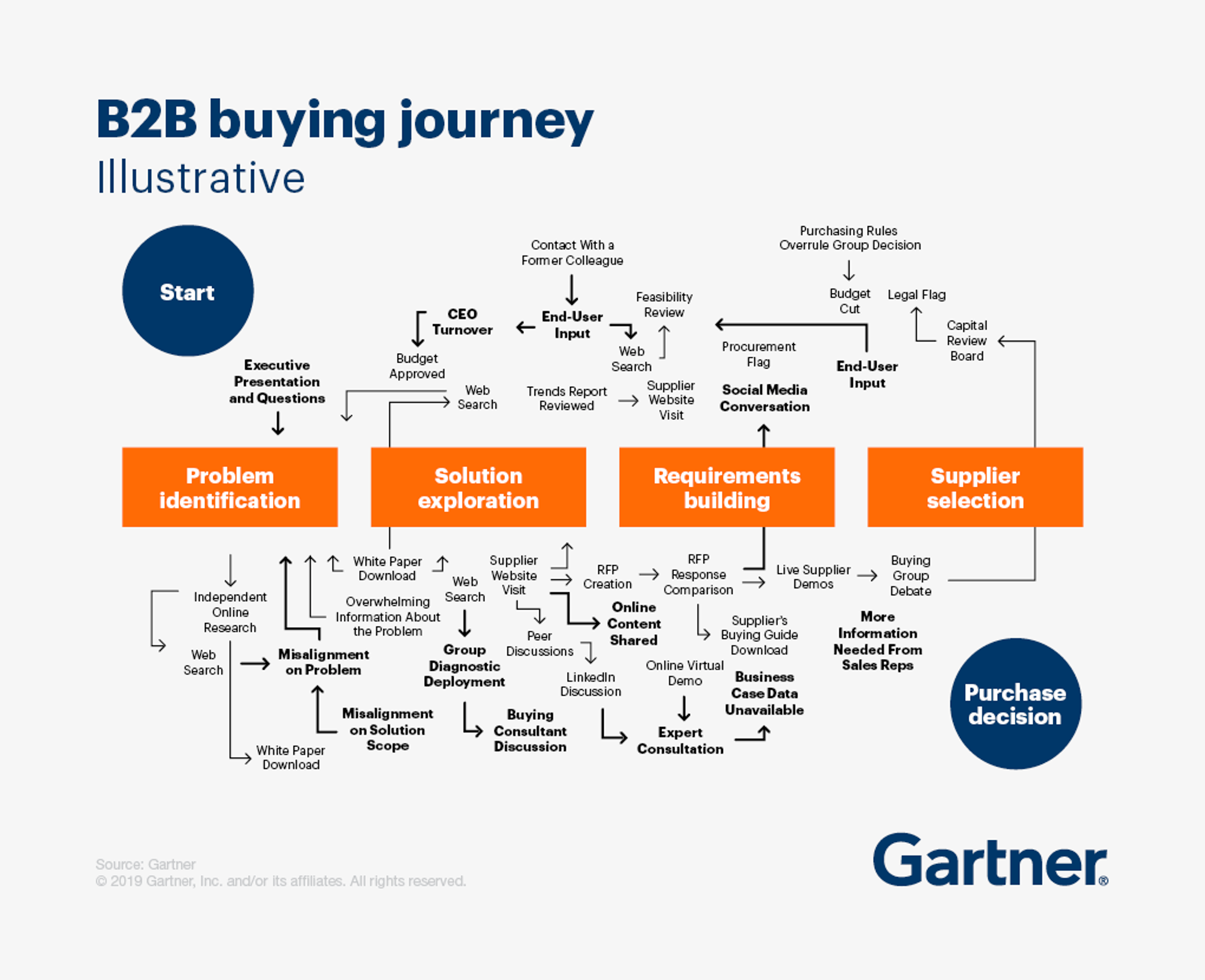 Topo.io cites a Gartner report that says by 2025, 80% of B2B sales interactions between suppliers and buyers will occur in digital channels. At the same time, Gartner found that 77% of B2B customers say their last purchase was "complex or difficult."
"This is something that we want to solve," Elkaïm said.
Enter The Digital Sales Room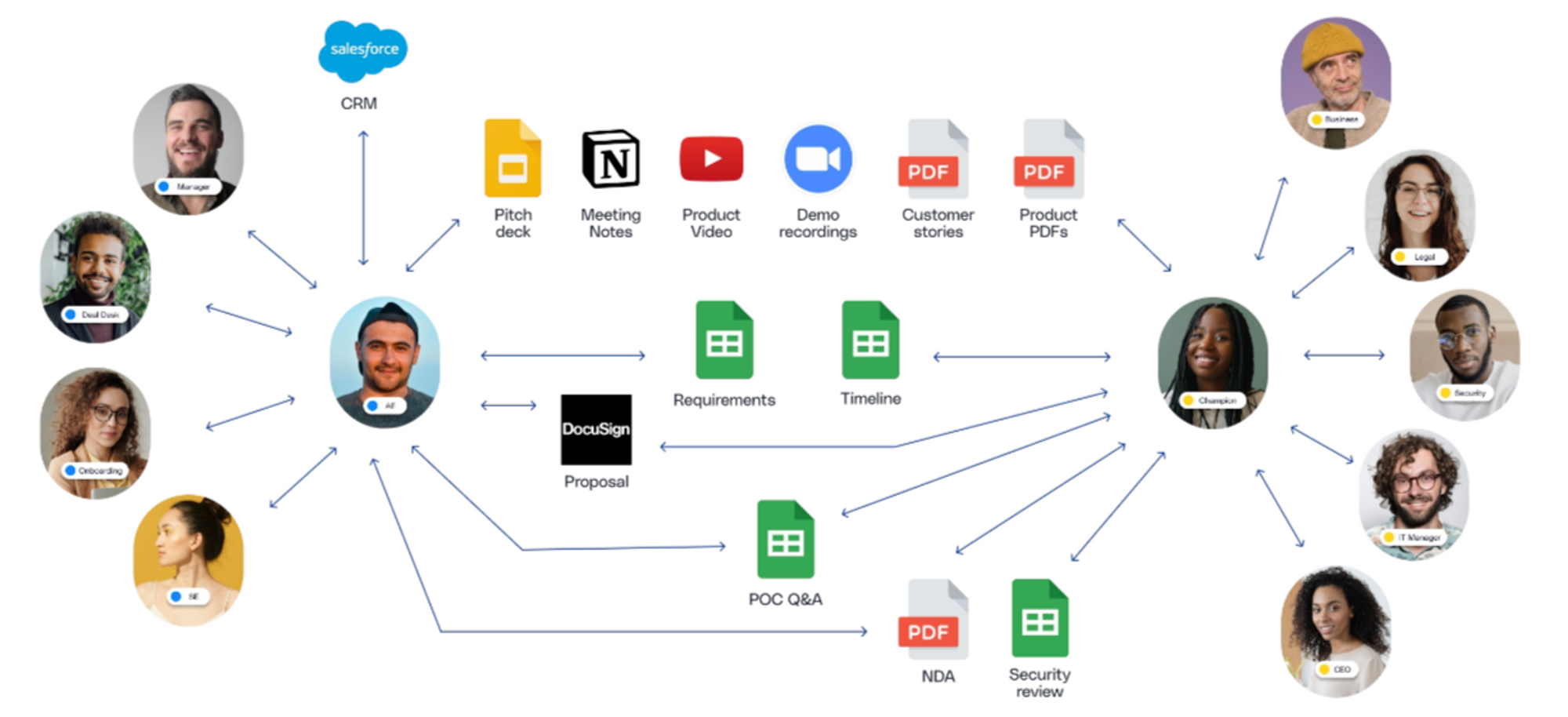 Topo.io pulls all information related to a deal into one place online where both buyers and sellers can access it. The founders want to make selling to larger B2B customers as easy as buying a pair of sneakers online.
The problem with B2B sales to larger companies is that it can be hard to coordinate all the stakeholders. A technical person might need to do a review and then a financial person, but there is a lag in follow up and both sides get frustrated.
To get around that, the Digital Sales Room allows both sides to move forward asynchronously. No need to juggle the schedule of a dozen stakeholders to organize a follow-up call. Instead, the buyers can move through the process using a self-service approach. They can access demos and set up trials, and examine technical and financial specifications. When needed, they can request additional info from a salesperson.
By creating an interactive virtual space, both sides can communicate and the right person can respond at the right time.
"This creates a more collaborative approach," Elkaïm said.
The Full Scoop...
Subscribe to get the full co-founder video interview, the expanded investor list, the pitch deck, the competitive outlook, and an overview of the roadmap to a Seed/Series A.