The French Tech Journal provides analysis of France's digital ecosystem as well as in-depth interviews with French entrepreneurs and VCs. If you like what you read, please forward the newsletter to friends or share it with your social networks.
If you'd like to support independent and original reporting on the French Tech ecosystem, please consider a paid subscription. Send tips, comments, questions, and your ideas to our global headquarters: chris@frenchtechjournal.com.
---
Photo by Markus Winkler on Unsplash
The year 2021 has been almost incomprehensible in terms of the rounds being raised by France's most successful startups. It's a streak that deserves all the high fives and big headlines that have celebrated the work of these founders and startups.
But...
It's also important to remain sober about what's happening. These massive rounds are being raised against the backdrop of a massive global surge in startup funding, from VCs to Growth Equity to Private Equity. Money is pouring into tech startups.
According to the most recent report by CB Insights, startups globally raised $156 billion in Q2 2021, up 157% compared to Q2 2020. Almost half of that – $70 billion – went to U.S. startups. Silicon Valley alone saw funding increase 93% year-over-year.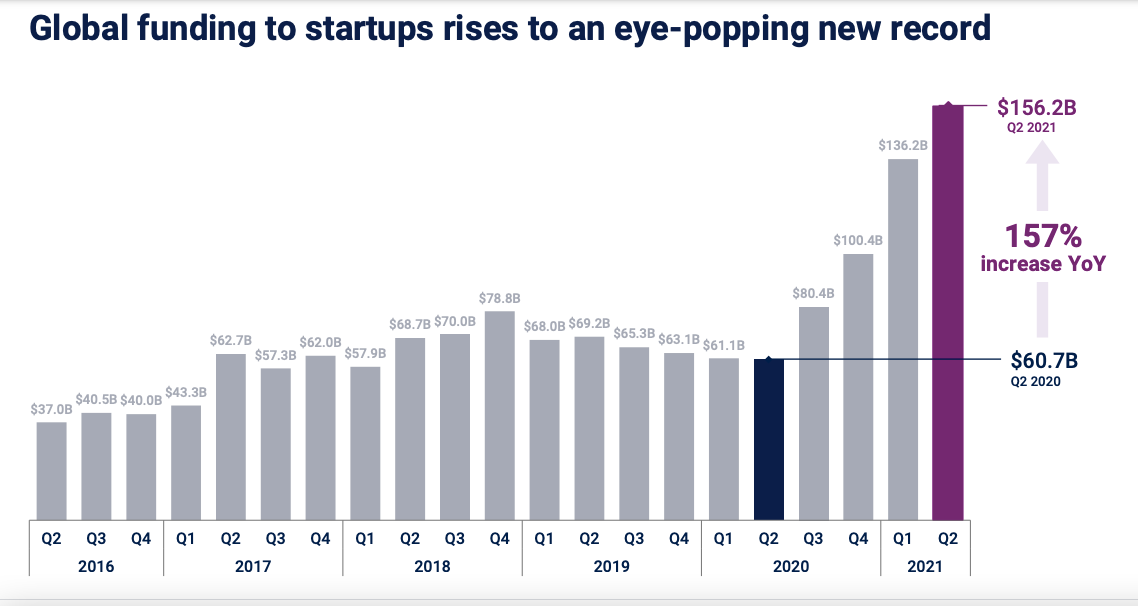 In the first 6 months of 2021, France has already surpassed its total fundraising from 2020. But the U.S., coming from a much bigger base, is not far behind: U.S. startups have raised $138.9 billion through the end of June compared to 2020's year-end total of $149.3 billion.
And while France has been minting new unicorns just about every week, so has the rest of the world. There were 136 new unicorns globally in Q2 2021, almost 6 times as many as were created in Q2 2020, and surpassing the total of 128 new unicorns in 2020.
For some additional perspective, consider that in Q2 2021 France raised $4.0 billion, but still lags such secondary U.S. tech hubs as New York City ($11.2 billion), Los Angeles ($6 billion), and Boston, ($7.8 billion).
Meanwhile, Europe set its own record with $50.8 billion raised in the first six months of 2021, compared to $39.18 billion for the same period in 2020. U.K. startups raised $7.6 billion in Q2 2021, followed by Germany with $5.8 billion. For the latter, just three companies accounted for almost half of that funding: Celonis ($1 billion), Trade Republic ($900 million), and WeFox ($650 million).
To be clear, none of this is intended to poop on the French Tech parade. The good news is that a few years ago, I don't think France would have had such a large stable of startups that were sufficiently mature and had established enough global traction to raise the kind of 9-figure rounds we're seeing.
At the same time, the bar is being raised everywhere, both for funding and the speed at which companies are scaling up.
France has upped its game. It must continue to do so.
French VC Funds
The CB Insights report also highlights the fact that Bpifrance has become one of the most active VC investors in the world. The decision to create BPI almost a decade ago has proved to be a monumental one in terms of early-stage funding in France. I would love to see data on how BPI-backed startups have performed over the years, both in terms of subsequent funding rounds raised and any returns BPI has made. If you know of such a study, please send it my way!
Meanwhile, my inbox and Twitter have offered hints as to the economic returns some French VCs are seeing during this phenomenal funding frenzy.
For instance, consider this tweet from Kima Venture's Jean de La Rochebrochard:
Or consider this data from Partech about the firm's first 6 months of 2021:
·        Over $3 billion raised by its portfolio companies
·        $260 million invested in 23 countries
·        9 unicorns (8 new ones since January!) 🦄
·        16 exits / IPO in 6 months
·        $2.8 billion: the cumulative value of the exits to date
·        $155 million invested in 18 new companies
·        $105 million invested in 42 follow-on rounds
·        200 company-strong portfolio with  about 25,000 employees worldwide
Those kinds of returns should keep these and other firms loaded with plenty of investment powder for the years ahead. It's the kind of virtuous cycle that is needed to allow the ecosystem to continue to accelerate.
---
Audio Goodness!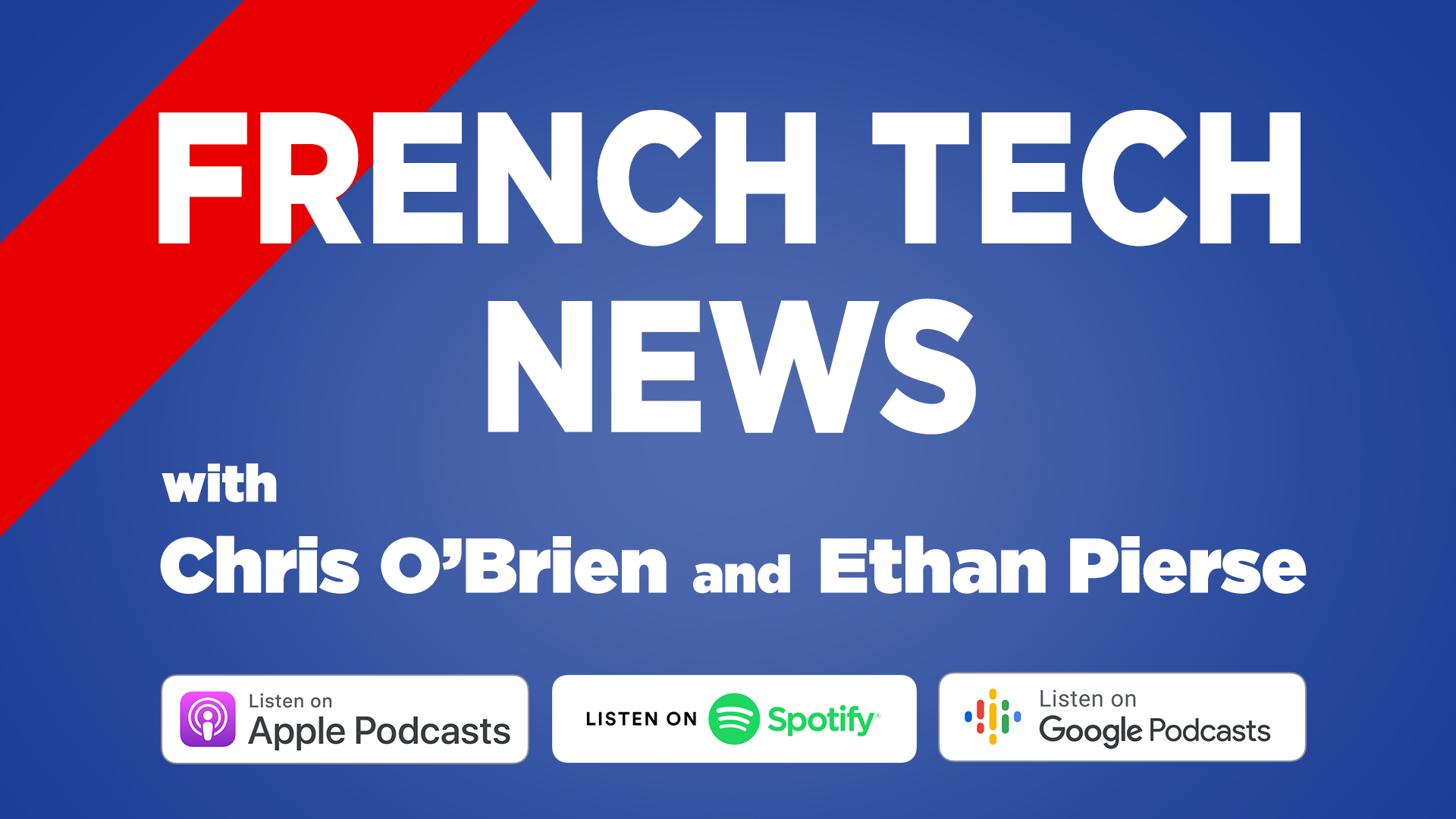 🎙️ Subscribe to the French Tech News podcast, a weekly discussion with France's entrepreneurs, innovators, and venture capitalists co-hosted by me and Ethan Pierse.🎙️
---
In Other News...
France's ecosystem has seen 2 notable departures in recent weeks.
The first is Kat Borlongan, the director of the French Tech Mission for the past 3 years. Her tenure has been marked by some extraordinary events, including the pandemic and that explosion in startup funding. Just as notable has been her efforts to create more diversity in the ecosystem and more opportunities for entrepreneurs from different socio-economic backgrounds while opening the country to more talent from abroad.
Borlongan has not announced her next project and her successor won't be announced until September. But the government seems poised to expand its mission and budget in the coming months.
The second is Nicolas Brien, the CEO of France Digitale since 2016. Brien is leaving to be Chair of EuraTechnologies, the Lille-based incubator and accelerator which has startups housed in a center of more than 80,000 m². France Digitale has not announced Brien's replacement.
PS: There was one sour note for me about the departure of Borlongan:
---
👋🏻 If you're enjoying The French Tech Journal, support the project by forwarding it to friends and sharing it on your social networks. You can also comment on this post. And if you have ideas for stories, tips, or just want to harass me, send me an email: chris@frenchtechjournal.com. 👋🏻
Comments