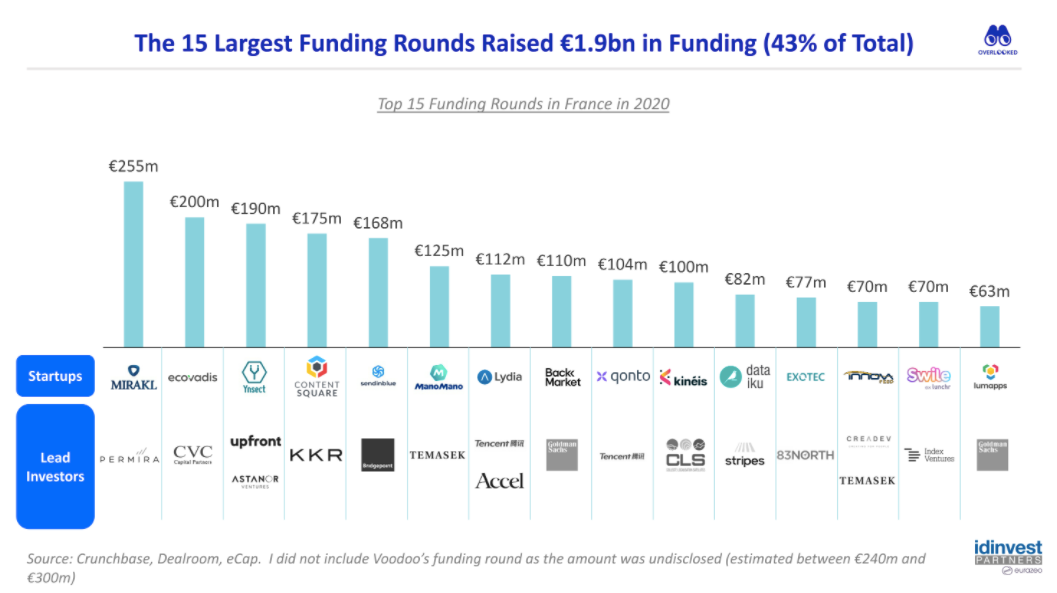 You might have a harder time finding someone who has geeked out more on French Tech data than Idinvest Partner's Alexandre Dewez. The man began compiling stats on VCs and entrepreneurship while still in business school just for kicks. And now he writes a weekly newsletter sharing his research.
Dewez took this obsession to the next level recently with the release of his 58-slide deck dubbed "The State of the French Tech Ecosystem in 2020." If French Tech is your thing then this report is well worth your time. I won't regurgitate all of its data points, but here are a few takeaways:
French startups had a strong year in 2020 despite the pandemic.
SaaS and marketplaces are the leading categories of French startups.
Paris is Paris is Paris is the nation's startup center of gravity.
More foreign investors, including Tencent.
Exits are still sucky.
Overall, Dewez said he was surprised at how strong the vital signs are. Even for someone who manically follows this stuff day to day for his main gig, seeing the data compiled in one lump gave him good vibrations.
"The most striking thing is to realize how France has become so attractive to investors," he said in an interview. "On the day to day, you see a U.S. fund or another European fund in France competing for deals. But we didn't realize that it was that massive. Especially on the big rounds. Most of them are led by foreign funds."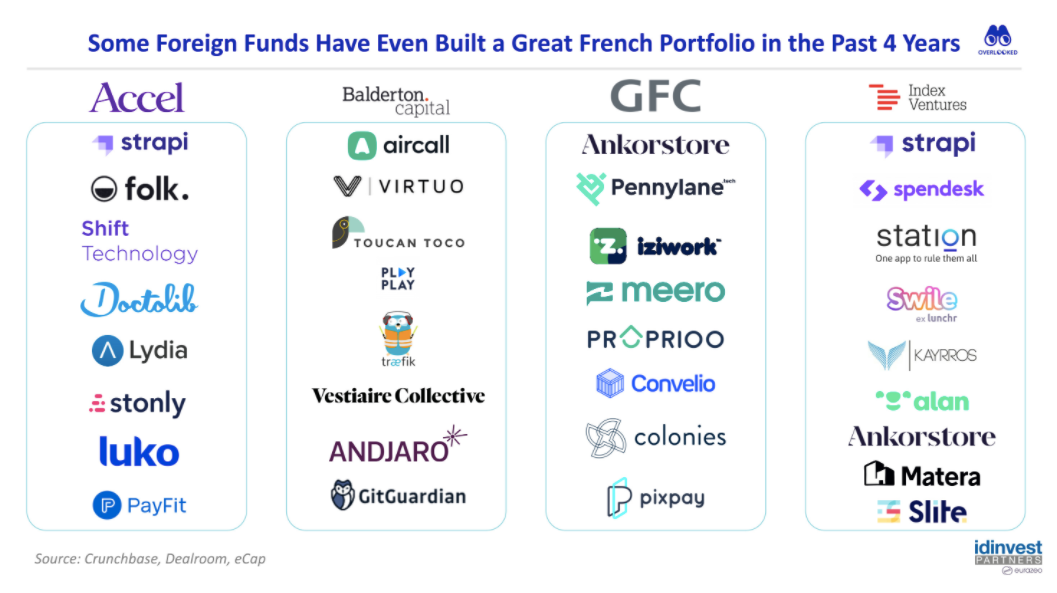 He's also pumped about the growing number of 2nd-time and 3rd-time entrepreneurs, the so-called "flywheel." This was desperately missing 7 or 8 years ago in France and that meant entrepreneurs often had to learn lessons on their own.
"This idea of a flywheel, you have a learning cycle with the success of each company's journey," he said. "In fact, we are in this space where we have now third-generation founders of companies that have exited.  Repeat entrepreneurs have the playbooks and they have the resources to start a company and to do it faster than they did the first time."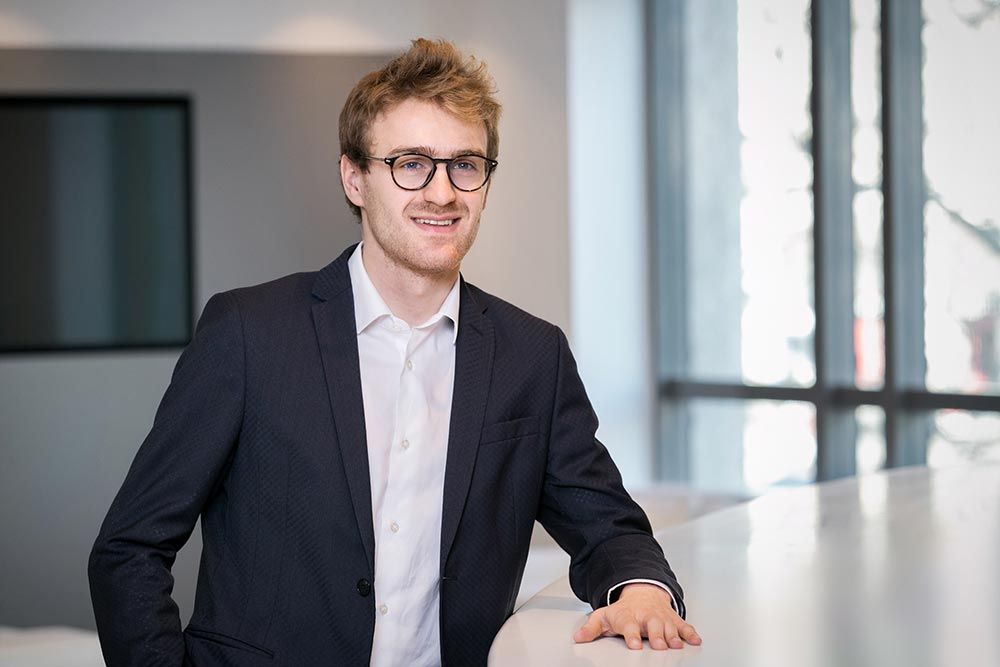 As an example, he points to Swile which was founded by Loïc Soubeyrand, previously a co-founder of Teads (acquired by Altice in 2017). Launched in 2018, the company has already raised $125 million in venture capital. The idea seems modest and particularly French: Swile offers a credit-like card that replaces the cumbersome paper meal vouchers most companies here are required to give employees as a benefit. (Typically giving them €18-€19 a day to spend on lunch).
This week, Swile made headlines by announcing a deal with grocery store chain Carrefour, France's largest private employer. And those meal tickets are just a springboard into delivering more employee benefits and HR services.
"It's amazing how quickly he's moving," Dewez said. "The choices that he made at the beginning of the company, like bringing in super experienced people because he needed to go to market more quickly. The flywheel is working quite well. And it's moving faster and faster. And the quality is clear in the ecosystem."
That flywheel also includes employees coming out of French startups like Algolia and Dataiku which effectively moved their headquarters to the U.S.
"They learned a lot because they were surrounded by more mature ecosystems and investors and entrepreneurs," Dewez said. "And now you can see they are giving back to France."
But…
Yeah, those exits. Not great, but Dewez suggests things are shifting.
"I would say, first of all, the renaissance of the French ecosystem only began at the beginning of the previous decade," he said. "And it takes time to build great companies. You need a 10 to 12-year window to see the first results. I think that's coming."
As evidence, he pointed to reports that Believe Digital, founded in 2005, was getting ready to list on the stock market, possibly either in Paris or New York. And not long after we talked, Medium announced it had acquired Paris-based Glose.
What's missing? Dewez said not enough French corporates are willing to acquire French startups (though there are exceptions). "As an ecosystem, we need to nudge them to go in this direction," he said.
The other problem: "There is a lack of a real IPO market in Europe."
Still, from where it was a decade ago, Dewez is feeling bullish.
---
In Other News…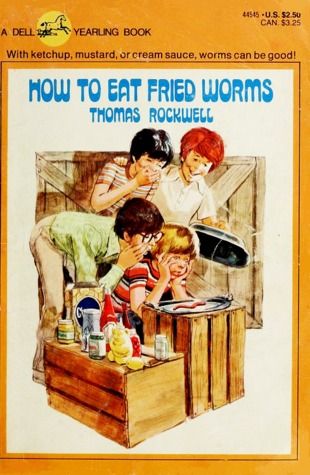 Ÿnsect is one of France's hottest startups, having raised almost $400 million in venture capital for the production of insects that can be used for plant and animal feed. But this week, the company received European approval to use them for human feed. However un-appetizing that may sound, the company is determined to make you a believer. From the press release:
The mealworm, also known as Molitor beetle, is the first insect to receive a positive safety evaluation for human consumption in the world. This represents a great victory and a significant step for the growth of the entire insect industry, and especially mealworm producers. This is also a recognition that mealworm ingredients are premium products as they are uniquely "food grade" compared to other insects used only in animal feed. Ÿnsect reinforces its health and nutritional benefits beyond fish, pets and plants, as defatted protein ingredients show significantly reduced allergen risks compared to other insect products
Miam. Still, given the looming climate crisis, the food chain needs to be revolutionized. And obviously, the human market could be massive. So grab a bib, and get ready to tuck in.
Glose In The Medium Spotlight
Speaking of bookworms…Medium announced this week that it had acquired Glose, the book reading platform for an undisclosed sum. Founded in 2013, Glose had only raised €3 million of venture capital, so it was not the mightiest of French startups. But on Thursday, Medium dropped the news in the U.S. and Glose CEO Nicolas Princen found himself being interviewed on CNN while the deal generated some decent chatter on Techmeme:
"The vision is to create an experience where you can go from one to the next," Princen told CNN Business. "You can read an article and then just one-click purchase a book that connects to that content if you want to go deeper."
It's hard to remember a French-related deal getting so much media attention in the U.S. Oddly, I didn't see anything in the French media about it until the next day.
Twitter's Trump Ban Gets The French Cold Shoulder
Besides seeing a French official not afraid to use big words like "prophylaxie" in a tweet, the move by U.S. social media companies to ban the Trumpster has revealed some other underlying differences between France's and America's politics.
Digital minister Cédric O captured this sentiment when he said the moves pose "fundamental questions." To wit: Should such decisions be made by tech giants based on their Terms of Service, or should such power to set such policies rest with governments.
"It seems at least a bit short from a democratic point of view," he added. "Beyond online hate, we need to invent a new form of democratic oversight."
Fair enough. But what would that look like? France has been very aggressive about pushing social networks to be more reactive about taking down hate speech and disinformation. Yet deciding who gets to form these bodies, and write these rules, would certainly raise just as many questions.
The big picture: This issue touches on something that remains a volatile issue in France: digital sovereignty. The specter of big U.S. tech companies wielding such power over the digital destiny of the French government of its people is deeply disturbing here. And it continues to drive policy, whether it's investing to create more homegrown champions, or just trying to limit the long-arm of GAFA.
---
This Week In Venture Capital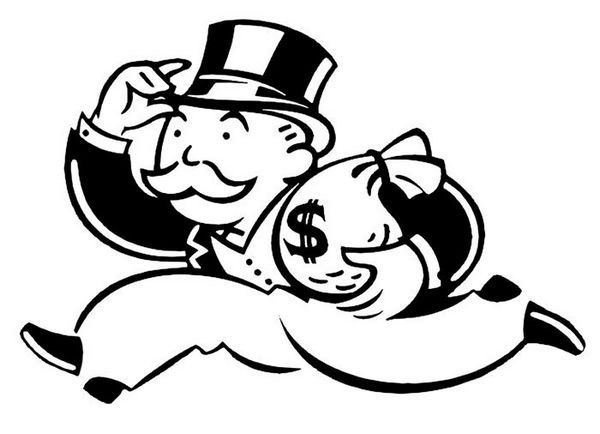 Shippeo raised $32 million for its platform that enables real-time tracking of shipments. Battery Ventures led the round which also included money from NGP, ETF, Partech, and Bpifrance.
Maela raised €2 million for its remote medical monitoring platform. Its long-term goal is to develop predictive medicine through data analysis. The money came from undisclosed people in the healthcare industry.
Iziwork raised €35 million for its temporary worker platform from Cathay and Bpifrance. The startup has now raised a total of €55 million since being founded in 2018 and hopes to expand into other European markets.
---
Thanks for reading! Don't forget to share this post with friends and family and pets!
Send me tips, comments, questions, and your ideas: chris@frenchtechjournal.com
Comments