Europe has been sucking Silicon Valley's startup exhaust for so long that it seems wildly shocking and more than a bit provocative for Accel to release a report suggesting the region is on track for cloud domination. The reality is that Accel's 2021 Euroscape report shows cloud-based startups in Europe and Israel growing faster than their U.S. counterparts but still behind.
"This year is basically the first year where I think Europe and Israel earned the right to ask the question, 'Are Europe and Israel on the path to global dominance?'" said Accel Partner Philippe Botteri. "That's why I think it is kind of a pivotal moment because we can say maybe we're not only not going to be behind, but we're going to be at the front of the race."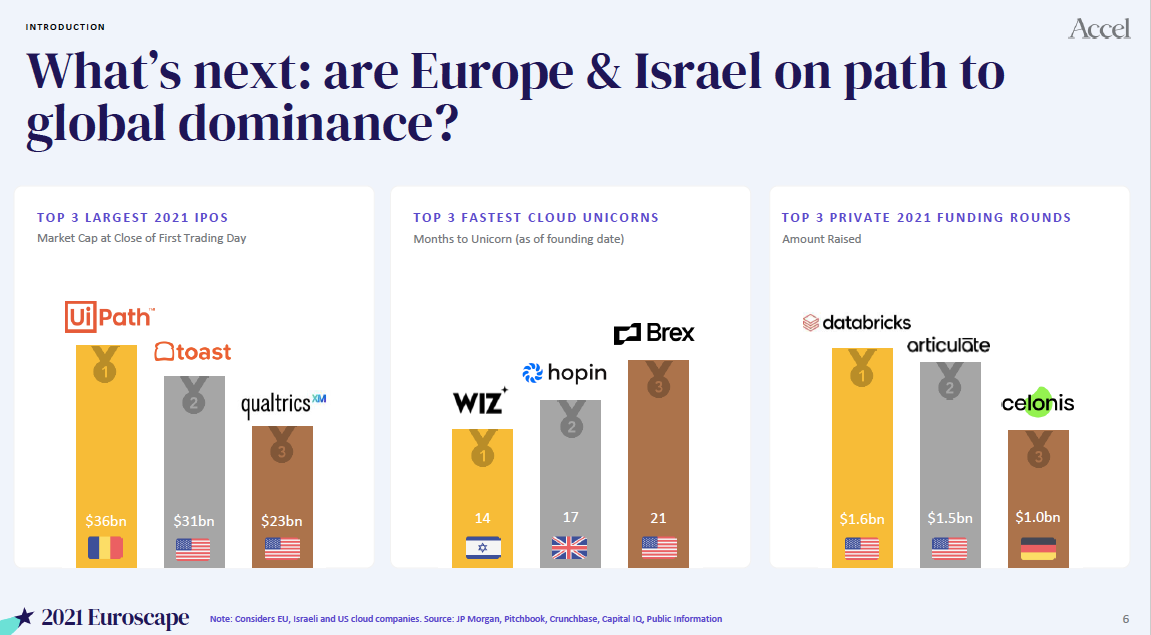 For Botteri, who got his start investing in the cloud more than 15 years ago in Silicon Valley before cloud was cool, just the notion that one can ponder a scenario where Europe overtakes the U.S. is a sign of remarkable momentum.
"When I moved back to Europe, I saw that there were some exciting things happening in Europe back n 2011," he said. "But one of my key questions was, 'Would I be able to invest in cloud companies because there wasn't much happening in SaaS and cloud in Europe.' If you look at the numbers today and the number five years ago, it is really night and day. The growth of the ecosystem has been exponential."
The Numbers
Accel has been tracking cloud investment for several years. Botteri pointed out that in 2016, European cloud companies raised a total of $1 billion. Last year, a cloud company, Celonis, raised that much in a single round.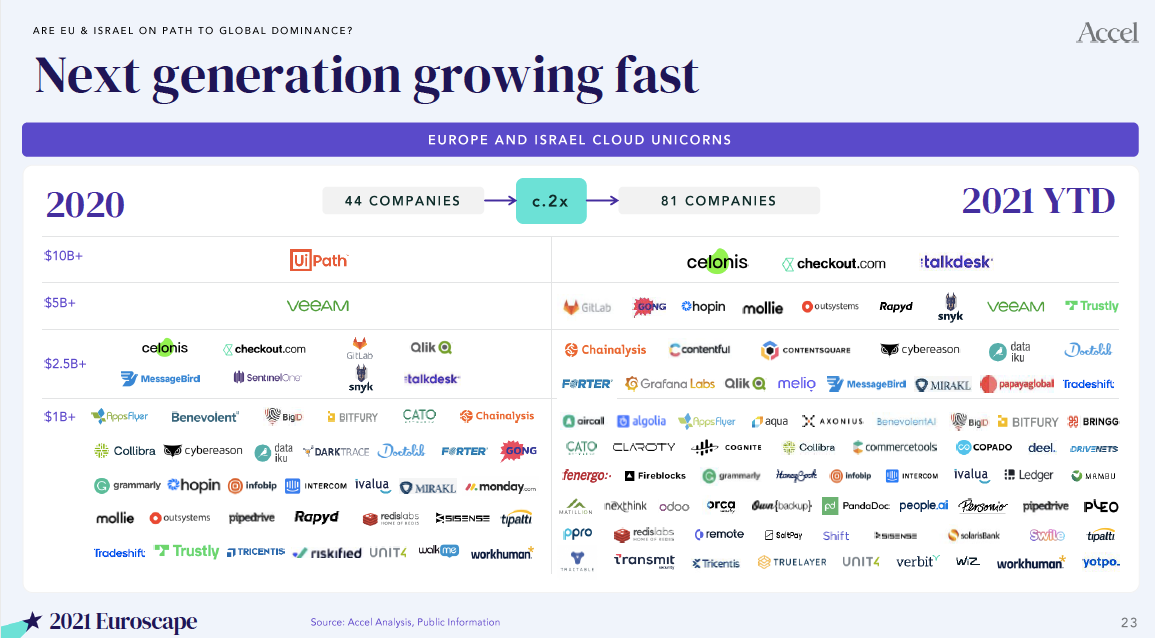 Of course, that mirrors the broader explosion in global capital markets. But there are plenty of other intriguing signs. For instance, with UiPath, Europe has produced the largest cloud IPO of 2021. The two fastest-growing cloud unicorns are based in Israel (Wiz) and the U.K. (Hopin). Overall, there have been 11 SaaS IPOs in Europe and Israel the year which is four times as many as 2020. And finally, European and Israeli SaaS startups have raised $30 billion in 2021 so far – three times as much as last year and about 60% of what cloud companies in the U.S. have raised.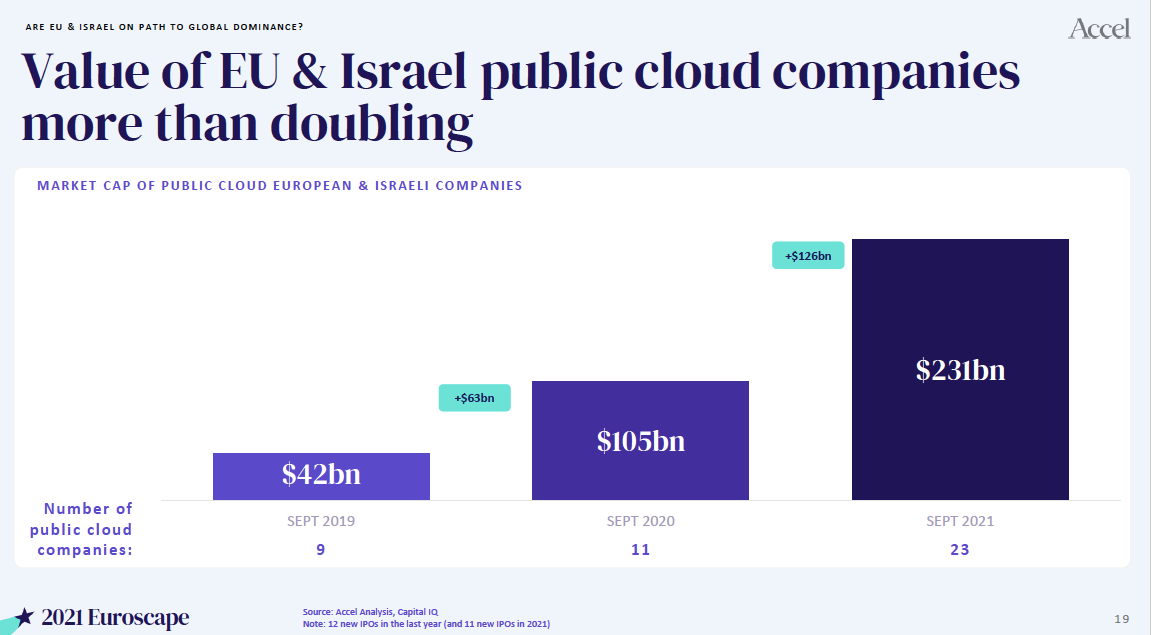 Being big in cloud matters for more than just bragging rights. Cloud and SaaS are powering the broader digital transformation that has been accelerating since the pandemic started. A region that's not a player in the cloud and Saas risks being left behind.  
"Look at the phrase used by Marc Andreessen when he said several years back that software is eating the world," Botteri said. "Today, I think the cloud is eating software. If you look at most businesses today, they are becoming digital businesses. If you want to be at the forefront of innovation, the forefront of digital transformation, you need to be an actor in the cloud ecosystem. And I think the region is able to produce leaders in the cloud."
So what has changed in Europe over the past decade? Botteri said the fractured nature of the European ecosystem, which is typically viewed as a weakness, is also proving to have some advantages. With 20 startup hubs, there is a great diversity of talent. For years, that talent has been attracting global tech giants to open offices in the region, often through acquisitions. That's nurturing more experience as those employees leave to start a new generation of companies. In addition, the emergence of seed funds and state funds almost a decade ago are bearing fruit.
While this is true across the region, Israel has particularly benefited from this cycle and accounts for one-third of SaaS unicorns across the region.
Where is France in all of this? It now sits behind the U.K. and Israel for the most top cloud companies, according to Botteri. Out of the region's 81 SaaS unicorns, 27 are in Israel while France has 10 of them. The U.K. and Germany each have 7, according to the report.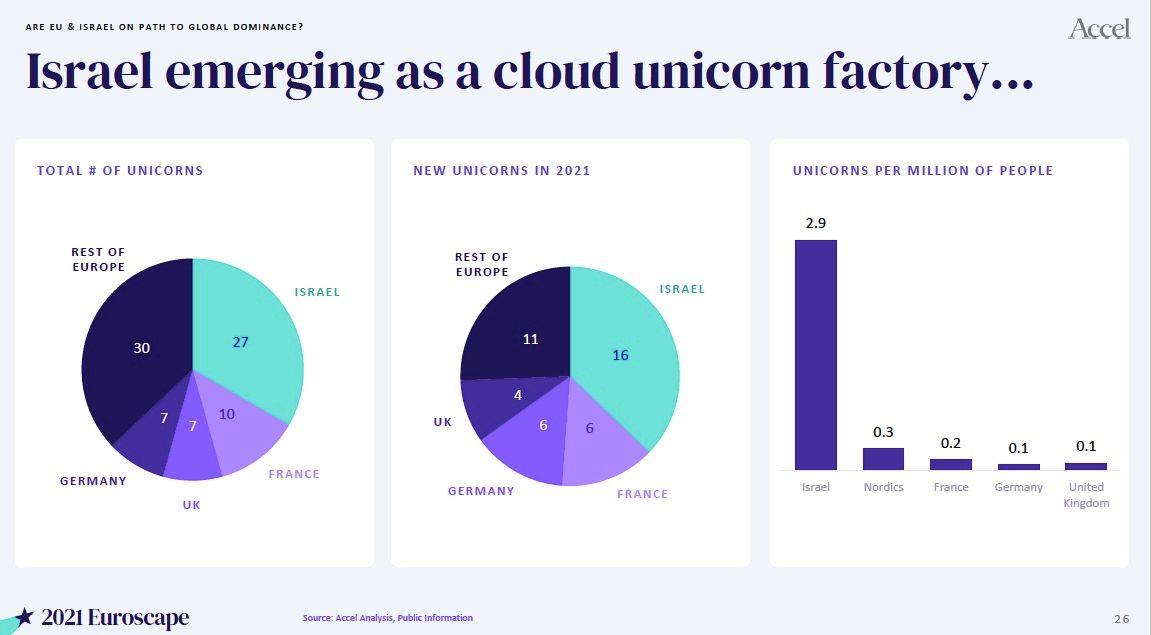 "France has done very, very well in terms of producing these cloud unicorns," Botteri said. "I think France has shown that they have the right founders, the right skills, the right universities, and the right level of ambition. They're right now they're number two on the podium which is pretty good."