The French Tech Journal provides analysis of France's digital ecosystem as well as in-depth interviews with French entrepreneurs and VCs. If you like what you read, please forward the newsletter to friends or share it with your social networks.
If you'd like to support independent and original reporting on the French Tech ecosystem, please consider a paid subscription. You'll wake up every morning feeling really good about yourself.
Send tips, comments, questions, and your ideas to our global headquarters: chris@frenchtechjournal.com.
---
More than 7 years after Lydia was founded, the French financial app has traveled an enormous distance to finally arrive at the starting line. While Lydia has become immensely popular in France, the €110 that the company raised in 2020 has positioned Lydia to pursue its goal of becoming a European super app for financial services.
"We're not there yet," Chiche said. "We're just building this building block by building block."
In a recent French Tech News podcast, Lydia CEO Cyril Chiche said the company has hit its share of roadblocks and dead ends that could have killed it years ago. The fact that Lydia co-founders Chiche and Antoine Porte knew next to nothing about finance could also have been fatal. Instead, their relentless ability to change track and rethink their approach has brought them to the cusp of a big moment.
"We made a lot of mistakes in the process and we found out and understood our mistakes fast enough to not let them turn into disasters," Chiche said.
P2P Payments
The journey started in 2013 when the co-founders saw the rise of various smartphone banking apps in the Far East and Africa. This was just starting to come to Europe, and they wanted to build an app that handled payments.  
"Of course, it was extremely ambitious," Chiche said. "Or maybe I should say arrogant. Because it was just Antoine and myself. He didn't know anything about payments and was very young. And I was not even young. And I didn't know much more. So it was two guys that didn't know it was impossible."
Working out of a basement, they cobbled together several versions that didn't get any traction. Eventually, they got a basic version that they started testing on a university campus and it caught on. They began to move from campus to campus, seeing rapid adoption, to the point where "I'll Lydia you money" became a common refrain. With about 50,000 users and a team of 15, Lydia had only raised €600,000 from business angels.
In November 2014, the co-founders raised €3.6 million from venture firms Xange and Belcube for a wider launch. The company saw growth soar.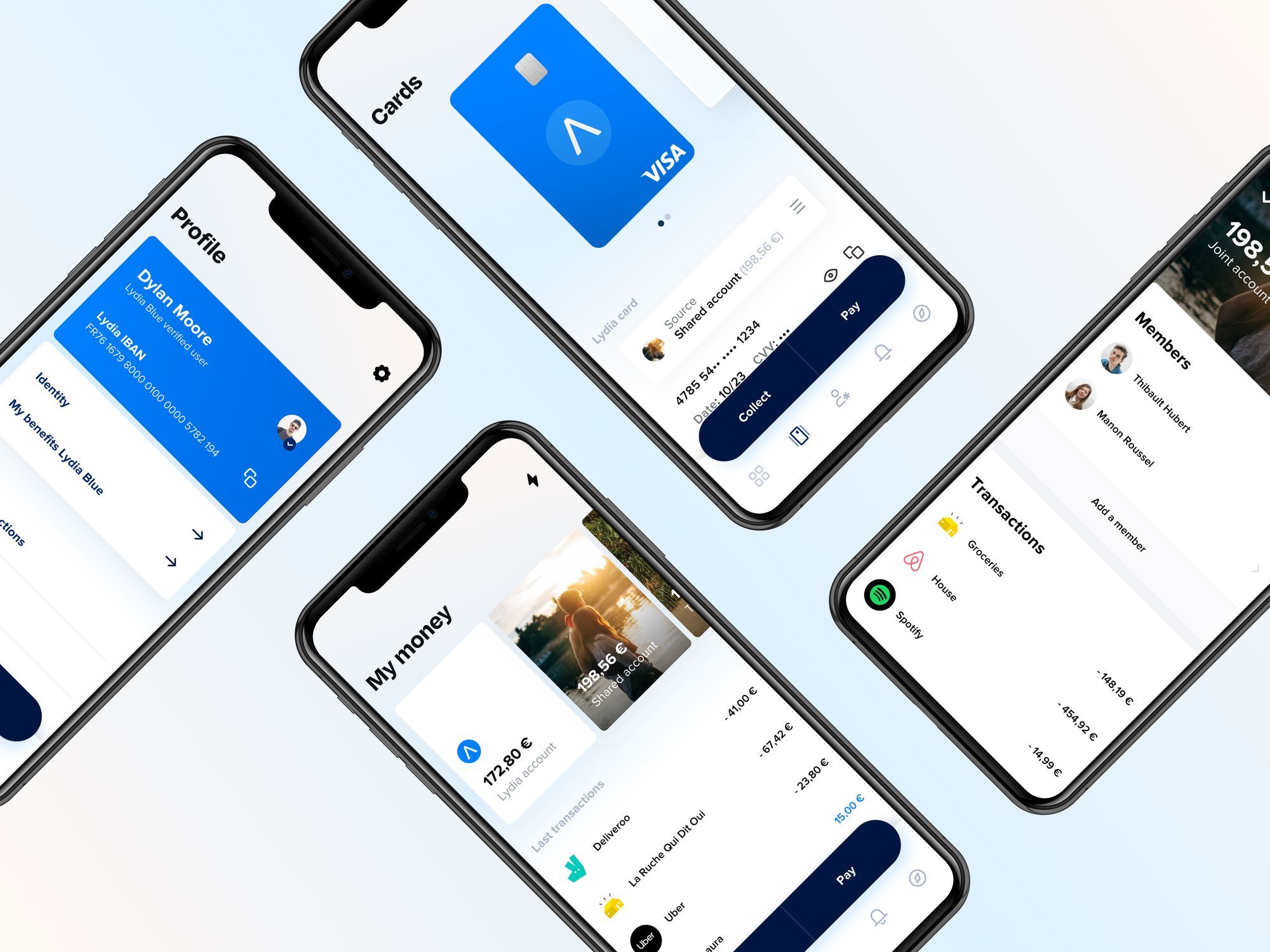 Among the challenges they faced: How to keep adding features without making the app too complex. How to build the right IT infrastructure. The biggest puzzle: The business model.
"There was no business plan," Chiche said. "We weren't even faking it. We just didn't have one. It was just about building a massive community of users with a lot of engagement and retention. Monetization was a second step. And it was not that easy in France at the time to get into a VC meeting and tell them don't worry, we have no plan for monetization."
Chiche said he was lucky to have investors who were patient and willing to look to the long run. They never felt pressure to figure out monetization. Instead, their focus remained on product development and building the community of users.
"We believed this was not just a quick thing that you do for 3 years and put a lot of glitter on it and then sell it," he said. "If you want to build something that changes the banking landscape for real then it's okay that it takes time to build. And it's very important to have investors that believe in that time scale as well."
Along the way, Lydia raised rounds of €7.8 million in 2016 and €16.1 million in 2018, a testament to its progress.
But that journey wasn't without setbacks.
Lydia had developed a regulatory workaround for expanding into other countries, and began testing its app in the U.K. Usage was growing rapidly, but Brexit threw a wrench into its banking licensing scheme. Lydia was going to have to devote enormous resources toward getting a separate license for the U.K., something that the company decided would be too big of a distraction. So they made the difficult decision to pull the plug in the U.K. even though it had become Lydia's second-biggest market.
While Lydia was building a strong brand in France, it also turned out to have good timing. In 2018, Europe adopted new Open Banking rules that were going to make it easier for new financial services to work across borders and offer a wider range of services.
"That changed the landscape dramatically," Chiche said. "You can become a central hub and connect all their bank accounts and money and financial life. They can run it through an extraordinarily powerful and simple and frictionless interface. We decided to move our positioning from mobile payment to financial hub, which we call the super app."
In January 2020, Lydia had mapped out its super app ambitions and began hunting for a new round of financing. But Chiche said the company also wanted partners that it could with this new vision. That led to a €40 million round led by China's Tencent.
"If you want to build a financial super app, there's one place in the world where we would look toward immediately," Chiche said. "And that is China. Because that's where the most massive super app exists. And with Tencent owning WeChat and WeChat having a billion customers on their super financial super app, this was one of the places in the world where we could learn the most."
Like many other fintechs, Lydia also got a boost from the pandemic. Last Spring, the company was facing tremendous uncertainty regarding its rollout plans. But their new investor from Tencent told them not to worry: China had begun to emerge from the worst of its pandemic and business was surging. The same would surely happen here.
"He told us to calm down and focus on what's important: Build the new product for the super app and be careful with the cash," Chiche said. "And if you keep your head calm and if you do that, you're going to be okay. It helped to have someone with experience talk about this incredible thing that nobody ever experienced before. And what happened is that in June we did the best month ever for Lydia by a margin of 30%."
That momentum also spoke to a larger transformation happening across society as people embraced digital financial services. Lydia was now riding a wave and it was one the brought another surprising twist: The company was contacted by Accel, one of the top Silicon Valley venture funds.
"It's almost insane," Chiche said. "You know, for years, Antoine and myself would read stories about founders saying that they were doing their work and then someone knocked on the door offering them tons of money. And we're really angry with that because we're suffering so much every time we do a round of financing."
Now Accel was knocking. As it happened, Amit Jhawar, who had been involved with fintechs Braintree and Venmo, joined Accel as a venture partner. Although Lydia wasn't looking for money, it was impossible to say "no" to having Jhawar joining the board. In December, Lydia announced that Accel had invested €70 million.
Chiche could hardly believe it. Getting Venmo and Tencent on the board to help build a financial super app in the same year? "It was becoming like a fairy tale," he said.
Super App!
The first real version of the super app debuted last year but it was version 10 of Lydia. Lydia users can now add multiple bank accounts, payment cards, loans, insurance, and gift cards. And the company will continue to add new services this year.
"It was very difficult and we were anxious about creating a disaster," Chiche said. "If you look at the product, none of the main pages of the app were there a year ago. We changed the entire app while we were still growing the company by 150,000 new users every month."
That evolution has also led to the monetization part. The company takes a small percentage on transactions done through Lydia. There are also monthly subscription plans that offer more features. And then there is a marketplace for 3rd-party services from which Lydia gets a cut when users sign up. That revenue diversity has the company on target to be profitable in France in the first semester of 2022.
"That we ended 2020 in this configuration is incredible," Chiche said. "And moving into this new positioning as a financial super app with so many resources and so much brainpower around the table, I can't say enough how excited and I am by what's ahead of us. Because it's surreal honestly."
---
In other news...
Just two days ago, OVH CEO Octave Klaba seemed to be on top of the world. More than 20 years after he started the cloud hosting company, he had confirmed plans for an IPO and was being praised for attempting to step in and save the Blade online gaming service from bankruptcy.
Then one of the buildings at its Strasbourg data center burned down and took with it a substantial number of websites across France. On Wednesday, a wide variety of businesses were tweeting that their sites would be indefinitely offline. For many, it's unclear whether they had any backup or redundancy plans that saved their data elsewhere.  
The big picture: There has been a lot of talk about data and cloud sovereignty in Europe, ideas that potentially benefit a company like OVH. But a disaster like this could set that conversation back. And for a country that needs to accelerate its digital transition, it doesn't help to have an incident like this highlighting a worst-case scenario for many and creating even greater reticence around cloud services.
---
Journalism Demystified: How do journalists do their job? How do they make decisions about what stories to cover? How do they get the information they need?
Book an appointment with me at Superpeer and I'll answer your questions about journalism and the media and explain my workflow to help you better understand the perspective and challenges of journalists.
If you're a subscriber to this free email, I'll send you a code for a 20% discount. If you're a paid subscriber, you can get a code for a 50% discount.
---
👋🏻 If you're enjoying The French Tech Journal, please support the project by forwarding it to friends and sharing it on your social networks. You can also comment on this post. And if you have ideas for stories, tips, or just want to harass me, send me an email: chris@frenchtechjournal.com. 👋🏻