While this newsletter has been on pause, the news has not. There have been lots of items of note, but perhaps the biggest story line is the sudden feeling that winter has descended over tech investments. Bubbly enthusiasm has been replaced by caution and uncertainty. There had been speculation about this looming threat since the start of the year as observers fretted about the impact of inflation, rising interest rates, the lingering pandemic, and then the Ukraine war.
How is all of this going to play out for French Tech? The unsatisfying answer is that it is unclear and any impact is likely to be felt unevenly. It's always hard to untangle all the competing threads in the short term. Any real shift won't come into focus for months, even as we see some companies that raised big rounds announce layoffs. I don't foresee a total collapse in funding. But it also seems unlikely that France (and most countries) are going to see the same rate of new unicorn creation this year.
To point to just one indicator, consider SoftBank. The massive fund made its presence felt in France last year, thanks in no small part to the elevation of a well-known Frenchie, Michel Combes to the role of SoftBank CEO. In 2021, SoftBank helped mint a handful of French Tech unicorns by backing ContentSquare, Sorare, Vestiaire Collective, and Swile. Last December, Combes spoke with La Tribune and boldly declared there would be a "before and after" in terms of SoftBank's impact on La French Tech. He pointed out that despite SoftBank's size, it hadn't been active in France and didn't know the French ecosystem. He was determined to change that, a sentiment he underscored again during a January interview with Maddyness.
Alas, France's new rainmaker did a sudden about-face in May when SoftBank announced it may cut global investments up to 75% in 2022. Investors like SoftBank have been spooked by the collapse in stock market tech valuations and eroding crypto markets (more on that in a second). Big PE and hedge funds like SoftBank and Tiger Global have been forces behind many of those late-stage mega-checks that have sent startup valuations soaring. If this late-stage funding and public exits are drying up, then the effects are likely to trickle down, right?
In fact, it's hard to know for sure. On paper, 2022 still looks like a strong year for French Tech fundraising. According to Dealroom, French startups have raised $7.9 billion in 2022 compared to the $13.8 billion raised in 2022. That 2022 figure already surpasses every other year in French Tech history.
But...much of that is due to the flurry of mega-rounds announced early in 2022: Qonto, Back Market, Exotec, PayFit, Ankorstore, and Doctolib. Those total more than $2 billion (and most were likely closed in late 2021). Still, there have been  at least 5 fundings of nine-figures since March, which is still a decent pace by historic standards. And that doesn't include the $100 million raised by Hugging Face at a $2 billion valuation because while the company is founded by Frenchies it's now officially based in New York City.
So, it is a period of neither feast nor famine for late stage. But steady can feel like a let down after a couple of frenzied years.
Meanwhile, earlier stage investors are making bets looking several years out. Do they pull punches now or plow ahead, believing things still stabilize? For the moment, it seems the latter.
Last week, Alven announced a new €350 million fund. And now Felix Capital (based in London with a strong French DNA), has closed a new $600 million fund. And meanwhile, WinEquity, a new venture capital firm in France that invests exclusively in start-ups with at least one female founder, completed its first investment in PropTech startup Sitowie, a predictive maintenance SaaS platform.
Again, all these announcements were put in motion months ago. But while there may be some subtle slowing, the bottom hasn't fallen out.
Web3 Wobbles?
Part of the anxiety in startupland is linked directly to a series of unflattering developments in the crypto world as the value of Bitcoin has plummeted and other troubling crypto stories have emerged.
Just a few weeks ago, Paris hosted a big Blockchain/NFT event that seemed to underscore the optimism surrounding Web3. Another big Metaverse conference is coming in July. So, can we detect any fallout in the French Tech Web3 scene?
Let's look at The Sandbox. Earlier in the year, I noted that the metaverse company was arguably France's first decacorn as the value of its tokens gave it a valuation over $10 billion. But the value has since plunged sharply (but recovered a bit the last couple of days) to $3.9 billion, down 77% on the year. Those tokens are used to buy land and other assets in The Sandbox, and so theoretically could seriously crimp in the in-world economy. And some critics are claiming The Sandbox and other metaverse platforms are suffering from weak user numbers. By the same measure, The Sandbox has still not officially launched to the public, something that is expected to happen later this year.
These clouds have not dimmed the Web3 outlook for many. Sorare, the NFT-based fantasy sports platform, just signed a major deal with the Major League Baseball in the US. Amid the crypto crash, Sorare CEO Nicolas Julia struck a defiant note.
Around the same time, Arianee, which is developing NFTs for luxury brands, closed a $20 million round of funding. Kinetix more recently raised €11 million for its Metaverse and NFT tools. Dfns, a Techstars-backed cybersecurity
startup that has developed crypto wallets for fintechs and banks, raised $13.5 million in a Seed round led by White Star Capital. Business magazine 20 Minutes is launching a new magazine funded through NFTs. Paris-based new media platform Brut partnered with the Cannes Film Festival to bring the event into the metaverse.
On a bigger scale, startup factory eFounders unveiled its newest concept, a studio dedicated to Web3. Dubbed 3founders, the studio has been already cooking up its first concept, a new startup called Cohort which is developing NFTs for brands.
Finally, just today, Ledger and Cathay Capital announced they were partnering to create a €100 million early stage venture fund to "onboard the next billion users on Web3." Called Ledger Cathay Capital and managed by Cathay's Denis Barrier and Ledger's CEO Pascal Gauthier and Michael Louzado (VP of Strategy, M&A & Ventures at Ledger), the fund will target "DeFi, security, infrastructure, digital ownership technologies, protocols and more."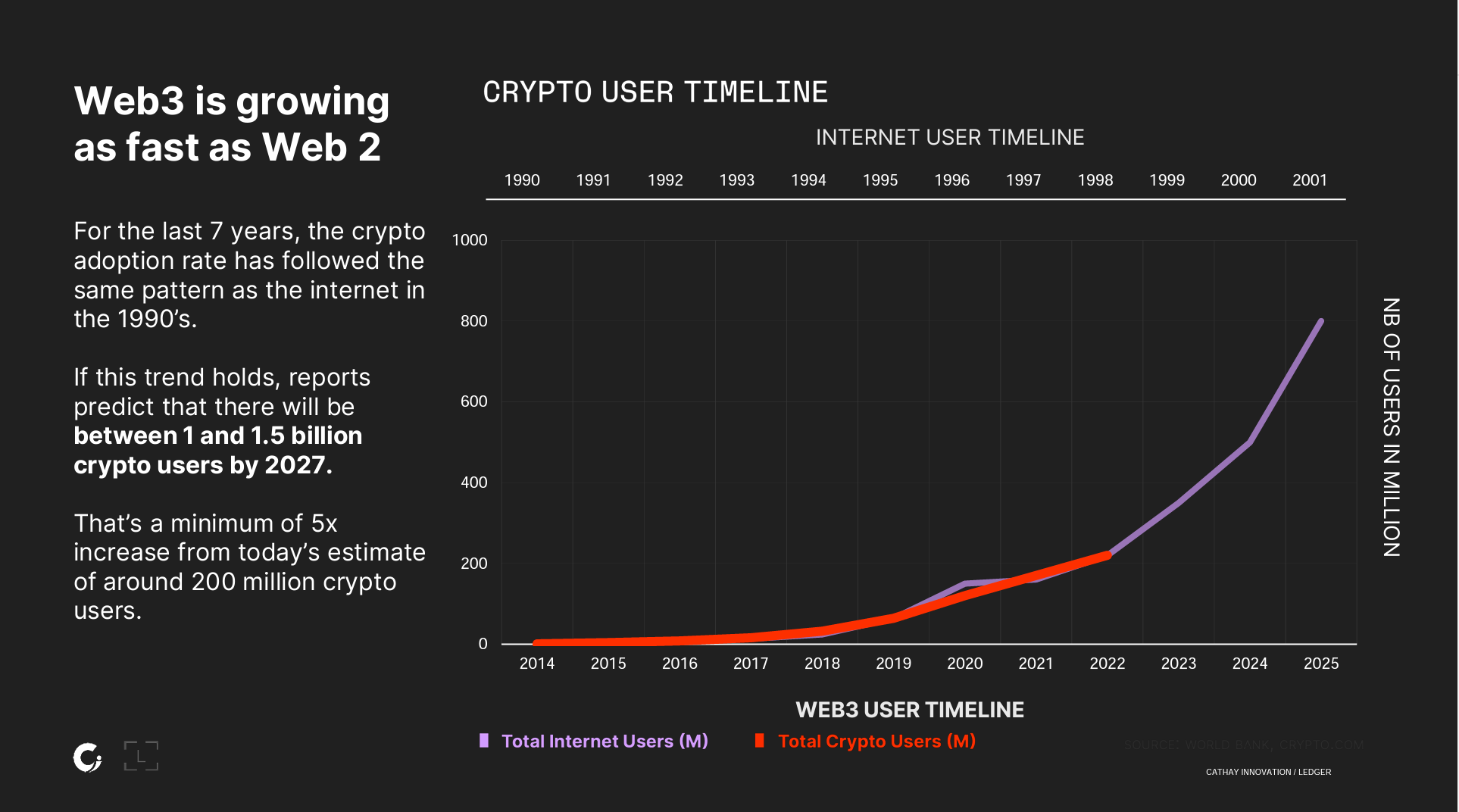 "We believe in a future where people truly own their digital assets and interact with Web3 and the Metaverse with full control and security," Louzado wrote in a blog post. "We are proud to play a role in accelerating the Web3 movement while establishing the highest security standards."
If the Web3 frenzy is over, clearly these people didn't get the memo. Whether their exuberance is justified, well, it's going to take a long time for history to sort the winners and losers. The question of whether crypto and Web3 will truly remake the internet and the digital economy, remains perhaps the most important debate of this moment...and the hardest one to predict.
---
👋🏻 If you're enjoying The French Tech Journal, support the project by forwarding it to friends and sharing it on your social networks. You can also comment on this post. And if you have ideas for stories, tips, or just want to harass me, send me an email: chris@frenchtechjournal.com. 👋🏻‌‌‌
Comments