Despite the insanity, 2020 turned out to be a blockbuster year for startup fundraising in France. Those numbers were helped by some big rounds raised by some of the most promising startups the country has produced in recent years.
These mega-rounds were extremely rare until just a few years ago when startups like BlaBlaCar and Sigfox broke through with rounds north of €100 million. Getting more money for so-called scaleups is a priority in France, and there are signs of progress.
According to research firm CB Insights, these were the five biggest French Tech rounds of 2020:
Readers may be wondering, "Hey, what about Lydia?" The P2P payment app is also red hot at the moment. And last month, the company announced it had closed a $131 million Series B round. However, technically the company raised $86 million in December as the second part to a $45 million round raised in January. Under CB Insight's methodology, it counts those separately.
So, just a technicality and not a knock on Lydia! However you slice it, Lydia had a banner year.
One other interesting note about the 2020 Top 5: All of the companies were founded in 2014 or earlier. The French Tech program launched in late 2013 to raise the profile of the nation's ecosystem. But this group is a reminder that there was quite a bit of entrepreneurship already happening in France. And some of those efforts are now bearing fruit.
---
In other news…
Independent analyst Benedict Evans published a slide deck this week that gives an overview of the European Tech ecosystem. The overall thrust isn't surprising: Europe lags where it should be in terms of entrepreneurial might, but has been making big strides in recent years.
The big picture: Europe theoretically should be a massive market opportunity for French entrepreneurs. But…in reality, it's still many markets that are not well integrated in terms of culture, language, and regulations.
On the home front, there are some other challenges. As of 2019, the French were less likely to be shopping online than their counterparts in the U.S., U.K., and Germany. In terms of tech adoption, Evans clumps France in with Spain and Italy as countries that are "3-5 years behind."
The French also spend far less time online (around 100 minutes per day) than the British (more than 250 minutes per day). French companies are lagging in cloud adoption. And the company has produced fewer unicorns.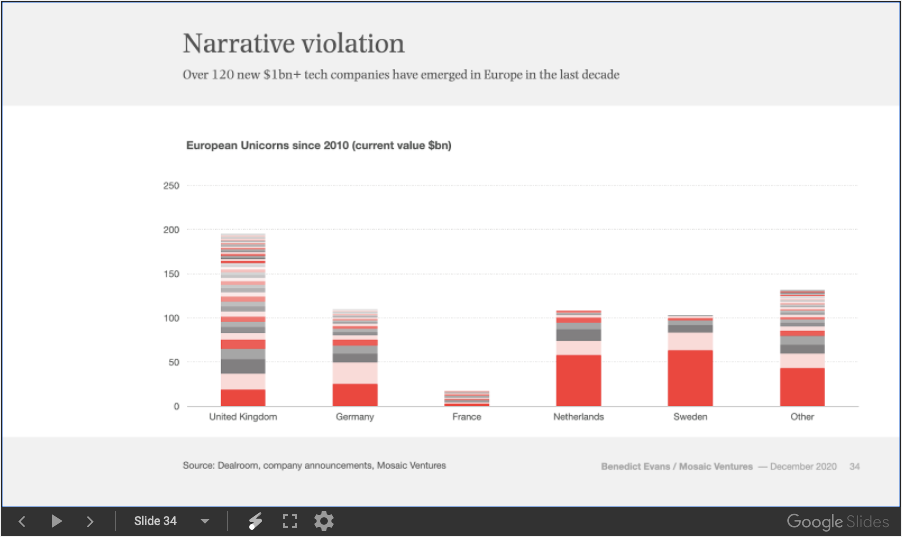 None of this is fatal. And it's likely the pandemic has had a big impact on some of these stats.
Still, it's a clear-eyed look at how far Europe and France have come, and how much further there is to go. President Macron has set a goal of 25 unicorns by the end of his term in 2022. Whether or not the country hits that target, the ambition is certainly there.
Comments