France Digitale's breakdown of the 441 investors who have backed the companies in the latest French Tech Next 40/120 list reveals just how critical foreign investment has become in the ecosystem.
The association analyzed the venture capital funds, business angel funds (but not individual business angels), family offices, private equity funds, and institutional investors who are part of the cap tables for the companies considered to be the most promising French startups. According to the study, of the 441 investors identified, 41.3% are French while 49.4% are non-European.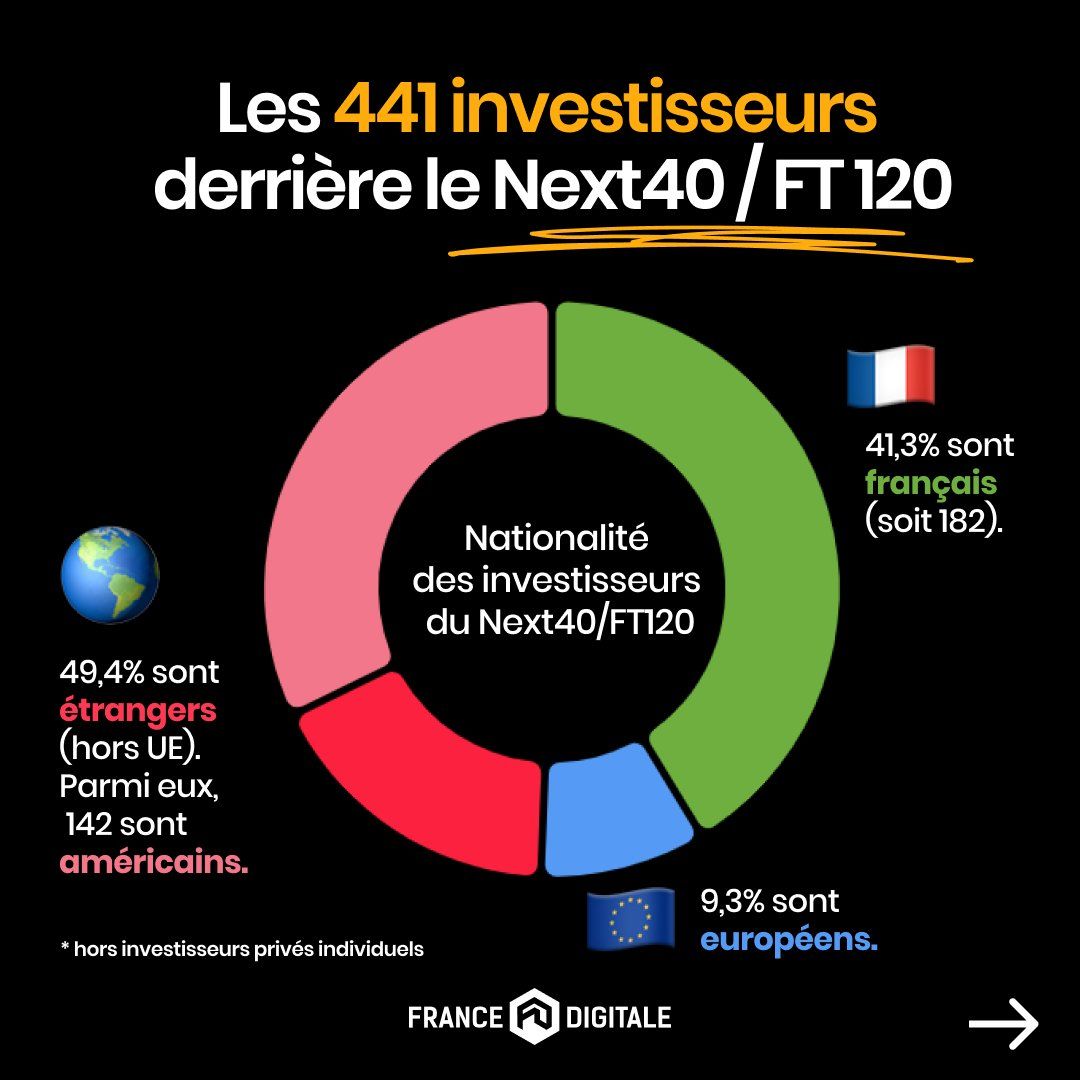 The latter includes 142 American investors, 29 British investors (who may be surprised to learn they are no longer European!), 8 Swiss investors, and 5 from Hong Kong. The European investors include 9 from Germany, 6 from Sweden, 5 from the Netherlands and Luxemburg each, and 4 from Spain.
As such, homegrown French investors still lead the pack. According to France Digitale, French investors made 463 deals in the Next40/FT120 while U.S. funds only made 209 deals. Still, the U.S. is far out-pacing other European investors when it comes to backing French companies.
"The United States is in second place and well ahead of all European countries who, together, represent only 9% of the 441 investors behind our national startups. It is therefore necessary to speed up European coordination on investment," said Maya Noël, Managing Director of France Digitale, in a statement.
Some other interesting data points from the report include the types of investors:
● 51% are venture capital (VC) funds
●  23% are private equity funds
● 16% are venture capital funds of large groups (CVC)
● 4% are public investors
● 2% are Family Offices
● 3% are groups of individual private investors (groups of business angel)
● 1% are in the "Other" category (Hedge funds, etc.)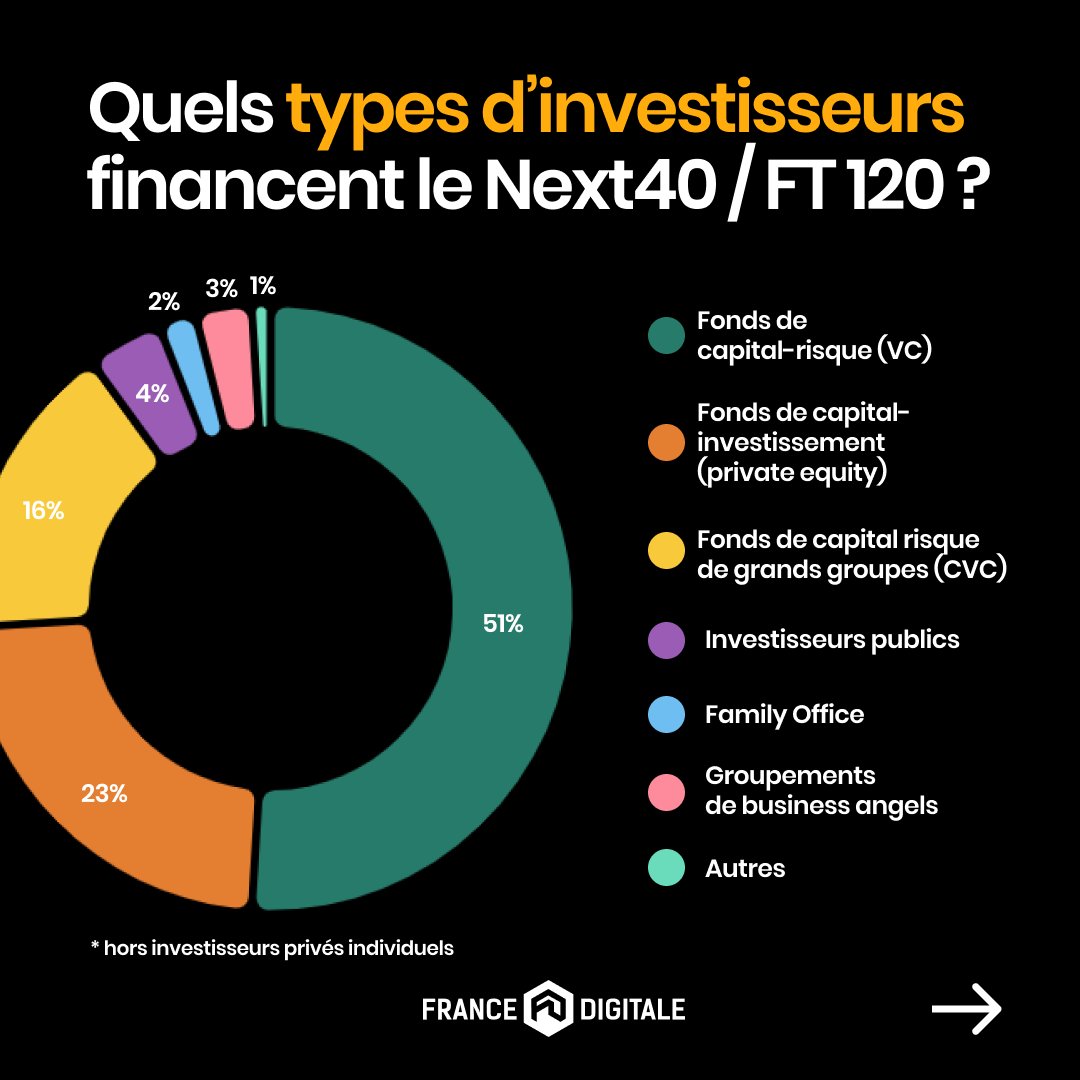 The French investors having invested into the most startups in the Next40 (the most promising later-stage scale-ups) are:
1. Eurazeo (22)
2. Bpifrance (17)
3. Kima Ventures (9)
4. Agoranov (7)
5. Partech (5)
6. ISAI management (4)
7. Aglae Ventures (4)
The top 10 French investors having invested the most startups in the overall Next40/FT120:
1. Bpifrance (48)
2. Eurazeo (40)
3. Kima Ventures (22)
4. Alven (16)
5. Partech (15)
6. BNP Paribas (10)
7. Agoranov (9)
8. ISAI  (7)
9. Wilco (7)
10. Tenth place is a tie: Aglaé Ventures, Iris Capital, XAnge, The Family, Sofinnova Partners, Ventech, Crédit Agricole (6)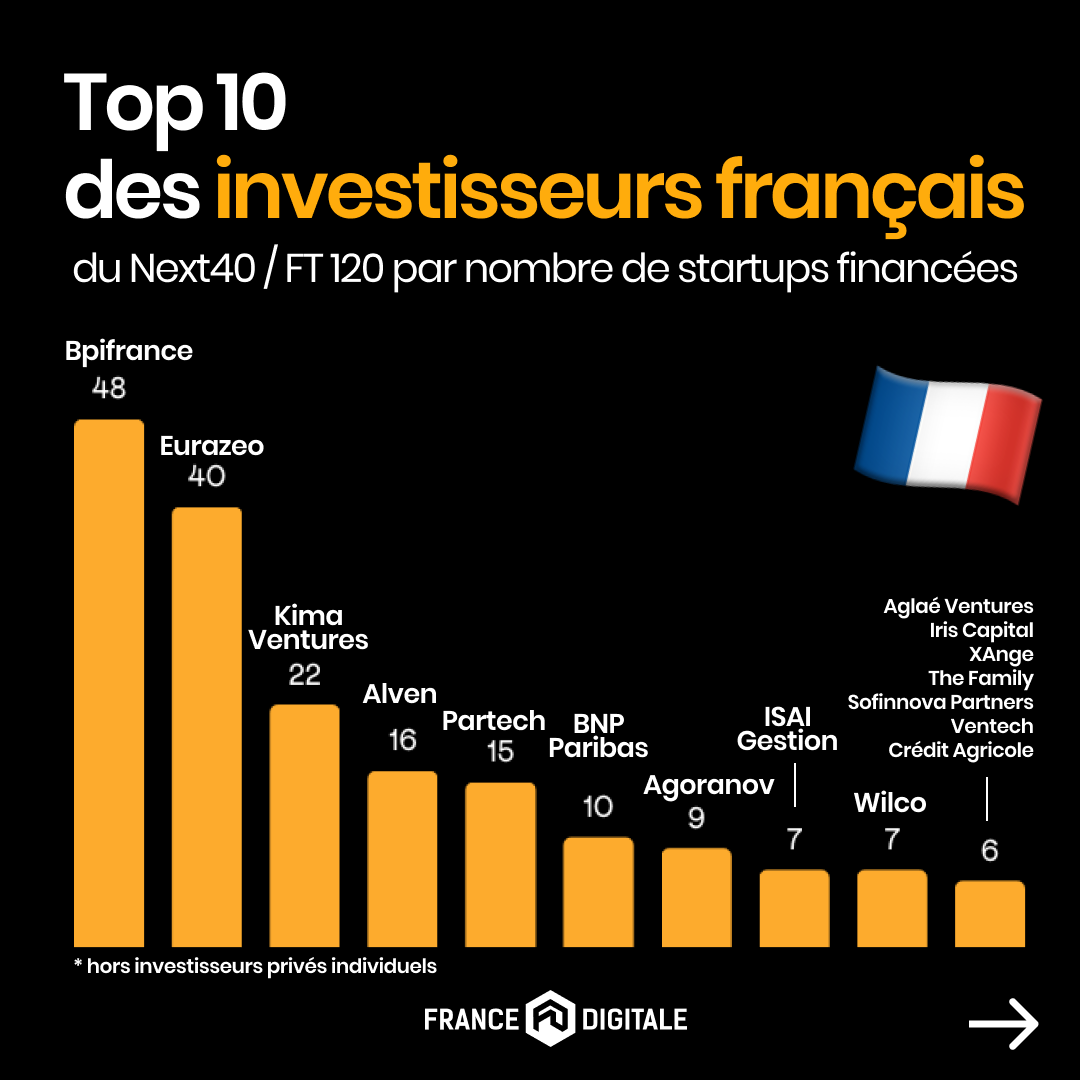 The 7 foreign investors that invested the most in the Next40 are:
1. Accel (6) - US (Note: FD lists Accel and Index Ventures as American, but I'm pretty sure Index invests from a fund based in London. Checking on that and will update).
2. Goldman Sachs (6) - US
3. General Atlantic (5) - US
4. Index Ventures (5) - US
5. Kohlberg Kravis Roberts (5) - US
6. SoftBank (5) - Japan
7. Tiger Global Management (5) - US
The 8 foreign investors that invested the most in the Next40/FT120 are:
1. Accel (7)
2. Cathay Innovation (6)
3. General Atlantic (6)
4. Goldman Sachs ( 6)
5. Index Ventures (5)
6. Kohlberg Kravis Roberts (5)
7. SoftBank (5)
8. Tiger Global Management (5)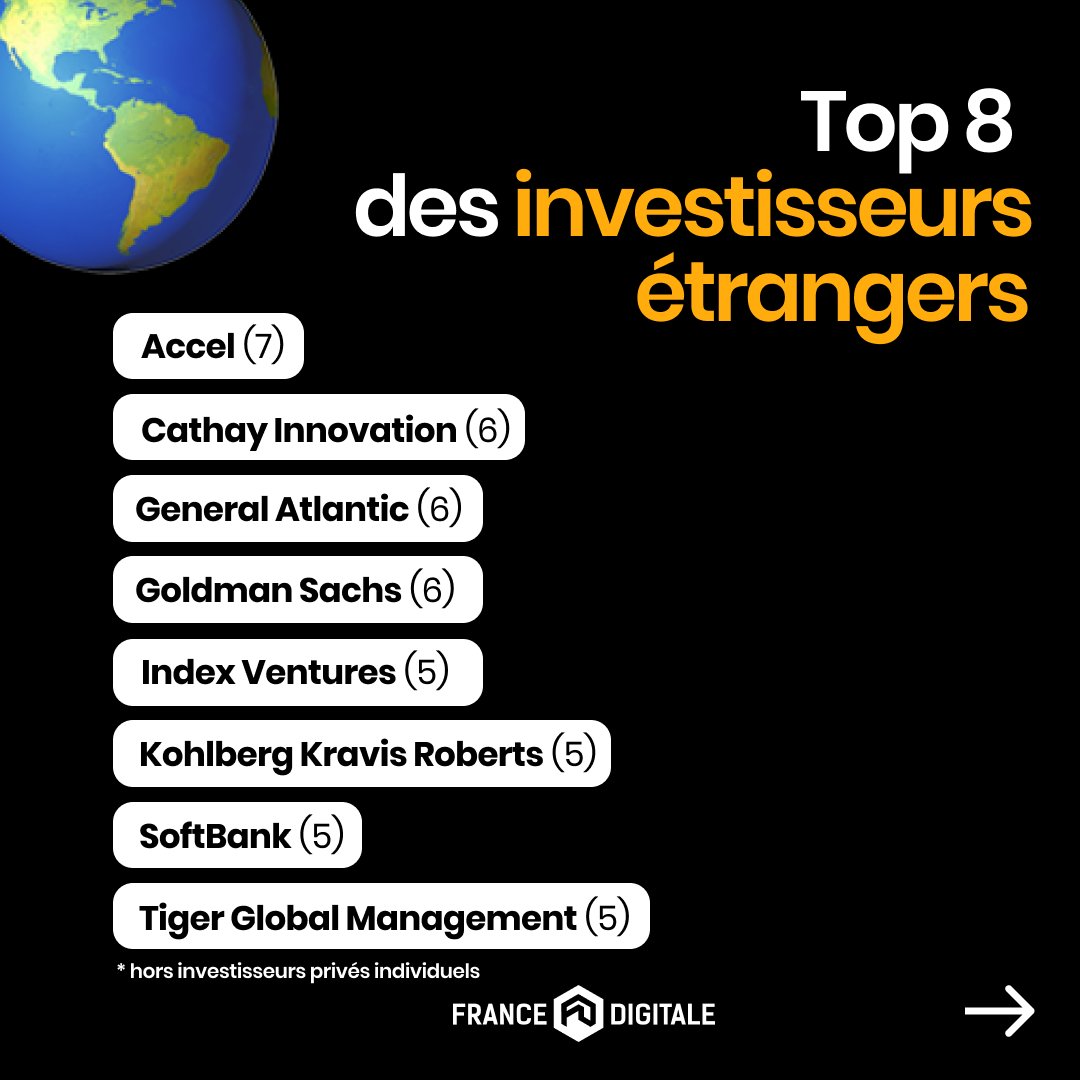 The 8 European investors that invested the most in the Next40 are:
1. Global Founders Capital (3) - Germany
2. H14 (3) - Italy
3. Alma Mundi Ventures (2) - Spain
4. Armat Group (2) - Luxembourg
5. European Commission (2) - EU
6. European Investment Bank (2) - EU
7. Picus Capital (2) - Germany
8. Seaya Ventures (2) - Spain
The European funds that invested the most in the Next40/FT120 are :
1. European Commission (6) - EU
2. Global Founders Capital (6) - Germany
3. H14 (4) - Italy
4. Fourth place is shared between Alma Mundi Ventures, Armat Group, EQT Ventures, European Investment Bank, Life Sciences Partners, Novo Holdings, Picus Capital, Seaya Ventures, Ysios Capital
The 5 Corporte Venture Capital funds that invested the most in the Next40/FT120 are:
1. BNP Paribas (10)
2. Crédit Agricole ( 6)
3. Goldman Sachs (6)
4. CM-CIC Capital Prive (5)
5. Orange Ventures (4)