The French Tech Next40/120 has been released and contains 27 new startups, including 11 in the Next 40.
Companies named to the list receive bespoke service from the government's La French Tech Mission in terms of navigating the bureaucracy and expanding into new territories.
The criteria for being included in the Next40 included reaching a unicorn valuation or having raised a round of at least €100 million between 2020 and 2022. For the French Tech 120, 40 places are reserved for companies having raised a round of at least €40 million (compared to a bar of €20 million in 2021). The final 40 spots are reserved to companies in "hyper growth" mode, having reported revenues of at least €10 million in their last fiscal year with an average growth of at least 25%, over the previous 3 years.
Here's a look at the 2023 list.
New Next 40

ClubFunding

From a press release: "In today's uncertain environment, investors want to know where their savings are going. The ClubFunding Group model is a response to the different needs of investors wishing to invest their savings wisely. The combination of all of its 7 subsidiaries allows investors to be supported throughout the investment chain. A winning bet since the group is profitable and raised €125 million last September to accelerate its development."

The platform raised €515 million in 2022, up 42% from 2021. Its own funding of 125 M€ included money from Florac Investissements, Peninsula Capital, EMZ Partners, and Bpifrance.
Rentabilité moyenne servie par ClubFunding en 2022 : 10%
Flying Whales
Electra
SAFTI
Zeplug
Wifirst
New French Tech 120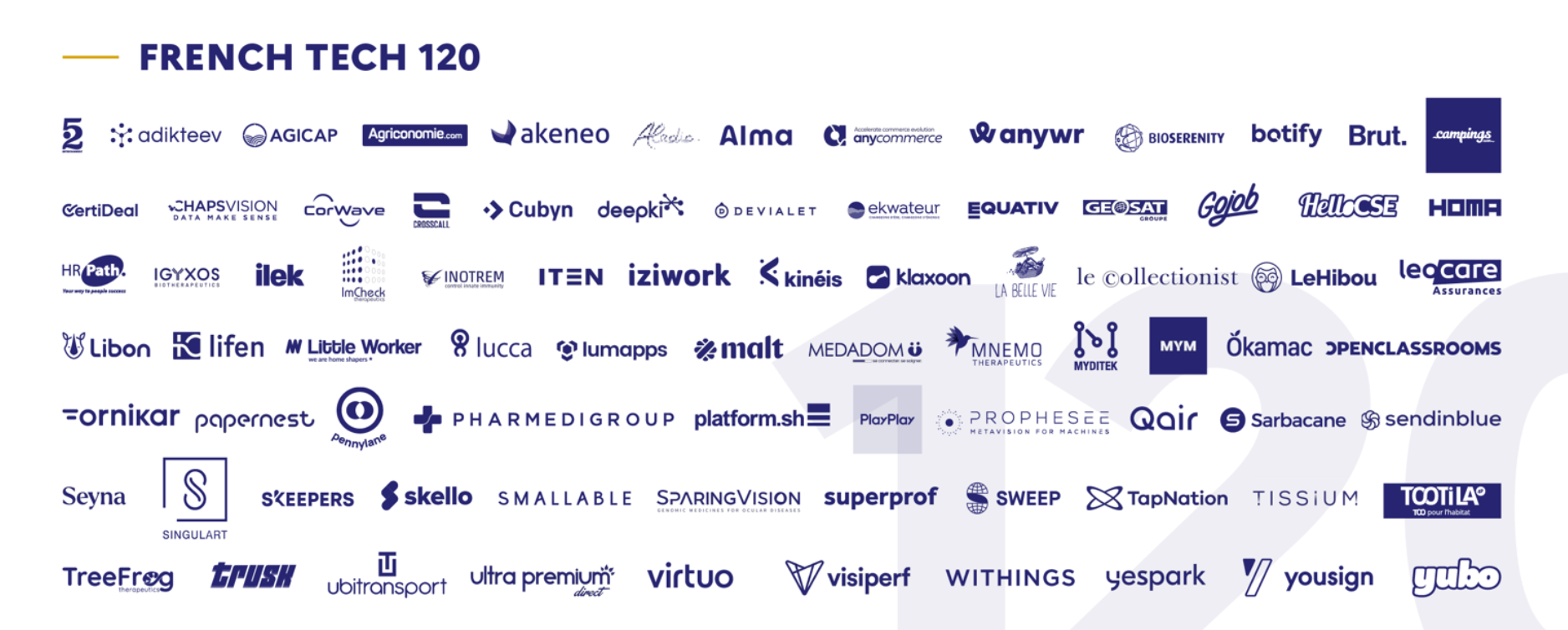 52 Entertainment
Deepki
Le Collectionist
LeHibou
HelloCSE
Little Worker
ARR (annual recurring revenue) of 28.4 million euros, Lucca recorded growth of 43% compared to 2021. Lucca recruited 127 employees in France and internationally (following the opening of offices in Barcelona and Geneva). In 2023, Lucca "continues its momentum and aims for €44.5 million in ARR, i.e. a growth of 56%. Lucca plans to recruit 150 new employees over the year to strengthen the business and product teams and meet its objective of 900 employees by 2025."
Myditek
ChapsVision
Iten
Okamac
Superprof
Prophesee
Sweep
Yespark
Qair
Tap Nation
Sarbacane
Tootila
Seyna
And here are the names of the companies that were on the 2022 list but dropped out of the list this year. As far as I can tell, each company is still active. Though some (Luko and Meero), have publicly disclosed their challenges. And, of course, Deezer went public last year.
Note: Keep in mind that in some cases, the size of the rounds needed to be eligible increased, so the bar was higher for the 2023 cohort. That means that just because the company dropped off the list doesn't mean that had a bad year or is in trouble.
Former French Tech Next40/120 companies:
(PS: I'm missing 2 from this last list, so if you spot it, give me a shout!)
Comments