---
When last we left the French Tech ecosystem at the start of the summer, things seemed to be humming along, despite a global freakout over the macroeconomic and geopolitical environment.
The numbers in France for the first half of 2022 looked strong with the country on pace to top its record-setting 2021. Even if other ecosystems were reporting layoffs, slowdowns, and bankruptcies, France seemed to be avoiding the worst of it.
No more. A funding winter hit French startups during the blazing-hot summer months and it's ugly.
According to Dealroom, French startups have raised $545 million in venture capital in July and August, the first 2 months of the 3rd quarter. Now you might think, "Hey, it's summer and nothing happens in France in summer because it's France." But you'd be wrong.
In the same quarter last year, French startups raised $3.9 billion, driven by 9 rounds of more than $100 million. In Q3 2020 and Q3 2019, the figure was $1.2 billion, according to Dealroom. Yes, there is still one more month to go in this quarter and a couple of big rounds could change the picture. But with big late-stage funds like Softbank running for cover, don't count on it.
At the current snail's pace, French startups will be lucky to top the $626 million raised in Q3 2017. After surging past Germany in the first half of 2022 to retake the number 2 slot in Europe (way behind the UK, per usual), France is now sitting in 5th place, just behind Spain. (No offense to Spain, but...Spain!)
It should also be noted that the $122 million raised by Flying Whales in July for its blimp cargo transport concept accounts for almost one-quarter of funding raised by French startups in Q3 2022 so far. And that round consisted of a hefty chunk of cash from a French government sovereignty program via Bpifrance.
So beyond that, a deep freeze set in, fast.
What happened?
In late July, Alexandre Dewez of Eurazeo published his latest deep dive on the French Tech ecosystem which highlighted the strong start to 2022 but offered a grim prognosis:
"On paper, the ecosystem seems to be on track for a record year in 2022. In reality, micro-signals are showing that the tide is turning and there is a high probability that we'll experience a slowdown in H2-22."
From the mountain top, things looked swell as far as funding in France during the first 6 months of 2022, according to Dewez's number crunching: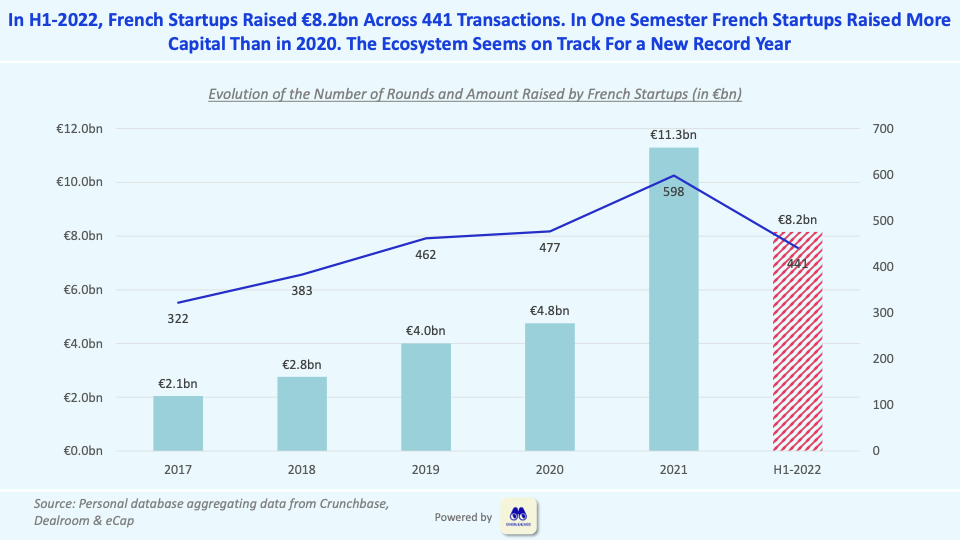 He noted that France was the only European tech ecosystem that had raised more money in the first half of 2022 compared to the first 6 months of 2021. Late-stage companies still raised big rounds, and foreign investors were still knocking on the door.
But his pessimistic outlook proved prescient.
Basically, he argued that those big macro problems being felt in the US would eventually have an impact on Europe and France. Perhaps more telling is some of the anecdotal evidence he pointed to which he was likely seeing from his perch at Eurazeo: Startups not raising rounds, or having down rounds or "top up" rounds; a slowing influx of capital from large hedge and PE funds; readjustment in valuations.
Back in June, when Alven closed its new VC fund, the firm also warned of gathering clouds on the French horizon, according to La Tribune:
"What we have clearly observed for a few months, and this has been accentuated in recent weeks, is that it is becoming very difficult to raise funds for established startups, which are looking for investors capable of betting tens or hundreds of millions of euros..." Meanwhile, new startups were still having a bit more luck at the Seed/Series A stage. But Alven was still cautioning its portfolio companies: "Make sure you don't have to raise money urgently in the next six months... Slow down, hire less."
Founders don't tend to issue press releases about such events. As the great American philosopher Donald Rumsfeld once stated: "There are known knowns; there are things we know we know. We also know there are known unknowns; that is to say, we know there are some things we do not know."
Now we know what we know: Startup funding has dried up.
Given the limited visibility into private companies, we can't really know how quickly startups are burning through cash, when they failed to close a round, or when they decided to delay fundraising. A notable exception was the previously high-flying Sunday, which raised a massive $100 million Series A one year ago for its restaurant platform, but confirmed in June it was exiting several markets and laying off an unknown number of employees.
As Dewez also noted, other lower-profile pullbacks are happening even though VCs, including French VCs, are sitting on huge piles of cash. Clearly, they're striking a more cautious note as they wait for valuations to reset and the broader macroeconomic picture to stabilize.
But for now, French startups are going to have to rapidly adjust to the new climate. For the last several years, the French Tech ecosystem has celebrated progress by boasting about fundraising and new unicorns. There won't be much to brag about the rest of this year. I'm guessing this new reality is why some more mature companies embraced the concept of "centaurs" earlier this year, a term coined by Bessemer Partners, to refer to cloud-based companies that reach more than $100 million in annual recurring revenue.
Back in May, Les Echos identified 5 "centaurs" with French DNA: Salesoft, Cloudinary, Iterable, Deel, and Dataiku. In June, Aircall announced it was a centaur. I wouldn't be surprised to see the government's La French Tech mission roll out a Centaur Index at some point.
Speaking of the government, new French Digital Minister Jean-Noël Barrot will be even more closely watched to see how he responds to this downturn. During a conference last week, Barrot seemed well aware of the funding drought. According to La Tribune, Barrot said:
"We are starting to have a certain number of elements which lead us to believe that the period is going to be a little more difficult for French Tech, with tighter access to financing," Barrot said. "We are going to ensure that no technology escapes us, or stops suddenly, due to the tightening of access to financing, which it is very likely should be temporary...We are going to be very careful that no nugget is in difficulty."
[Side note: The French like to call their startups pépites (nuggets) which of course is adorably funny. La Tribune managed to use in the same article my other favorite cuddly French startup nickname:  jeunes pousses (seedlings/saplings).]
Anyhoo...
During the early stages of the pandemic, the French government decided to spend billions of euros to make sure its startup ecosystem didn't collapse. As it turned out, the pandemic accelerated digital transition and fueled a funding boom. If funding slows for more mundane economic cycles, will the French government launch a new startup support fund? We'll see, but I'm guessing it will be harder to justify amid other competing economic priorities like the cost of living and energy.
Still, I share Dewez's overall optimism about the maturity and resiliency of a French Tech ecosystem that has come a long way over the past decade. Downturns are normal. This represents another chance for France to demonstrate the durability of its startup economy.  
---
Zenly Zapped
While there had been some anecdotal signs of the startup downturn impacting France, the country had not really experienced any shockers until last Wednesday when Snap announced it was cutting 20% of its global workforce. That included the decision to "wind down" several of its apps that were not a core part of the main Snap app.
Which included Zenly, the Paris-based social mapping app that Snap acquired in 2017. You can read the details of the fallout from that decision in my latest story for Sifted: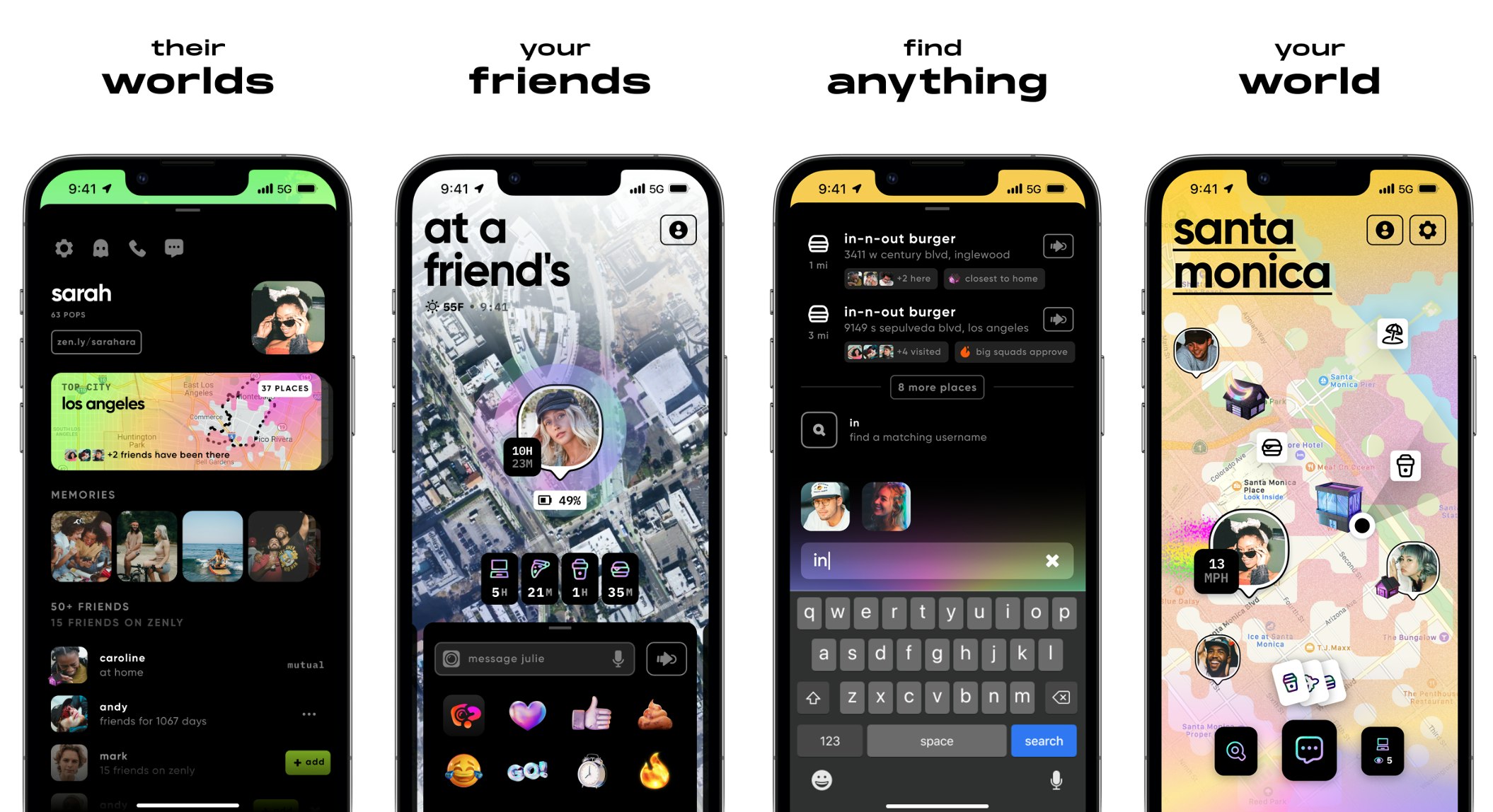 There are a couple of additional thoughts here.
First, the move is likely surprising to many here because they believed that Snap's founder Evan Spiegel had a sentimental attachment to France. In an interview with Sifted last year, Zenly co-founder Antoine Martin recalled learning that Spiegel was a Francophile as they began acquisition talks in 2017. Martin walked into Spiegel's office and saw shelves full of books on French history and culture. A year after the deal, Spiegel was granted French citizenship – despite never living in France – for having contributed to the "influence of France and the prosperity of its international economic relations."
Since then, Snap has been content to spend hundreds of millions of dollars supporting Zenly without feeling an urgency to monetize it. From Snap's perspective, that was probably fine as Snap became profitable for the first time last year and cash was rolling in.
But this year, Snap's pandemic bubble burst, and its own losses are mounting again. While Zenly is popular in Asia and Russia, Snap has concluded that even in the very best of circumstances, it will never make enough in revenues or profits to make a dent in the bottom line of a company that posts more than $1 billion in revenue every quarter. So there's no sentimentality here; Snap is pulling the plug.
That's typical US business mentality. But that creates a cultural clash with France.
France's laws are designed to dissuade the kind of freewheeling use of layoffs common at Silicon Valley companies to assuage investors whenever they miss earnings numbers. A few years ago, I wrote an op-ed for VentureBeat called: "Disposable employees may be tech industry's greatest achievement":
Over several years, I had followed one particularly shocking case: Hewlett-Packard (or HP or HPE or whatever names it was using) announced layoffs of more than 120,000 over the course of a decade. This is not even a story in the U.S. People – including the workers – just accept it as inevitable, shrug, and move on.
But that's not the case in France. Snap can't just wave its magic layoff wand and make Zenly disappear. Thanks to French labor laws, this is only the beginning of what could be a lengthy end. Snap must convince French authorities that Zenly, which is not generating revenue, has bleak economic prospects. Employees disagree.
These types of labor protections used to be the excuse international companies gave for not wanting to do business in France. But in more recent years, the strength of the French startup scene made such concerns secondary.
So Zenly will live on in zombie mode for several more months and we'll see where this all lands. Meanwhile, Zenly employees are frozen in place. If they find another job, they potentially lose whatever severance benefits are negotiated. On the other hand, it's going to be tough to bring any kind of passion to working on a product you know is basically on life-support and someone's finger is hovering above the kill switch.
---
👋🏻 If you're enjoying The French Tech Journal, support the project by forwarding it to friends and sharing it on your social networks. You can also comment on this post. And if you have ideas for stories, tips, or just want to harass me, send me an email: chris@frenchtechjournal.com. 👋🏻‌‌‌
Comments