---
Someone forgot to tell the French that there is a global tech slowdown afoot.
On Thursday, we got the latest mega-funding announcement from Contentsquare which raised $600 million ($400 million in equity and $200 million in debt) at a $5.6 billion valuation (double its previous valuation).
This comes just a couple of weeks after Flying Whales raised €122 million for its blimp cargo service. And a few weeks before that, EcoVadis bagged $500 million. Those are just a few of the more than approximately 25 rounds of nine figures raised this year by French startups, according to Dealroom.
This funding momentum is more than just anecdotal. EY just released its latest VC report which shows that French startups raised €8.4 billion in the first 6 months of 2022, up 63% from the same period in 2022 and minting 7 new unicorns. Even should things slow in France, the ecosystem will still likely top its 2021 record of €11.57 billion.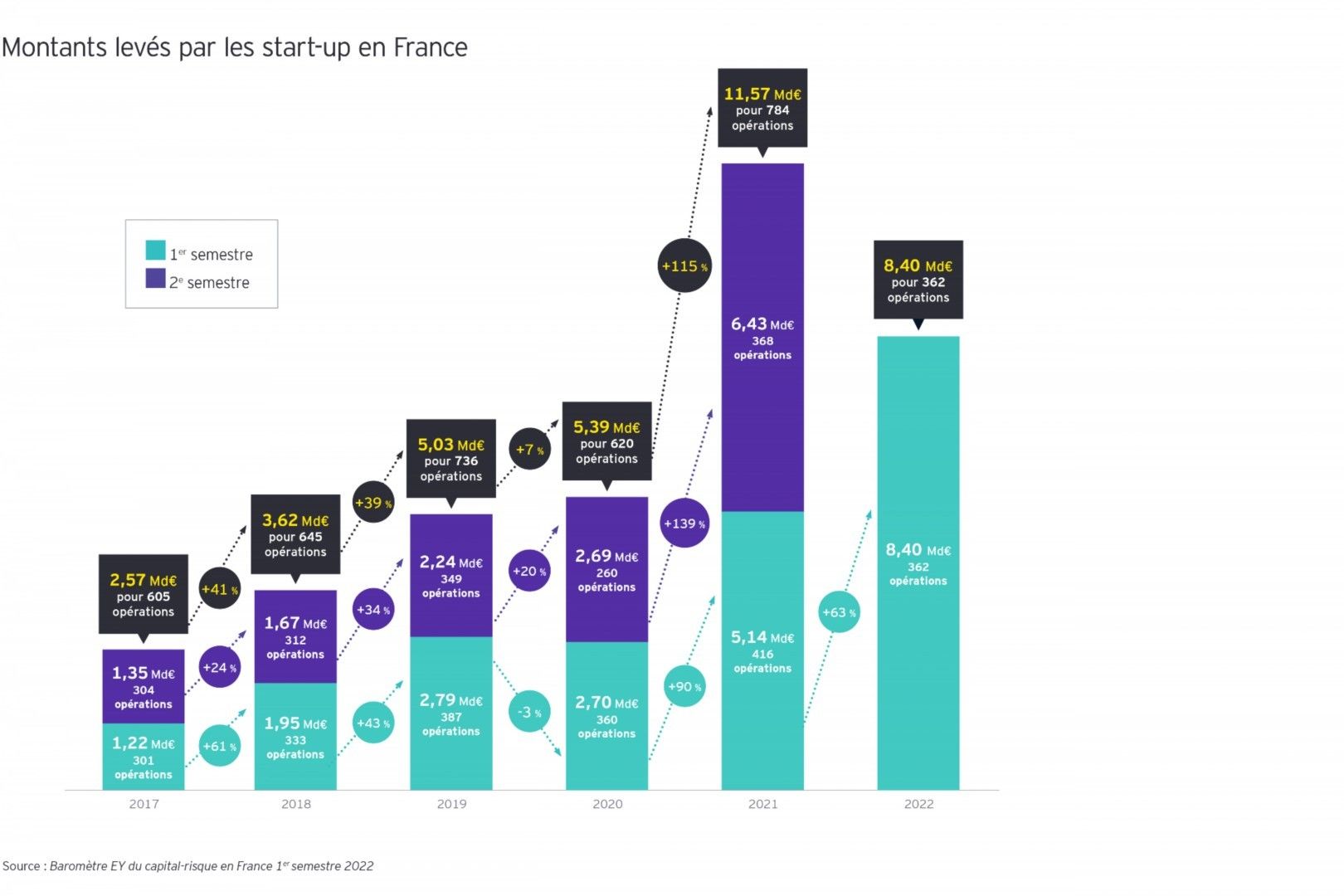 Dealroom posted similar funding numbers for the first 6 months of 2022 in France (€8.8 billion) which broke down as €5.1 billion in Q1 and €3.7 billion on Q2. That's a notable slowing. At the same time, €3.7 billion would still represent the second biggest quarter in French Tech history.
Beneath this rosy surface, there are signs of an important shift – even if it's not the doomsday scenario everyone keeps yapping about. Look closely at those EY numbers and you can see that the number of funding rounds during the first 6 months of 2022 fell to 362, down from 412 in the first half of 2021.
EY noted that the French Tech ecosystem is being powered more than ever by those late-stage deals. The report said that 20 growth equity rounds accounted for €4.48 billion compared to €2.04 billion in 2021. Late-stage funding now represents 53% of all money raised compared to 39% in 2021.  
In contrast, signs of a squeeze are being felt in those middle-stage rounds. There were only 11 funding rounds between €50 million and €100 million in 2022 compared to 47 in the first half of 2021, according to EY. The risk here is that there is a funding chasm opening that early-stage companies could find harder to cross, leaving them either unable to scale or easy prey for Big Tech or startups that are in the Growth Equity stages.
In this scenario, the rich stand to get richer. And it's why amid the global economic anxiety that these big late-stage rounds are still so appealing to investors. Consider Contentsquare's announcement:
"Contentsquare will use the capital to scale investments in innovation, both organically and through M&A, support long-term growth in key markets, expand to new territories, and deliver greater impact in areas where it can really make a difference, including digital accessibility, privacy & sustainability."
With other companies throttling back, and perhaps earlier stage startups having a harder time raising, there is a big opportunity for winners to acquire competitors at more reasonable prices and either expand their features or consolidate markets. Those who have demonstrated resilient business models and who appear to be winning their markets are going to attract even more funding, which in turn is going to create more opportunities to gobble up competitors.
Consider Swile. The unicorn has developed a card and platform to help employees manage their benefits, most notably in France that includes the restaurant tickets that many receive and have been primarily distributed until recently as paper booklets. The startup recently announced that it is finalizing a deal with the BPCE banking group to acquire its Bimpli benefits platform in exchange for a 22% stake in Swile. This should turbo-charge Swile's growth and its ambition to become an international worktech player.
Naturally, just as I was writing this, Qonto announced that it had acquired German rival Penta. (Listen to our recent podcast with Qonto co-founder Alexandre Prot). Both companies are targeting independents, small, and medium businesses with financial and accounting services. Founded in 2017, Penta has raised $51.9 million and now has 200 employees and 50,000 customers in Germany. Even so, Qonto raised a €486 million round earlier this year and has still managed to post 170% YoY customer growth in Penta's home market. With 700 employees and 300,000 customers in 4 countries, Qonto is simply the bigger fish taking this opportunity to consolidate its position in Germany.
What is harder to know at this moment is whether this resilience means that the French Tech ecosystem has established durability that gives it an advantage over other regions in terms of the type of startups here or the sectors they are targeting. As of yet, I have not heard any stories of big layoffs or hiring slowdowns. (Let me know if you have!) The much-buzzed-about site Layoffs.fyi which is tracking startup layoffs doesn't list any such events at French companies in the past 2 years. It's not necessarily a comprehensive source, but still...
For another perspective, let's look at Germany. In recent years, France has basically been in a friendly rivalry with neighboring Germany for 2nd place in the European funding competition. (The UK is still numero uno by a long shot). In 2021, Germany surged into second place thanks to mega rounds such as the $1 billion raised by delivery service Gorillas last September. But, just a few months after that funding, Gorillas fired 300 employees amid a slowdown. Delivery, as it turns out, is a crappy, unproven business model.
Gorillas isn't necessarily emblematic of Germany's ecosystem. But absent those big mega-rounds, Germany fell back to 3rd place behind France in the first 6 months of 2022. German startups only raised €6.26 billion compared to €7.83 billion a year ago. (UK startups raised €18.39 billion in H1 2022, up from €16.44 billion in H1 2o21.) It is notable that the German government back in June announced plans to inject €10 billion into its startup ecosystem in the hopes of attracting €20 billion of additional outside investment. It's the nation's first attempt at formulating a national startup strategy. Hello, La German Tech!
Fund Funding Fun  
Part of what is also driving this continued investment is the fact that VCs are sitting on massive piles of money that they have to stick somewhere. Whatever chaos may be happening around the globe, many of these firms don't seem to be having trouble closing new funds.
In the past few weeks, there have been several new funds closed by either French funds or funds that have a strong footprint in France.
Most recently, Paris-based Cathay Innovation disclosed a new €1 billion global fund that will invest across stages and was created with corporate partners such as Sanofi, TotalEnergies, Valeo, BNP Paribas Cardif, Groupe SEB, and Groupe ADP (Paris Aéroport). Basically, they believe strongly that the digital transformation that accelerated during Covid is still just getting started, creating massive investment opportunities around the globe.
But the string of announcements over the past 2 months is full to bursting:
To call upon that beloved cliché of VCs everywhere: This is a lot of dry powder. Certainly, it's important not to get overconfident or delude oneself into believing any ecosystem or startup is invulnerable. But for the moment (knock on wood!), it seems French startups are weathering the early stages of this global turbulence just fine.
---
👋🏻 If you're enjoying The French Tech Journal, support the project by forwarding it to friends and sharing it on your social networks. You can also comment on this post. And if you have ideas for stories, tips, or just want to harass me, send me an email: chris@frenchtechjournal.com. 👋🏻‌‌‌
Comments