Thanks to the volatility of cryptocurrencies such as Bitcoin caused by waves of speculation, the financial potential of the blockchain can often get overshadowed by stories of these huge price swings. However, the co-founders of Fipto remain absolutely convinced that the blockchain is close to becoming a transformative force for financial solutions.
Co-founder and CEO Patrick Mollard said blockchain technology has the potential to offer greater transparency, speed, and lower costs for companies doing international business. And with the emergence of Web3 products and services, the market for blockchain-based solutions is getting even more attractive.
"I'm convinced that there will be more and more financial services that will be based on the blockchain," Mollard said. "The mission and the vision of the company is to facilitate access to corporates to those financial services."
What is Fipto?
Originally known as Numias, the company has developed a global B2B payments and treasury management platform. Using Fipto's API, corporate partners can create a financial services flow that allows them to convert and send any currency across borders. The platform helps manage compliance with various financial regulations, including maintaining reports for potential audits.

Why?
Mollard said that beyond the various crypto cycles, Fipto sees a growing number of global companies using blockchain for financial projects that go well beyond cryptocurrencies. This includes such uses as supply chain transparency. He cited a Coinbase study from this summer that found 83% of Fortune 500 executives claim their companies have some kind of blockchain project in the works.
The blockchain appeal is clear. According to Mollard, the traditional methods for making international payments and money transfers can take days to settle, involve several middlemen, and be difficult to track. Blockchain promises to simplify and accelerate that process.
But wading into this territory, especially the financial aspects, isn't easy. Many current solutions are more focused on individuals wanting to hold or trade digital assets via wallets. Such services can't scale to meet the needs of a large company doing a high volume of transactions, particularly as it regards any governance or compliance requirements.
"For large corporates, what's important is to make sure that the flows – if they are in cryptocurrencies -- answer to certain requirements in terms of security, in terms of compliance, making sure that they have the governance layer on top of the wallets that you need as a corporate," Mollard said. "This is what we provide to those corporate clients that need that want to deploy into a Web3 world or have payments on specific or complex products."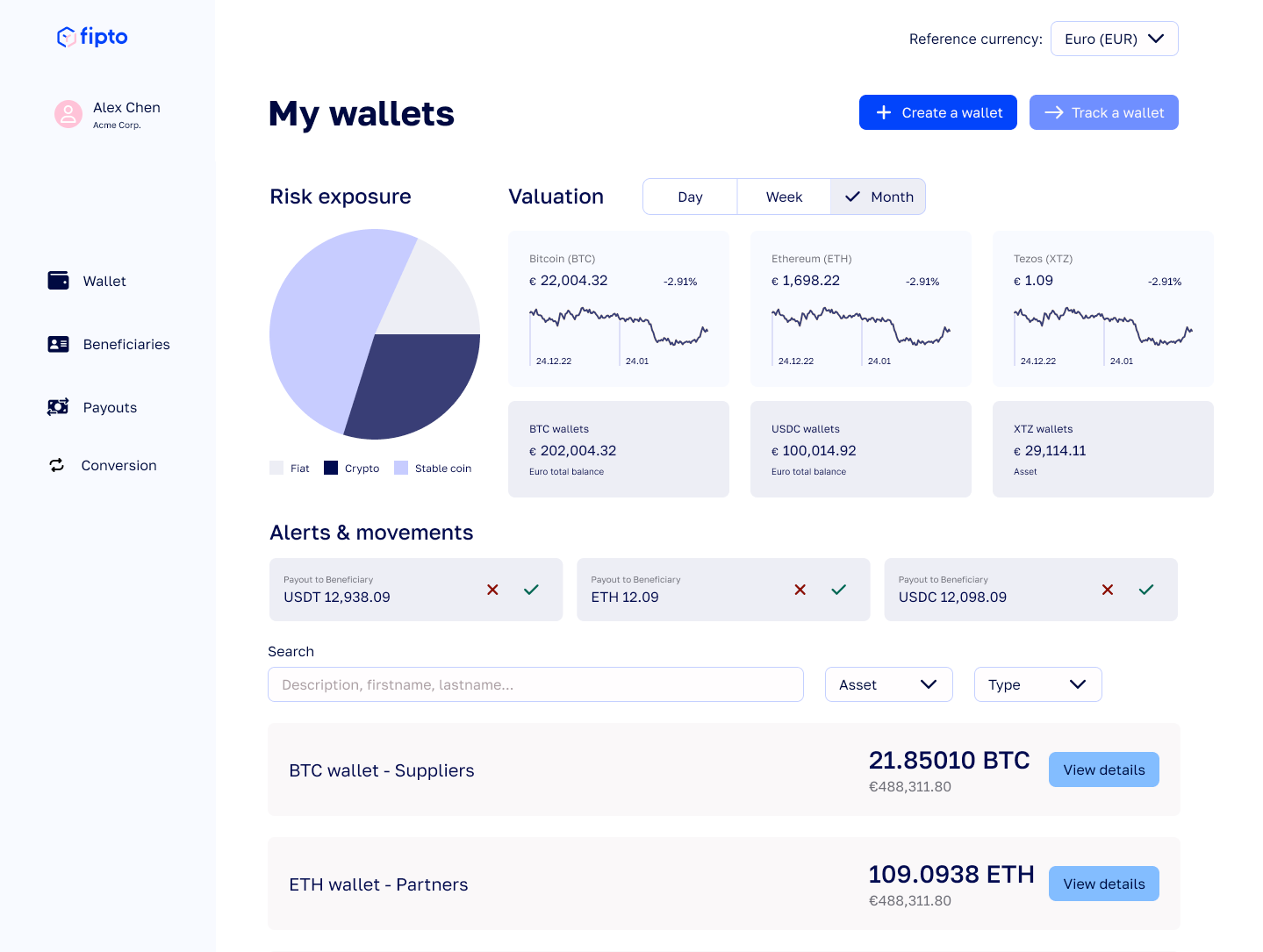 Who?
The co-founders are Mollard, COO Bertrand Godin, and CRO Gregoire Andrieu-Guitrancourt.
The trio offers a hefty dose of experience in the banking and payment worlds. Mollard and Andrieu-Guitrancourt originally met almost 15 years ago while working for the Dutch bank ABN AMRO. Andrieu-Guitrancourt left and worked at Groupon for several years.
Meanwhile, Mollard was recruited to join iBanFirst as CFO in 2015 and later became COO. The startup helped small and medium businesses manage payments across borders. Mollard oversaw several rounds of funding for iBanFirst. Andrieu-Guitrancourt joined iBanFirst in 2017, eventually becoming Chief Revenue Officer.
Godin also joined iBanFirst in 2014, coming from a brokerage background. He became Chief Risk Officer and later Head of Operations.
In 2021, iBanFirst was acquired by PE firm Marlin Equity Partners in a deal valued at €200 million. By the time this deal was finally settled, Mollard said the trio felt it "was a good moment to start something new."
Under The Hood
Mollard says Fipto has 2 main use cases.
The first is an alternative payment rail for corporate clients, something that replaces traditional methods like the SWIFT banking system. That is potentially attractive to enterprises that want to do business in complex territories such as Latin America, Africa, and Asia. Fipto believes it can address the three main pain points: speed, transparency, and costs.
The second use case is making it easier for large clients to launch business models in Web3 markets. According to Mollard, a majority of large French corporations are not exploring such products, and Fitpo would like to be the go-to solution for helping them manage cryptocurrencies and other digital assets via its treasury management system.
The Full Scoop...
Subscribe to get the full co-founder video interview, the expanded investor list, the pitch deck, and an overview of the roadmap to a Series A.