It depends on how and what you count.
Last week the quarterly tech funding numbers landed arrived in my inbox, delivering two very different pictures of how French startups and funding.
According to Dow Jones VentureSource, French companies in the third quarter ending Sept. 30 raised $304.4 million in venture capital. That's down from $306 million in the second quarter, and a steep fall from the from $639.03 raised in the same period one year ago.
This rather grim picture stands in contrast to the tech funding numbers released last week by Tech.eu, which reported that while EU tech funding fell 17 percent in the quarter thanks to Germany and the U.K., tech funding in France was up 30 percent in the quarter compared to one year ago.
So, what gives?
It comes down to very different methodologies and what the two groups are counting.
According to a Dow Jones spokesperson, their numbers take a more limited measure: "Companies included in the report must receive financing from a venture capital firm or private equity firm. Our figures do not include companies that have received funding solely from individual, corporate and/or government investors," said wrote Sophie Bent, a DJ spokesperson.
In general, when it comes to looking strictly at venture capital, France appears to be headed for a big fall off this year. For the first nine months this year, 249 companies have raised about $1 billion. In 2015, 365 companies raised almost $2 billion.
Taking the longer view, it seems that France is not moving the needle much (aside from a big surge last year) when it comes to raising venture capital from traditional firms based on the Dow Jones numbers (keeping in mind 2016 numbers are through 9 months):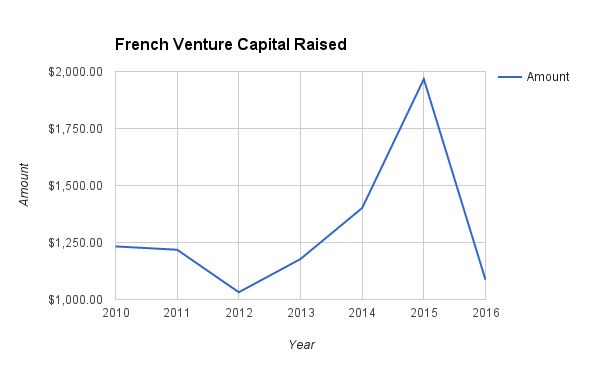 (Worth noting: I know of $35 million in venture capital being raised by two French companies already that will be announced this week. If Sigfox raises the $200 million round it's seeking this quarter, this picture could change quite a bit before the end of the year.)
By contrast, the Tech.eu numbers draw a very large circle around funding. In an email, Tech.eu reporter Shaheen Samavati explained that their numbers include "angel investments and equity crowdfunding to debt and private equity deals."
That means that Tech.eu included deals like the $275 million raised by French webhosting firm OVH from private equity (but not venture capital) U.S. firms KRR and Towerbrook. It also included $51.20 million in debt funding raised by adtech firm Teads (which may or may not be based in New York or Paris depending on who you ask.)
So for the moment, within the traditional venture capital system, France seems to still be struggling to make big strides with investors. Instead, French startups are turning to alternative forms of financing (i.e. debt, private equity) to grow.
The big question: Does that really matter? Uber, after all, is taking all kinds of financing from all kinds of investors these says. And that's true for many Silicon Valley startups. On the other hand, the French government is spending a lot of time and energy making the case that French Tech is ripe with investment opportunities for venture capitalists around the world.
And none of this counts the money being raised by the French Tech diaspora as entrepreneurs here continue to leave for Silicon Valley, New York and London but still find fundraising success. (See: Tribe)
For the moment, there's clearly tremendous energy and excitement around the explosion of entrepreneurship in France. But given these conflicting numbers, and this different funding approach, it's too early to say whether the French Tech has successfully solved the funding problem that has traditionally held the country back.
Comments