The French Tech Journal provides analysis of France's digital ecosystem as well as in-depth interviews with French entrepreneurs and VCs. If you like what you read, please forward the newsletter to friends or share it with your social networks.
If you'd like to support independent and original reporting on the French Tech ecosystem, please consider a paid subscription. Send tips, comments, questions, and your ideas to our global headquarters: chris@frenchtechjournal.com.
🔥 🔥 You can book an appointment with me at Superpeer to ask your questions about journalism. I'll explain my workflow based on 25 years of writing about tech in Silicon Valley and Europe to help you better understand the perspective and challenges of journalists as you think about how to pitch. Subscribers to this free email can get a code for a 20% discount. Paid subscribers get a 50% discount. 🔥 🔥
---
Earlier this week I featured Homa Games and its $50 million Series A round in a story for Sifted that examined the furious early-stage funding battles driving up round sizes in France. That didn't leave a lot of room to dig into what Homa is actually doing, which is fascinating and potentially huge.
Founded in 2019, Homa is a great example of how French cloud-based companies are riding tech trends that offer global potential right from the start. In this case, Homa is drafting behind the wave known as the "no-code" movement. Generally, this refers to the ability to build software without needing to know a lick of programming. Platforms offer various building blocks that allow a wider range of people to construct a program, or in this case a mobile hyper-casual game.
While there is a growing range of game development engines, such as Unity, there were also still some shortcomings to this approach.
"Now that you say that it's easy to build a game, how do you make sure you make a hit?" said Homa CEO Daniel Nathan. "If you have the tools to make a house it's not enough to make a strong house. You need the architects and intelligence. That's what we provide. We've created a creative technology layer on top of Unity to power the creativity of developers."
Using Homa, developers can get data and trends about gameplay. The platform also lets developers do rapid A/B testing so they can see which gameplay features players like and don't like. And then they handle distribution and monetization.
"We basically have packaged software to give all the indie developers in the world, from one to 20 people, the same powers as the big studios such as Zynga," he said.
Writing on the funding announcement, Alexandre Dewez of Eurazeo broke the service down like this:
Market intelligence to generate ideas: Homa is pushing gaming concepts to be tested by mobile developers based on social media, market trends and social trends
A/B testing to improve prototypes: once you have a prototype, Homa will test both its engagement and monetization potential. Homa will test several ad creatives but also several in game parameters.
A growth and monetization engine to scale games: an advertising platform to acquire and monetize new users as well as an In-App-Purchase (IAP) platform when you want to go deeper in monetization.
"I love this platform because it empowers independent game developers by giving them the tools to fight back giant gaming studios," Dewez wrote. "Moreover, it transforms Homa into a machine to generate game hits without relying on long development cycles and upfront marketing."
Faster, Pussycat
This opportunity to transform a global marketplace goes to the heart of why a company like Homa can raise so much money so quickly.
Homa is proof of how quickly things move now. The company raised a $15 million Seed round in February (led by Eurazeo). Nathan hadn't planned on raising more this year, but there was intense interest from VCs.
In this case, it's more than just hype. Homa has seen real traction and growth, which is VC catnip. The company both publishes its own games and helps other indie developers publish. For just its own games, the company has had 500 million people playing them in the past 18 months.
"We think we're doing something right," Nathan said. "And we actually think that we are building something very new in the industry. The issue is that the gaming industry is quite unfair. Nobody can predict what's the next hit. Nobody predicted Flappy Bird. And the reason is that it's hard to know what the people want. You need to analyze the trends in almost real-time. Plus, you need to go super fast. We help the developers to make games in two to three days. So if you look at all the games we helped published that went to the top of the charts in the U.S., they went from idea to number 1 in less than a month."
Its own hits include Tower Color, Sky Roller, Kaiju Run, Get Lucky, FarmLand, Craft Island, and Nerf: Epic Pranks (via a partnership with Hasbro).
In this case, Northzone saw those numbers and made a persuasive argument that by raising more money now, the company could seize the global opportunity. This is a tricky balance for any founder. The money is tempting, but are the valuations and metrics really there to justify it? Is there a risk of overpromising to investors that increases the likelihood of falling short? On the other hand, for investors who are seeing more intense competition for deals, are these valuations really justified?
In this case, the valuation and the size of the round may seem breathtaking, but Northzone Partner Pär-Jörgen Pärson said it will seem like a bargain in the long run if Homa realizes its potential.
And given Homa's execution so far, Pärson feels confident.
"In a very short period of time, they built a platform that addresses the fastest-growing segment of the gaming industry, which is hypercasual games," he said.  "And they have done it with a platform that has a number of components to it. They are helping the creator to radically change their creative process and helping them to go from maybe 7 or 8 months to build a game to 8 or 9 days."
In particular, the ability to test the monetization aspect makes it compelling for developers and investors, he added. Throw in the team's background in adtech and games, and it's a killer combination for investors.
Money aside, the roster of investors is testimony to just how big even many gaming insiders believe Homa could be. Eurazeo and Headline led the Seed round which also included e.ventures and OneRagtime as well as notable business angels such as Jean-Marie Messier (former Vivendi CEO), John Cheng (ex-GM Data Products at Unity) & Alexis Bonillo (co-founder of Zenly). For the Series A, Northzone was joined by King games (Candy Crush) founder Riccardo Zacconi, and Spotify founder Daniel Ek.
Those connections are just as important as the money. The company has already more than 100 employees with offices in Toulouse, Lisbon, and Skopje. It will continue to add new offices and talent at a rapid pace, Nathan said.
Homa also plans to build aggressively through acquisitions, both for adding new tools to the platform but also snapping up promising indie studios that have games that could be turbo-boosted by its platform. It's a way to generate revenue, but also to demonstrate the power of the technology to prospective developers, Nathan said.
In addition, the company wants to build a substantial business helping brands create games, a lucrative opportunity but one that can require big investments in terms of time, pitching, and developing relationships to open doors and prove the benefits.
Typically, companies have to narrow their focus and pick one of their targets. But as such early-round sizes increase, companies such as Homa are finding they can move forward on all fronts and across all territories."
"We want to build the best technology for all developers around the world," Nathan said. "We want to reach the point where any serious developer can not build a game without Homa. So that is the big vision, to be the intelligence for those game developers. And to get there, we need to invest a lot more."
---
Audio Goodness!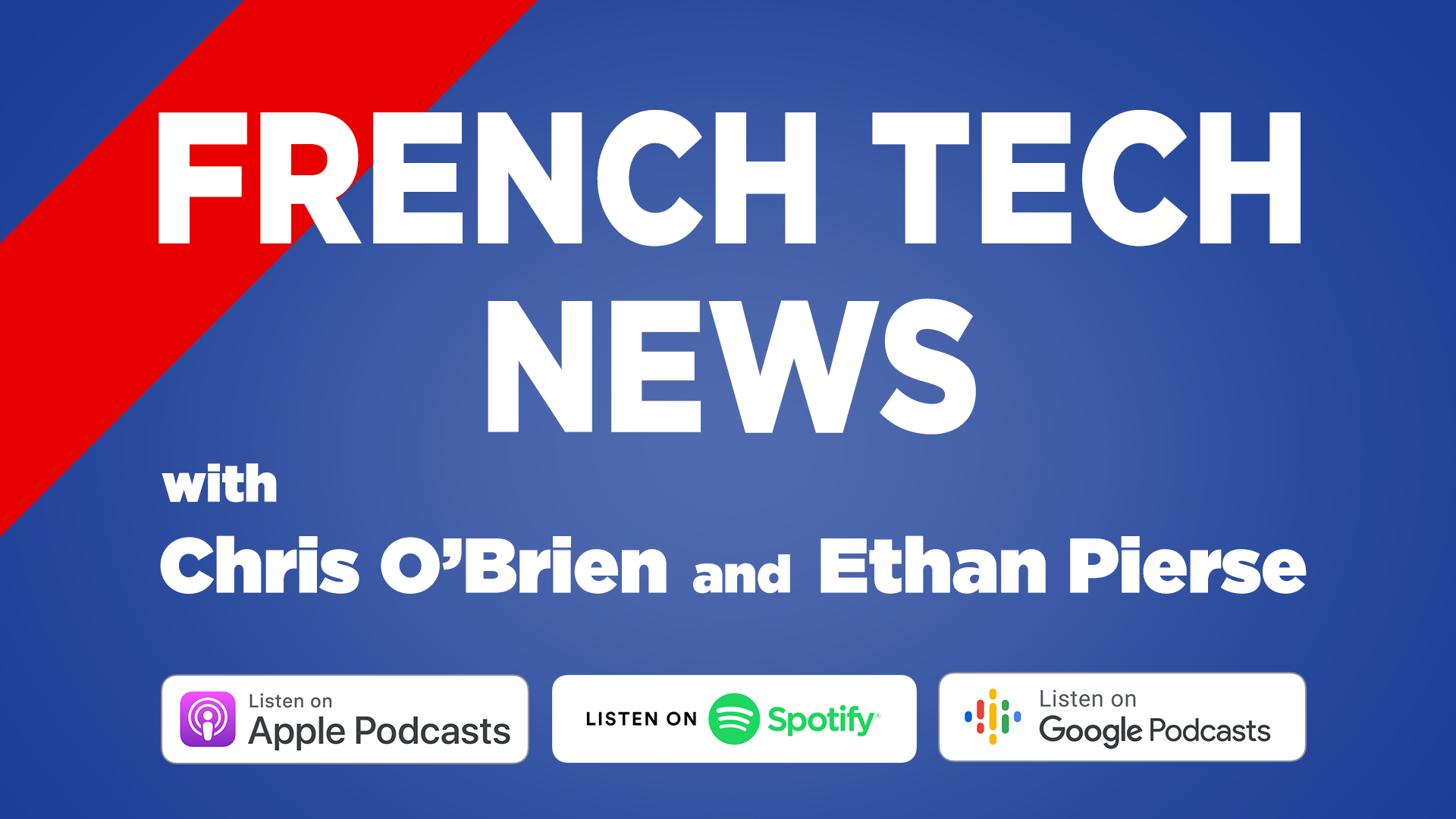 🎙️ Subscribe to the French Tech News podcast, a weekly discussion with France's entrepreneurs, innovators, and venture capitalists co-hosted by me and Ethan Pierse.🎙️
---
In Other News...
Accel's 2021 Euroscape report released this week shows cloud-based startups in Europe and Israel growing faster than their U.S. counterparts but still behind.
"This year is basically the first year where I think Europe and Israel earned the right to ask the question, 'Are Europe and Israel on the path to global dominance?'" said Accel Partner Philippe Botteri. "That's why I think it is kind of a pivotal moment because we can say maybe we're not only not going to be behind, but we're going to be at the front of the race."
Where is France in all of this? It now sits behind the U.K. and Israel for the most top cloud companies, according to Botteri. Out of the region's 81 SaaS unicorns, 27 are in Israel while France has 10 of them. The U.K. and Germany each have 7, according to the report.
"France has done very, very well in terms of producing these cloud unicorns," Botteri said. "I think France has shown that they have the right founders, the right skills, the right universities, and the right level of ambition. They're right now number two on the podium which is pretty good."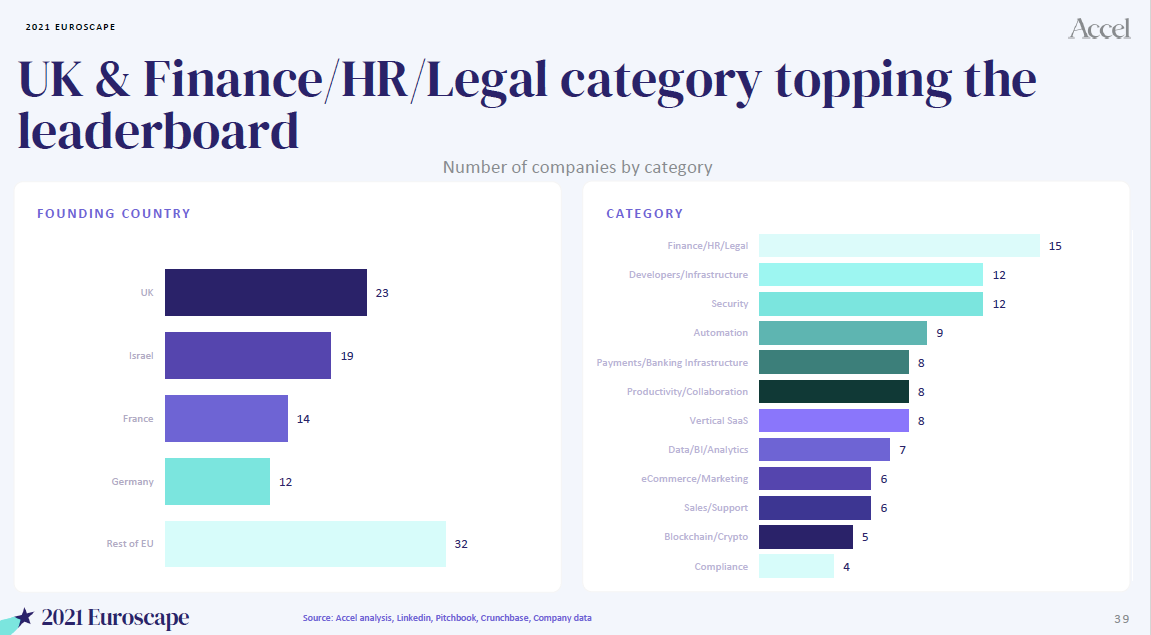 ---
👋🏻 If you're enjoying The French Tech Journal, support the project by forwarding it to friends and sharing it on your social networks. You can also comment on this post. And if you have ideas for stories, tips, or just want to harass me, send me an email: chris@frenchtechjournal.com. 👋🏻‌‌

Comments