The French Tech Journal provides analysis of France's digital ecosystem as well as in-depth interviews with French entrepreneurs and VCs. If you like what you read, please forward the newsletter to friends or share it with your social networks.
If you'd like to support independent and original reporting on the French Tech ecosystem, please consider a paid subscription. Send tips, comments, questions, and your ideas to our global headquarters: chris@frenchtechjournal.com.
---
Earlier this year I wrote a piece for Sifted.eu that had the headline: Crypto startup Ledger fights to repair its reputation. The company had experienced some data breaches and it was dealing with blowback from customers.
Flash forward 6 months and it seems Ledger has put those episodes in the rearview mirror. Today, Ledger announced it had raised $380 million at a $1.5 billion valuation to become France's 15th unicorn.
Ledger CEO Pascal Gauthier sounded fairly humble about the latest round when I spoke to him today. The money is just another step toward realizing Ledger's much bigger vision around digital assets.
"The journey has different steps and different moments and this is definitely one," he said. "There is a clear path to where we want to go. We always said we wanted to become the biggest tech company ever built in Europe. That's always been our ambition. So it's a good moment, but it's just a moment. And we're very focused on what's next. We don't take anything for granted."
Digital Life
Gauthier believes Ledger is poised to buck some rather long odds. Namely, Europe has struggled to build global tech champions, particularly if there is hardware involved.
"When you build a hardware company from Europe and it's a consumer play, I mean if you think about it, you don't have many European companies that have done this in recent years," he said. "We feel that in this category, we are the global leader today. We intend to stay the global leader."
Ledger is best known for its Nano crypto hardware wallets. These are considered among the best in the game, and the company's timing has been good with crypto booming last year and the sector continuing to draw more mainstream attention. Now figures like Jack Dorsey are saying his fintech company Square is looking to build a hardware wallet, another clue as to just how fast-moving this market is.
But Gauthier sees something bigger happening. As life becomes increasingly digital, just about everything is going to have a digital component and potentially become a digital asset.
We saw this with the sudden frenzy around NFTs earlier this year, the non-fungible tokens that are attached to objects that allow them to be validated and sold digitally. France has a hand in this game thanks to the success of companies such as Arianee and Sorare.
Gauthier said current controversies such as the Elon Musk tweets that can send Bitcoin into a nosedive or the FBI's ability to crack into some crypto wallets are just part of the messiness of the moment and crypto's growing pains.
"I think it's an inevitable transformation," Gauthier said. "In the sense that cryptocurrency is just a subsection of crypto assets. Tokenisation of blockchain technologies will take everything that has value in the world and put it on better technology. And so what cryptocurrencies today are worth, whether it's $1 trillion or $2 trillion, it's somewhat irrelevant to the future of this technology and the fact that every asset on the planet will be associated soon with a token. And that token will be on the blockchain and you will need security for that token and you will need ease of use to be able to use that token."
He understands that vision is bound to provoke skepticism. But he says that was the case two decades ago when people were predicting how other aspects of life would go digital, such as shopping or media.  
"At the beginning of 2000, if you would tell people everything will be digital, they would look at you and be like, 'Nah, I like my newspaper in the morning,'" he said.
In that same way, crypto and blockchain are going to reach into every aspect of life, he said.
"When you buy a Chanel bag that will come soon with a token," Gauthier said. "Because right now they can give you a plastic card to say you're the proud owner of a Chanel bag. Tomorrow, they'll give you that token and that will be proof of ownership of your Chanel bag. And also, you'll able to carry your little digital Chanel bag with you in your second life. That's a profound change."
The Crypto Road Ahead
Ledger wants to be the place that will manage all of those digital assets. The foundation of the company will still be the hardware wallets. Gauthier said the company is now working to build even more robust security while extending the features and functionality to make it easier to use and access digital assets.
While entrepreneurs tend to be more focused on software and the cloud, Gauthier said innovation in hardware plays a crucial role in enabling the continued digitization of life.
"People say software is eating the world," Gauthier said. "That might well be true. But you always need hardware to connect to software. You don't connect to software with the power of your mind. If your primary keys get hacked, then you lose everything, and you lose everything that has a lot of value to you. And so security becomes really paramount. Hardware like phones and computers have not been designed to provide you with the level of security that you need for your cryptocurrency and for Web 3.0 in general. This is the future of Ledger: Designing the technologies to be able to access Web 3.0 very securely."
Growth Equity Partners
One of the more notable aspects of the Ledger funding is the roster of investors: Cathay Innovation, Draper Esprit, Draper Associates, Draper Dragon, DCG, Korelya Capital, and Wicklow Capital, Tekne Capital, Uphold Ventures, Felix Capital, Inherent, Financière Agache (Groupe Arnault), and iAngels Technologies.
But the round was led by 10T Holdings, a New York-based growth equity fund. The recent run of 9-figure fundings in France has been primarily driven by private equity firms, part of a global liquidy trend. Gauthier said he did meet with some PE firms but ultimately decided not to go that route yet because he wanted partners who had a deeper knowledge of crypto.
Dan Tapiero, an investor and entrepreneur who had long been a Bitcoin proponent, announced the $200 million 10T Holdings fund earlier this year to specifically target cryptocurrency startups. Tapiero joined Ledger's board.
"10T is thrilled to lead this Series C round for Ledger," Tapiero said in a statement. "We believe Ledger is the premier security company and premier brand name in the cryptocurrency/blockchain space. We see a tremendous future for its new lines of business and expect it to become one the very few dominant firms in the ecosystem."
Gauthier seemed as jazzed about the chance to work with Tapiero as he was about the money.
"What you want from an investor is you want money, but you also want them to be smart and to understand your business and the ecosystem," Gauthier said. "And you want introductions to connect you and accelerate your business. He's someone who very intuitively understands Bitcoin and cryptocurrencies and this world. And this may be a new fund, but they're super connected and super active in the space."
Those connections are going to be crucial because Ledger is now looking to hire about 300 people and double its headcount this year to more than 600. Gauthier is chasing global talent and trying to convince them to move to Paris.
"What's important is not just the quantity but also the quality of the people that we hire," he said. "We have a lot of very strong recruitments in the pipe right now to bring international talent to Ledger. We are a global company bringing global talents and I think that's how we want to be perceived. We're happy being French and European, although we don't want to be perceived as being from anywhere because we serve our clients globally. To build the global winner, you need a global team."
The company has offices in Switzerland, the U.K., Singapore, and New York. It will continue to expand that footprint and localize the product even more with the new funding. But the epicenter of the company will remain in Paris. "
"Believe it or not, we're recruiting a lot of people from the Silicon Valley that we bring into Paris with their families and are coming to join the ecosystem here," he said. "That's actually the power of Ledger and crypto and the French ecosystem."
---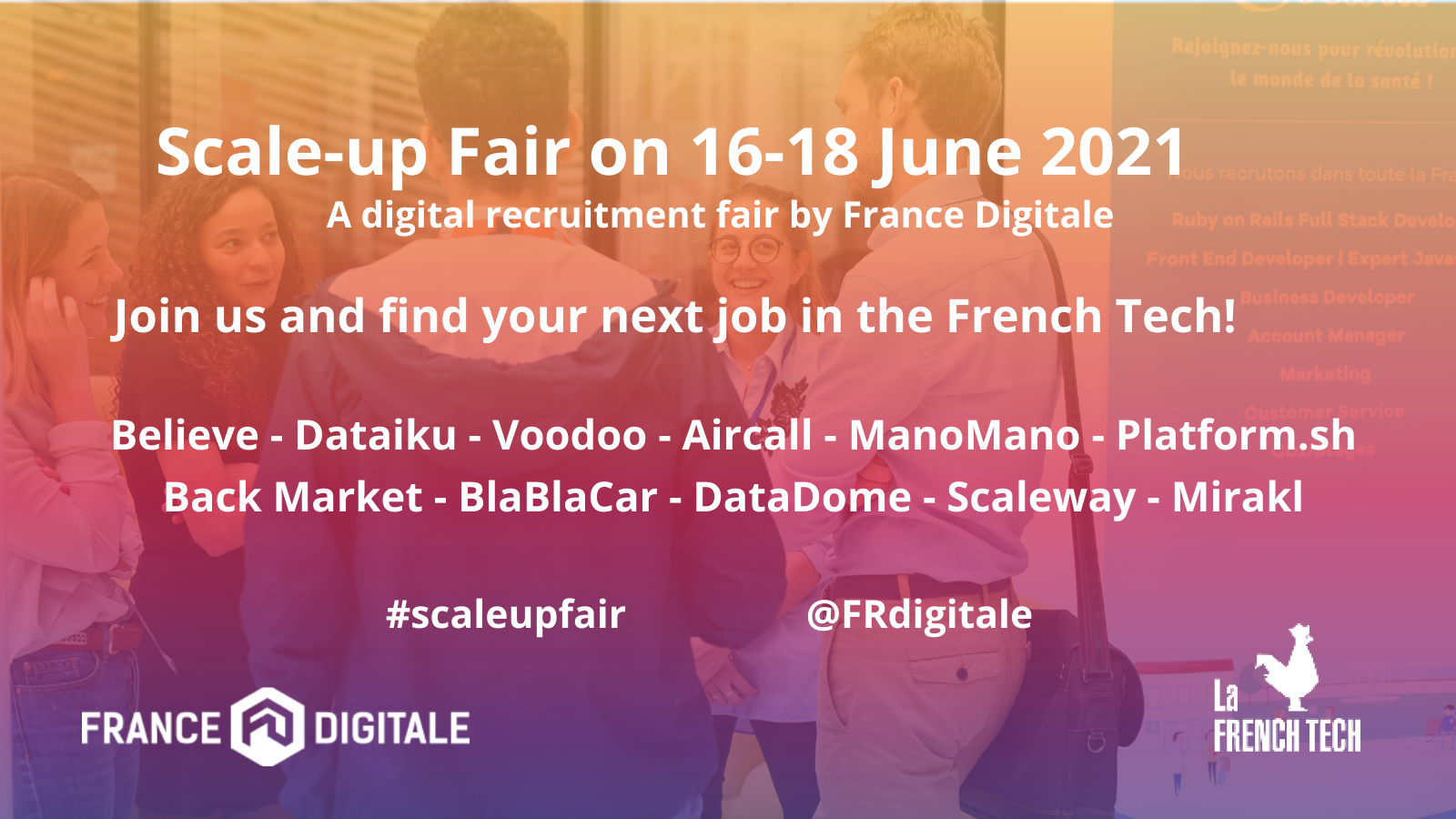 France Digitale opens for you the doors of the very best French startups! 🇫🇷
France Digitale is organizing its 4th Scale-up Fair on June 16th-18th as part of Tech Days 2021 and with support from La French Tech. The concept: a recruitment fair organized 100% digitally to showcase the most interesting French scale-ups and match them with engineering and business profiles, starting from students in search for internships all the way to senior profiles. The companies are looking for talent for Tech, Sales, Ops, Product, and Marketing positions, and most of them are in hyper-growth and recruiting actively for all of their offices in and outside of France!
During the event, you will also be able to follow panel discussions on hyper-growth, skills needed for French Tech, and diversity & inclusion. The lineups include speakers from Scaleway, ManoMano, 50inTech, and more!
Come and meet the very best of the French Tech ecosystem. ✌️
Register on the Seekube platform.
---
Audio Goodness!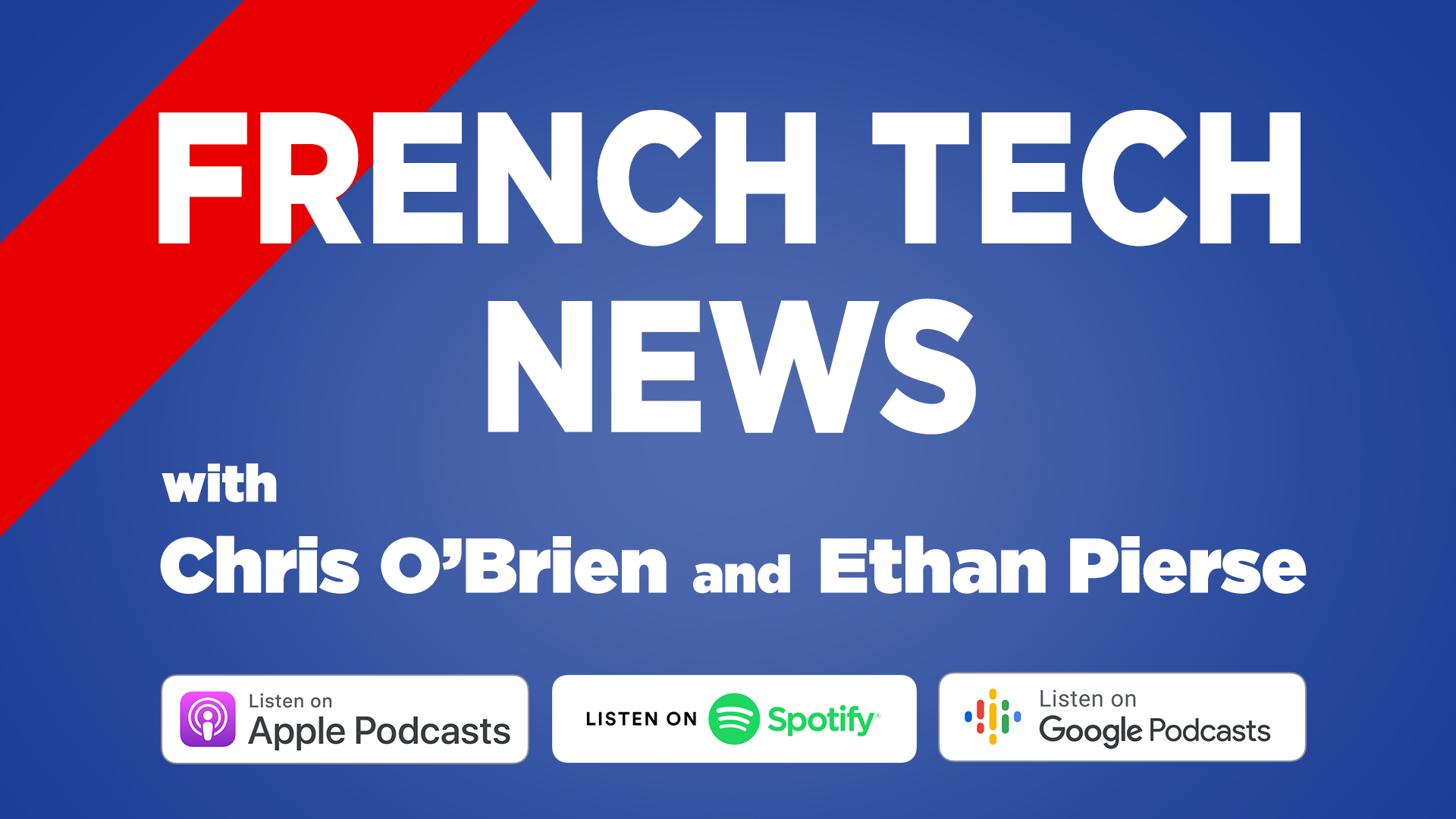 Join me and co-host Ethan Pierse each Thursday night at 7 p.m. CET for our French Tech News Clubhouse session where we'll look back at the week in French Tech.
🎙️ Also: Please subscribe to the French Tech News podcast, a weekly discussion with France's entrepreneurs, innovators, and venture capitalists.
---
In Other News...
Digital music company Believe went public on the Paris Stock Exchange today. There has been tremendous hype leading up to this moment in recent weeks. Digital Minister Cédric O cheered the news this morning as an important step toward realizing the ambitions of La French Tech.
The takeaway: Believe helps musicians distribute and monetize their music online via its Tunecore service. While the service has been popular, Believe reduced the amount it was seeking to raise in recent weeks by 40% to $300 million, according to Reuters. And indeed, the share price initially fell after trading began.
Still, the excitement was due to 2 factors. First, the ecosystem is eager to build a better track record of exits to convince more investors of the nation's entrepreneurial strength. And second, companies that do envision an IPO typically leave Europe for the U.S. In fact, as Cédric O told Les Echos of the Paris Exchange: "In twenty-five years, there have only been two IPOs of tech companies worth over 1 billion, that's Dassault Systemes and Worldline."
That's quite a cold streak. Across Europe, governments want to see their exchanges as more viable options for IPOs that keep companies local and independent. Believe may not have fixed that problem. But it's IPO offers a glimmer of hope that things may be turning a corner.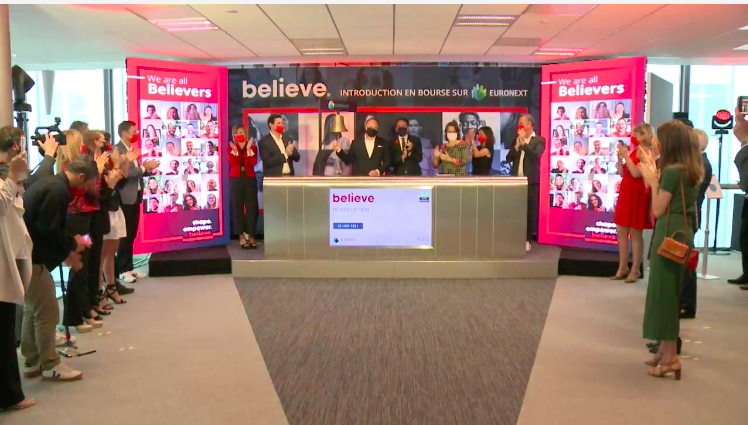 ---
Funding News
---
👋🏻 If you're enjoying The French Tech Journal, support the project by forwarding it to friends and sharing it on your social networks. You can also comment on this post. And if you have ideas for stories, tips, or just want to harass me, send me an email: chris@frenchtechjournal.com. 👋🏻
Comments